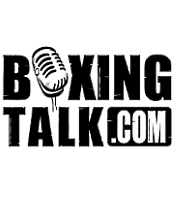 Unbeaten Southern Californian lightweight Armando Santa Cruz headlines tonight's Telefutura broadcast of "Solo Boxeo" coming from Cicero Stadium just outside of Chicago, Illinois as he meets former world title challenger Justin Juuko over ten rounds. We spoke to Armando as he was putting the finishing touches on his training camp and you won't want to miss what this fast rising prospect had to say in this exclusive interview only on Boxingtalk.com 
Armando Santa Cruz, 18-0 (9 KOs), is coming off a career best win this past October, climbing off the canvas to get past the always difficult Lamar Murphy by way of split decision. The 24 year old native of Lincoln Heights, California will be seeking to add the scalp of opponent Justin Juuko to a list of victims that already includes James Crayton, Arturo Morua, Roy Delgado and Rogelio Castaneda.  
How difficult this fight will be for the lanky Santa Cruz entirely depends on which Justin Juuko shows up. The "old" Juuko won two regional belts and also gave Diego Corrales and Floyd Mayweather difficult fights. That Juuko hasn't been seen much since 2001, however, since the native Ugandan who now lives in England won the NABF crown by stopping Antonio Ramirez. 
The "new" Justin Juuko has been overcome by Miguel Cotto, Carlos Hernandez, Ernesto Zepeda and most recently Michael Gomez. Barring some unforeseen resurrection, it's difficult to see the 32 year old dredging up past glories to pull one out against the youthful Santa Cruz.
 
BT: "Have you watched any tape on Justin Juuko?
ASC: "No, we don't have any tape on him because I had two other opponents drop out and Juuko is a late replacement. I was originally supposed to fight Omar Bernal but I don't know what happened. Then I was supposed to fight Ernesto Zavala, who beat Hector Quiroz but now I'm fighting Justin Juuko." 
BT: Well there's something familiar, fighting late replacement opponents is something you're certainly used to...

ASC: "Yeah, it's always like that and it doesn't bother me. I'm ready to fight whoever they put in front of me." 
BT: Juuko used to be a very good fighter, gave Floyd Mayweather a tough night awhile back at super feather but recently he fought a good friend of mine, Michael Gomez and Mike knocked Juuko out in 2 rounds. What weight is the fight contracted at?
ASC: "They made this fight at 138lbs." 
BT: Maybe Juuko will be a lot better at the higher weight, he might have been weight drained against Gomez? You'll certainly find out but since we're on the subject of weight and you're really tall, is it difficult for you making 138 at this stage in your career?

ASC: "I can make 135 easy but it was because of one of the initial opponents I was supposed to fight at 138 and I guess they just kept that as the weight, but it's not a problem for me at all." 
BT: You're coming off the best win of your career, against Lamar Murphy. Can you tell us a bit about that from your perspective?
ASC: "He was a really good opponent but it was only on TV in Sacramento, I think. Murphy had fought for world titles and he was very tough, strong fighter. He had 20 knockouts out of 29 wins coming into the fight and while all my fights have been tough, that one was one of the toughest." 
BT: Since your back on national TV, on Telefutura, does that change how you feel about a fight compared to if it wasn't on TV?
ASC: "Yeah, I'm really excited about this one especially because it's on TV and alot of people are going to be watching me."
 
BT: Since you've been on a variety of shows like Telefutura, HBO Latino and ESPN2 among others do you have people coming up to you when you go out in public now?
ASC: "Yeah that happens to me now, a lot of people see me on the street and saw 'yeah, I saw you fight on TV last week'....that sort of thing and it feels pretty good."
 
BT: I know you and your gym mates are always sparring big name fighters so who have you been working with lately?

ASC: "I sparred with Manny Pacquiao and Diego Corrales."
 
BT: Wow. Can you tell us first about how it was sparring with Pacquiao?
ASC: "It was difficult for me but because he was a lefty and they wanted me to spar with him right handed. Usually when I spar a lefty I turn lefty too and it's so much easier for me. But this time I couldn't do that so it was kind of hard for me but I think I did pretty good and they liked the sparring." 
BT: So you were working with Pacquiao when he was preparing to face Morales?
ASC: "Yeah."
 
BT: Paquiao appears to be very quick and hit very hard but did you find that to be the case?

ASC: "Yeah, he is pretty quick and he's definitely very strong." 
BT: How was it sparring Corrales?
ASC: "I did pretty good but because he's right handed it was much easier for me than having to spar Pacquiao and not being able to turn lefty too. 
BT: Did they want you to come in and throw a lot of left hooks like Jose Luis Castillo would?
ASC: "Yeah, kind of like Castillo but I did go in there and just box him too. They were really happy with my performance so I guess it went really well." 
BT: Since you've sparred with Corrales did you get the sense that if you were to ever face him in a real fight that you'd do okay?

ASC: "Yeah, I think that would be a really, really good fight. He has pretty good power." 
BT: Your brother Roberto Santa Cruz did very well recently against one of the hotter prospects in boxing, Mike Arnaoutis
. 
ASC: "And he only had two weeks notice after being out of the ring for two years. He'd also never even had a ten round fight so for him to go twelve rounds was great." 
BT: To finish things up, what would you like to achieve during the next year?
ASC: "I would like to fight for a title, it doesn't even matter which one, I'd just like to have a title right now. Then I'd like to try for a world title and that's my goal right now. I want to do this at lightweight and see how far I can go at that weight. I'll fight anyone who gives me a chance as long as my trainer Rudy Hernandez thinks I'm ready to go." 
Boxingtalk.com would like to thank Armando Santa Cruz, Rudy Hernandez and Rick Takatani for making this article possible.
Send questions and comments to: thomaspointrd@aol.com