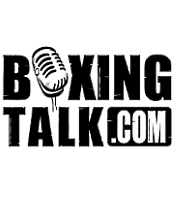 Mikkel Kessler, 168, Den  TKO 8 (not out)  Manny Siaca, 168, P R
Kessler, now 35-0, put up the outstanding performance we all knew he was capable of and won the WBA 168 lb title when Siaca was retired by his father and chief cornerman, Siaca Sr, after the seventh. As Siaca, Jr, in his own corner, was hurt again by a blistering combination from the Dane his legs did a little dance of its own at the bell ending the round. South African referee Stanley Christodolou talked to Siaca, Sr, and shortly thereafter it was waved over. No injuries, no cuts, no knockdowns - it was just too much. The defending champion was after seven behind on points by 70-63, 70-62 and 69-64. Only the tense first round was relatively even but after that Kessler took over, patiently stalking the retreating Siaca getting to him with carefully picked shots. The Puerto Rican was shaken in the second but Mikkel had moved away and couldn´t follow up on the advantage. Kessler also got through with a number of hurtful bodyshots. Siaca, urged on by his increasingly nervous corner, tried to take the fight to the challenger but missed with all of his power punches and was forced to retreat. His left eye was marked up and his nose began to bleed and the bleeding got worse after a hard counter right in the sixth. Siaca proved his toughness and that he have the heart of a champion as he never stopped trying and never went down. He was out very late for the seventh, slipped after fielding a right from Kessler and then took a solid beating for the rest of the round. He was hurt at the end and it was only a case of bad getting worse so it was a sensible and compassionate stoppage.
The future for the new champion is a bit clouded. At ringside was ex-champ Anthony Mundine in the belief that he is the mandatory challenger and that he and Kessler are to get it on inside 90 days. Promoter Bettina Palle said she didn´t know. -From what I understand Mads Larsen is the mandatory challenger and that Mikkel can make a voluntary defence before facing him and I haven´t heard anything else from the WBA. Mundine on Kessler: -A solid fighter but the Siaca here wasn´t the Siaca I fought. Plus I was only sixty percent of myself that night as I was ill.
Spend Abazi, 126, Den  W12-U  Evgeny Strausov, 126, Rus

Abazi retained the EBA 126 lb title on scores of 118-110, 118-111 and 116-112. There were no knockdowns and little drama as Abazi was a little too strong for the challenger who however made life difficult for the champion with his tricky movement. Referee was Swede Mikael Hook.
Lolenga Mock, 175, Ken  KO 3 (0.42)  Giovanni Alvarez, 174,75, Swe/Den
Mock won the vacant EBA 175 lb title with a sneaky, powerful right that took out Alvarez early in the third. The Swede went down heavily but somehow made it to his feet but was correctly counted out by Spanish referee Manuel Maritxalar.
Giovanni came out fast but was too eager and was hurt by another of those sneaky righthanders. He survived the round but appeared to be lost mentally even before the fight - Alvarez did better in the second but it seemed like a matter of time as he, while agressive, seemed to be elsewhere.
-I will think about the future, said Giovanni, by many, including this reporter - regarded as Sweden´s best bet for the future despite the upset loss to Elvis Michalenko in June. -This is it, said his father Constantino. -No more, it´s over, I have noticed since some time that Gio have lost motivation and this is not the game were you can play around. It´s over, stated Constantino, whose other son Frederik retired in 02. -It´s over, said Constantino again, it´s finally over.
Martin Nielsen, 175, Den  TKO 1 (2.39) Karim Bennama, 175, Fra

Nielsen knocked out Bennama with a single right and won the vacant IBF Youth title. The Dane was on top all the way landing with heavy hooks from both hands to the body and then moved it upstairs. Bennama staggered up at about "5" but walked the wrong way and Austrian referee Ernst Salzgeber stopped it.
Alexandra Matheus, 126, Den  W10-U  Agatha Gracia, 126, Spa

Matheus won the vacant WIBF European title after ten hardfought rounds. Gracia, much shorter, was at times outclassed but kept coming back to make a fight of it. It was scored 97-93, 96-94 and 97-94.
Reda Zam Zam, 158,75, Den  W6-U   Luca Messi, 156, Ita
Excellent fight where the tough Italian was well outboxed but kept coming back and was the stronger at the end. It was scored 59-55, 60-54 and 60-54 - numbers that don´t really reflect how good a fight it was. Zam Zam boxed on the outside using his longer reach and the Italian proved in the third he could take a punch - and in the final round he poured it on as the Dane was tired.
Steffen Nielsen, 220,5, Den  W6-U  Gary Delaney, 229,25, UK
Nielsen started well enough but as Delaney kept coming it became a maul. It was scored 59-55, 58-56 and 60-54 but many felt the Brit was deserving of at least a draw. I didn´t but Nielsen´s retreating and holding in the last three rounds didn´t impress - then again, neither did Delaney´s plodding.
Martin Kristjansen, 133,75, Den  W6-U  Karim Chakim, 133,5, Fra
Scored 60-54 on all cards. Kristjansen can box but isn´t much of a puncher and that allowed Chakim to last the distance.
Jadgar Abdulla, 126, Fra  W6-U   Nordine Barmou, 127,25, Fra

60-54 on all cards. Barmou injured his knee after slipping in the last but bravely lasted the distance. Abdulla, a southpaw, had some problems with his timing.
4x3: Leif Dolonen Larsen, 262,5, Nor/Fin  KO 1 (1.20)  Paul King, 236, UK

Dolonen bulldozed King for a bad knockout. The out of shape Brit was on the floor for some time.
6x2: Frida Wallberg, 130, Swe/Den W6-U  Stoyanka Krasteva, 132, Bul

Krasteva took standing eight counts in the second and sixth rounds but lasted the distance as Wallberg just couldn´t close the show despite being on top all the way. Scored 60-52, 60-52 and 60-50.
The show drew pretty well, around 3000 fans, to the Brondby Hall on the outskirts of lovely Copenhagen and lasted from 7 PM to 1.15 AM so it was until past 3 AM before this reporter was home on the other side of the bridge.