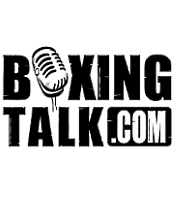 Tyson's Career The Subject Of An Ugly Legal Battle
Earlier this month, Boxingtalk readers were privy to an all-out pissing contest between Mike Tyson's manager Shelly Finkel and Ted Watley, a man hired by Finkel to serve as an advisor/father figure to the ex-heavyweight champ. After Watley called out Finkel for "keeping the nigger broke" and "shaking down" the promoter of Tyson's last fight-a loss to Danny Williams-Finkel used this website to say he was going to sue Watley, and Boxingtalk has now confirmed that the manager has done just that in federal court in New Jersey. It's never a boring read when dirty laundry is aired in public, and now its time for our readers to get a whiff of just how fast things begin to stink after an upset loss to Williams took Tyson's future purses out of the eight
figure realm.
On September 10, 2004, Finkel sued Watley for $5,055,000 for defamation, breach of contract and money loaned. In the lawsuit, Finkel claims that Watley's agreement was to provide services to Finkel and that Watley breached that agreement by bad mouthing Finkel to Boxingtalk. Funny, we thought Watley was supposed to be advising/father-figuring Tyson not Finkel.
One still can't help but wonder why such an experienced manager as Shelly Finkel needed Watley's advice so badly that he was willing to sign over half of his income from Tyson plus make a six figure loan for Watley's pearls of wisdom?
In the lawsuit, Finkel admits that from the fall of 1998 until the spring of 2004, his management contract with Tyson said that Finkel would receive "an agreed upon amount from Tyson's purses" like most managers get.  But under the first deal with Tyson, Finkel also collected "an agreed fee for assisting Tyson in the negotiation of a television contract with the Showtime Network."
In his lawsuit, Finkel lays out exactly how much he paid Watley to "advise" Tyson. Presumably the advice Watley was being paid to dispense was that Tyson should stay with Finkel instead of going to anyone else like, for example, Don King. When Watley was preaching Finkel's virtues, Finkel says in his lawsuit that over the past year, he loaned Watley $105,000 and also co-signed a loan so that Watley could buy an Infiniti automobile. Finkel also promised Watley in writing "fifty precent of the net compensation and/or consideration received by Finkel" from Tyson's bout with Danny Williams plus the next two Tyson bouts. According to Finkel, in the weeks following Tyson's loss, Watley asked Finkel for even more money, a $200,000 loan to buy a house in Florida.
Finkel claims he was deciding whether or not he would help Watley out when Watley dropped a dime and made the phone call to Boxingtalk that shook up the boxing world.
The portions of Boxingtalk exclusive  interview that formed the basis of Finkel's lawsuit were the following Watley statements:
"Shelly's philosophy is to keep the nigger broke so he always has to keep coming back. And legally Shelly and I are partners, but let's make this clear you're getting this from me and the reason I'm telling you this is because rumor has it that Ted Watley was involved in the rip-off and the shakedown! Shelly said Tyson wanted this fight, but when I spoke with Tyson he didn't know what was going on. He said he was just doing what Shelly asked him to do. They went into Louisville and Shelly had them bring in Gary Shaw as an advisor, they tried to turn the fight upside down and they shook them people down like they weren't shit. They shook them down. They made the promoter sign the foreign sales over to them, they made the promoter gives all of his rights over to them and they shook him down… I'm not letting anybody fuck Mike Tyson and this bastard has fucked Mike Tyson royally."
"Shelly Finkel, behind his fighter's (Tyson) back, gets a two fight option on the fighter (Danny Williams) goes and gets the Klitschko brothers, and the first fight out of the box is Danny Williams! Mike had three options. He could have fought Brewster, the guy who knocked out Roy Jones Jr., Antonio Tarver, and one of the Klitschko's. He could have fought Brewster for $20M if we would have made a deal with Don King, which was a possibility. With those fights available, why fight this motherfucker for $7M when we have nothing to do with the foreign sales, and we don't even know where the foreign sales are going. Shelly Finkel is partners with this guy (Chester) English, him and Gary Shaw ripped the fighter off."
Finkel says these accusations would be a violation of the Muhammad Ali act, and therefore Watley falsely accused Finkel of a crime. Finkel claims the statements were made just at the time Finkel did not agree to loan Watley the additional $200,000 he supposedly requested.
Watley also said Finkel ripped off Tyson by turning down a $20 million purse for a Lamon Brewster fight and instead taking $7.2 million for Williams, by taking two options on future Tyson fights and by partnering with Gary Shaw and Chester English to rip off Tyson. Finkel says the truth of the matter is that Don King never offered $20 million for a Brewster-Tyson bout, that Finkel has no options on Tyson and that Finkel has never been partners with Chester English or Shaw.
As previously reported by Boxingtalk, Shaw has already filed a lawsuit of his own against Watley. And Finkel also recently got an endorsement from Brian Young, the promoter he supposedly shook down. On a recent interview on the website irish-boxing.com, Young was asked, who he looked up to most in boxing and his response was, "Shelly Finkel. Shelly has been doing this stuff for a long time now, he knows the sport well, he's extremely knowledgeable and he is another one that has reached out to me, and tried to help me. Shelly continues to have good years in boxing year after year and that impresses me."
Now it will be up to a New Jersey judge or maybe a jury to decide who was telling the truth. Of course, Boxingtalk will probably have a lot more on this case before any decision is made.
CHECK OUT HOW IT ALL BEGAN


CLICK HERE FOR THE REST OF THIS EXCLUSIVE REPORT
Send questions and comments to: gleon@boxingtalk.net