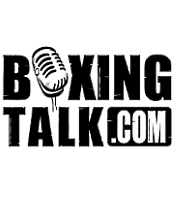 Novric: "All fighters trying to make 154 and poppin sh!t, try to make 147!"
BoxingTalk's Nigel Clarke caught up with Sechew Powell at Kid Kelly's Gym for a light workout before his fight on January 21st. The Powell camp is in good spirits and Sechew is excited about the opportunity he has this week.
Take a look at the photo of Sechew and his trainer Francisco (Yayo) Guzman. In addition, we spoke to Sechew's father who provided some details about Sechew's training regiment.
Clarke: Mr. Powell, what's the lowdown on Sechew?
Novric: There are a lot of so called champions who can't touch Sechew. He is the real deal! This Kid is a world champ. None of those guys are eating what Sechew eats.
If he lives the game, no one touches him.
Nigel: What's he eating?
Novric: There are several types of fish that I cook. It cost me about hundred and ten dollars every day. I cook Snapper, Doctor and Sprat. The fish is strained and he drinks that every day. They can't touch him!
Nigel: Did you teach Sechew how to fight? Did you ever fight?
Novric:  Yeah, I taught him, but I never got the opportunity to fight professionally, because my father was a minister. I'm living my dream through my son.
Nigel: How long has Sechew been fighting?
Novric: When Sechew was younger he hounded me for five years to go to the gym. On our first trip to the gym, we were in a car accident. I had the car towed and I still took Sechew to the gym.
Nigel: Okay, who are you guys looking to fight next?
Novric: I don't want to call out any names. I'll put it like this, all fighters in his weight class, 154, just make some room. All fighters trying to make 154 and poppin shit, try to make 147.
Nigel: What's different about the way you manage him?
Novric: I have him on a strict schedule he eats well, sleeps well, and trains well. Right now, I am training him like a thoroughbred. 
Nigel: What does "Iron Horse Mean"?
Novric: That is the Triple Crown Winner. That consists of the three major horse races. the Kentucky Derby, the Preakness, and the Belmont Stakes. At the Kentucky Derby they sing "The Old Kentucky Road", at the Preakness, they sing "Maryland my Maryland" and at the Belmont Stakes they sing "Sidewalks of New York", and that is where we are from...New York!