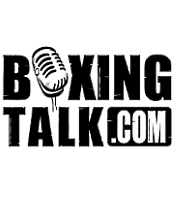 When I think of John Ruiz and the word dominated, I tend to go back and watch David Tua's monster hook that sent the Quietman out of orbit back in the 1990s. Or I go back a few years ago when Roy Jones battered and bloodied Ruiz over twelve  lopsided rounds. What I don't think of is James Toney's display of boxing over Ruiz this past July. Steroids or not, Toney would beat Ruiz any day of the week but after watching the fight,  I cannot even begin to utter the syllables needed to pronounce anything remotely close to dominated.  Perhaps I'm missing something. Please let me know, because as I see it, Toney wins a less-than-impressive fight over Ruiz, a man he said he was going to embarrass.
What makes this relevent to Ruiz going in to Saturday's clash with the giant Nicolay Valuev is that too many people are giving Ruiz no chance in hell at beating a guy whose most impressive win came via rabbit punching Clifford Etienne and who last time out probably should have lost to Larry Donald but wound up winning a narrow decision.
Don't get me wrong. I am no fan club member of either the Quietman or his foul-mouthed trainer Norman Stone. I don't like their style - particularly the crying they do every time Ruiz loses a bout, not to mention the bellyaching they both have done since Ruiz's bout with Toney was declared a no-contest, thus allowing Ruiz to keep his WBA title.  I'm also no fan of a fighter who threatens retirement after things don't go his way in the ring ... but putting that all aside, I still have to call a spade a spade when I see one. And Nicolay Valuev is thus far, nothing more than another over hyped fighter who wouldn't be good enough for Tuesday Night Fights if he wasn't 100 feet tall.
Ruiz himself is a tough drink to stir no matter how you serve him. But the fact remains that the guy has gone out and beat some pretty solid competition. Sure, there's been a little controversy here and there - along with a few faked low blows - but the bottom line is that Ruiz doesn't duck anyone for any reason and that is something that should give fight fans enough reason to respect him. Is he boring? Yes. Does he hug a lot? Yes. Has he gotten a lot of close calls? Definitely.  But what makes him any different than a handful of fighters who have been exactly the same, if not worse. Not every champion is a great one and nobody is ever going to confuse Ruiz with Muhammad Ali or George Foreman. He is, however, a fighter who seeks out the best fights possible.  In today's heavyweight division that should be more than enough for a guy to get his proper accolades.
Things in boxing never go as they should, and that pretty much explains why everyone is picking Valuev to stomp Ruiz into the ground. It isn't necessarily because Valuev is better than Ruiz, but more so that the fans know what Ruiz brings to the table and they want to see something new and exciting.  Is Valuev the answer to that? Not likely.
The buyer should beware when giving Valuev the ability to beat Ruiz. The only way it happens - and remember where you heard it first, if you'd like - is if the cards read something they shouldn't.  Everything Valuev does Ruiz does better. Not only that, but Ruiz knows how to make a fighter fight his fight. Valuev has shown in the past that hr does not know how to use his size advantage, and also that he moves around the ring like he has weights tied to his ankles. 
Ruiz is not a great fighter - a great fighter KO's Valuev. But Ruiz is a veteran who will take the big man to school, thus continue to be a thorn in every heavyweight fan's side into 2006.
Send questions and comments to: tyson180@aol.com