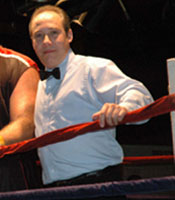 Referee Mark Nelson was introduced to boxing at an early age. Nelson's father Denny was an amateur and professional referee for 38 years, officiating bouts for Ken Norton, Felix Trinidad and Jeff Lacy among others.  Now retired from officiating, Denny recalls Mark attending fights he refereed. "Mark showed talent [as a potential referee] very early" says Denny who points out that it takes many pro refs years to learn their trade. "Mark had the movements and ring savvy [as an amateur] that couldn't be taught."
When father-trainer/son-boxer teams appear on the boxing scene, there's always the question: Did his father force him into the sport? Is the father trying to live out his failed dreams through his son? Both Nelsons are aware of this dynamic in boxing, but are quick to note that the senior Nelson never pushed or encouraged his son to follow in his footsteps. "Dad never said I had to do this" says Mark, 40 years old, who resides in a suburb in Minnesota. "This was something I wanted to do."
Mark spent several years officiating and judging amateur bouts for no pay; but in 1992, his efforts paid off when he was granted approval to become a professional referee.  Not only was turning pro a major point in his life, but it also marked a historical event for Minnesota as Denny and Mark were the only professional officials to reach international championship level. 
 Since turning pro, Mark has officiated fights on HBO, ESPN, and Showtime for  fighters such as Larry Holmes, Diego Corrales, Joe Calzaghe, Dariusz Michalczewski, Verno Phillips, and Tim Austin to name a few.  He has refereed multiple world title fights, a rare feat for a boxing official from Minnesota.   
To many fight fans, becoming a referee in a sport they love is a dream.  In fact, Nelson says Mark Ratner, Executive Director of the Nevada State Athletic Commission receives dozens of applications a year from people wanting to break into the referee business.  Nelson agrees that becoing a referee can seem as tough as getting into an Ivy League college to an outsider. The rewards can be good, though: some officials earn $3,000 or more with all expenses paid to the bouts. Yet Nelson is clear in saying that his job is no Disneyland adventure.   "You have to have a certain mentality to be an official" says Nelson.  "You have to make decisions that people don't like and you have to learn how to accept criticism on all levels."  
In addition to having criticism directed at them, officials must be weary of constant mistakes in the ring.  "An official can play a major role in a fight" says Nelson. If an official makes mistakes often, there's a good chance he will not be used again by the sanctioning bodies."  There's the physical aspect to officiating as well says Nelson.  Like fighters, he gets himself into physical shape.  "I run, hit the heavy bag, and get into the best shape possible because going twelve rounds can be tiresome."  Nelson has watched tapes of fighters to learn their style, and if a fighter has a tendency to butt, or hit low, not only must he keep his eyes open for a fighter's style, but he must pay attention to the other ins-and-outs of the fight.  
It's easy to draw the wrong conclusion when talking with Nelson because his charming personality and engaging smile can make you question if he truly understands the other side of boxing.  But after probing Nelson further, it's clear he's polished about the difficulties of the game. For example, when he's officiating fights, sometimes he stays at a different hotel from fighters and managers so there's reduced potential for him to be approached or befriended in any way.  Moreover, when watching fights on television with friends, he will not pick a winner in the bout. Why? Because, "I never know if I might officiate a fighter's fight, and I don't want my judgment clouded, or to show any favoritism towards a fighter." 
Nelson also understands that the sport has lost most of its appeal with the general public.  Nelson mentions that in the 1950's, when his when his father was involved in the Upper Midwest Golden Glove tournament, fans would stand outside and scalp tickets because the cards were sold out, but today that has changed.  "We can barely fill an arena now," Nelson says.
The state of Minnesota took a major blow when then Governor Jesse Ventura, a former pro wrestler, abolished its boxing commission.  "It's very concerning to me that we don't have a commission," says Nelson reflectively. "We have talented professional fighters who need to go get fights and experience. But because we can't get name fights and fighters in Minnesota, many of the good local amateurs will have to look elsewhere once they turn pro to get quality fights and experience to advance."   Former IBF flyweight champ Will Grigsby agrees with Nelson. "When I know I am fighting a top guy, I look to other states to give me the sparring I need."     
When Nelson is not officiating, he works at Deluxe Corporation, a job he has held for twenty years.  In addition, he developed a company called News-Frame.com which offers custom framing for people that want their special occasions framed and cherished.  On the day of this interview, Nelson showed different frames he was developing for customers.  As he showed each frame's artwork, it was clear that his work resembled the precision a fighter employs as he hit the speed bag, skipped rope, or wrapped his hands.  Nelson takes pride in doing quality work with his framing business.  Most recently, Julie Lederman, the daughter of HBO commentator Harold Lederman, contacted Nelson about custom framing photos of her father's induction into the New Jersey Boxing Hall of Fame.  "Julie wants a custom frame for his special occasion.  I am delighted that she asked me to help him celebrate his special day."   
If you ask most boxing experts what's the one thing that haunts fighters throughout their careers, they will universally say even with the millions, the fighter never seems quite content internally.  Yet, after meeting Nelson, if you asked that same expert the same question about Mark Nelson, he will most likely say not only does Nelson seem content in life, but that he is a man with values and professionalism that could have only been learned one place: by walking in his father's footsteps both in and out of the ring for years.   
Rayman Kilgore is a Freelance boxing writer and can be contacted at
uncleary33@msn.com
.