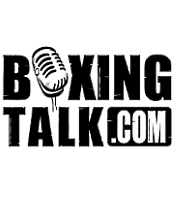 When a fighter gets to the contender status, there is one thing that is more satisfying other than a shot at the title and that is options. Middleweight contender Kingsley Ikeke is finally at that level. He is a major player in the division and most of the boxing hierarchy has finally taken notice. So much notice, that when Gary Shaw claimed that no one wanted to fight Winky Wright in December, Ikeke's name was put on the table and immediately approved by HBO as a quality opponent and a quality fight to air on HBO. Since this time, Shaw has came out with statements claiming they have no interest in fighting Ikeke, but believe me Ikeke has a very high interest in fighting Winky.
So why is it that when a promoter or a manager claim that they cannot find an opponent and one is presented to them it seems like they will do everything to avoid the subject? With Ikeke the answer is easy, no one wants to willingly face the towering middleweight. Ikeke has chased names throughout his career. He has tried to get fights with other prospects/contenders such as Kelly Pavlick and do not even bring up how many times Team Taylor has turned down Ikeke. If things continue to go in the direction it seems, Winky Wright's name will be added to that list.
So why the interest in fighting Winky?
"Because it will be a good fight," states Ikeke. "It is a good fight for the fans and a good fight for HBO."
Since the comments were made by Shaw about not being able to find an opponent that will face Winky and that in truth Kingsley is ready and willing to take the fight, if the fight does not take place will the blame be laid strictly on Gary Shaw's shoulders?
Well, if Winky Wright is a true champion, he will tell Shaw to take the fight," says Ikeke.
Nelson Oliveira, manager of Ikeke, has another take on the situation as well.
"Wright is ranked as the number one contender by the WBC and WBA as well as by Ring Magazine so why are they acting as if the are afraid to face Kingsley, a guy Shaw says has not fought anybody. Kingsley destroyed Antwun Echols in his last fight in a fight where no one picked Kingsley to lose. Even Teddy Atlas picked Echols to not only beat Kingsley but to stop him. Echols was ranked in the top 10 in the super middleweight division and ranked number six by Ring and was a possible opponent for Jermain Taylor, but we got the fight first and stopped him.
Wright is not the only option for Ikeke to face in December. If Shaw and Winky do not take the fight, Ikeke is still slated to face Sam Soliman for the IBF middleweight title, of course that is if the IBF ever strips Taylor of the title which should take place when Taylor-Hopkins 2 is officially announced.
Another possibility is that, and this is remote, if Wright were to face Soliman, than Ikeke should fight for the vacant title against possibly Felix Sturm. But those are not the paths that Ikeke truly wants, even though he would take any of them.
"I would fight any of those guys, but Wright is the one that I want to face," states Ikeke. "I want to face Wright because after I win that fight then Jermain Taylor cannot run from me anymore. He has avoided me for three years and after a win over Winky, he cannot run anymore."
Even though Ikeke has been trying to face the current middleweight champion for three years, he gives Taylor credit for defeating Hopkins, he states he felt the fight was a draw.
"Yes I felt the fight was a draw. Jermain Taylor was aggressive, but his punches were not landing. In rounds 9, 10, and 11 he was trying to survive, and he did nothing in the 12th to justify winning the fight. I thought he wanted to quit in round 11."
By going through Wright, Ikeke lines himself up as the contender to the title, but getting the fight is rough going and all parties know this has to get done if the fight is to take place in December.
"We hope to get this done in the next couple of weeks. We are also waiting for the official announcement of the Taylor-Hopkins fight. We are looking at all options in case Shaw and Wright do not sign to fight us," states Oliveira. "What is funny about the Wright fight is that HBO likes the fight, the commentators like the fight, the only one that does not like the fight is Gary Shaw. Look they were negotiating with Ike Quartey, and everyone knows what was going to happen in that fight. He has had two fights in five years. One a meaningless fight in Africa and then he should have lost his last fight against Verno Phillips. How can Shaw say that Ike was out pricing himself by wanting 750,000 dollars when Wright would not even take a 6 million dollar fight against Oscar and that is with six dollars on each PPV, but we have solved that for them. We are not demanding that kind of money. Kingsley will get 150,000 and we do not care if he gets over 1 million."
No one is willing to face my guy is a phrase Ikeke is familiar with. Ever time he has said I will fight your guy, they turn away and act like they do not hear Ikeke saying he is willing. Once again it is Ikeke saying look no farther, your opponent is right here.
"Gary Shaw said that I should fight Oscar and then the winner gets to fight Winky," states Ikeke, "but why say that, I say just bring your boy and lets do it. I even went up to Gary Shaw this past weekend and told him to his face to tell his boy, Winky, to sign the contract. He just smiled and walked away because he knows his boy will lose. I just think that right now Winky wants to sit back and let Gary Shaw do all the talking, but he cannot talk for Winky in the ring. They just need to sign the contract."
A Side Note
To show that Shaw is trying to do everything in his power to get the topic off of Ikeke, it has been reported that Shaw has asked the powers that be to approve Kassim Ouma as Winky's opponent. Yes the same Ouma that lost his title in his last fight and was dominated in that fight as well. Ikeke is willing to face Wright and wants the world to know that he has accepted the fight and is waiting for Shaw to quit avoiding the subject.
On a different topic, Ikeke was ringside to see his stable-mate and friend Brian Viloria win his first world title with a first round KO of undefeated Eric Ortiz.
"I was so happy for Brian," states Ikeke, "but all I could think of was that I am next. I am the next to win a world title. It is Ikeke time. Brian put in the time and it was exciting when they said and the new WBC champion of the world, I was screaming."
CLICK HERE FOR THE FULL STATE OF THE GAME
Send questions and comments to: stateofthegame@yahoo.com