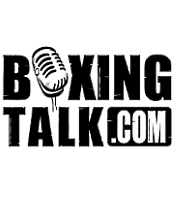 This Saturday night, Kingsley Ikeke will be in Germany to face Arthur Abraham in an attempt to fulfill one of his goals in the middleweight division by capturing the IBF title. It has been a long run for Ikeke to get to this point in his career. After numerous let downs, big fights that have fallen through, Ikeke is now set to prove to the world that he is a major player in the division and that there is a reason as to why he is the most avoided middleweight in the division. It is a story that began several years ago and the names that Ikeke has called out over those years may surprise you as they all walked away from a fight with the man they call "Sharp Knuckle." 
For Ikeke, this journey began in 1995 against Steve Weir in Canada. Skipping the general norm of starting in four round contests, Ikeke defeated Weir in a six round bout. From there he began his march only to be slightly derailed by then undefeated Anthony Hanshaw. Hanshaw gave Ikeke his first professional loss, but it was a fight that made everyone take notice of Ikeke and a fight that many felt Ikeke was robbed in. Even with the loss, Ikeke was patient, he knew it was a matter of time before another big opportunity would come his way. 
The following year, Ikeke stopped Marlon Haynes in the fifth round to claim his third minor title, the vacant NABA championship (Ikeke had won the WBC Fecarbox light middleweight title in 2000 against Rudy Lovato and the middleweight version in 2001 against Rigoberta Placencia).  
In 2003, Ikeke's name was brought up to face Jermain Taylor for the vacant NABF middleweight title, but instead of facing Taylor, Ikeke had to settle for Kenny Ellis. The fight was scheduled for 12 rounds for the vacant NABF strap as well as the NABA title and the NABO title. Ikeke stopped Ellis in the sixth round. Taylor on the other hand faced Freddie Cuevas for the WBC Continental Americas title instead of Ikeke for the NABF title.  
After the Ellis fight, Ikeke was eager to defend his belts, but time and again opponents decided against facing Ikeke. Times were frustrating but Ikeke pressed on until a fight was set up for Ikeke to travel to Germany to face WBO champion Felix Sturm. While preparing for the fight, things were taking shape that forced the cancellation of the fight when Sturm went the way of money and a bigger opportunity to face Oscar Delahoya. For Ikeke it was a letdown, especially considering that he was not informed of the cancellation until the week of the fight. It worked out for the better however, as soon after Ikeke was signed by Oscar Delahoya to fight for Golden Boy Promotions. Ikeke knew that it was only a matter of time before the fights he was missing out on were made.  
After taking a couple of stay busy type fights with Freddie Cuevas and Kirino Garcia, Ikeke stopped Rene Arostegui on Golden Boy's HBO Latino telecast of Boxeo de Oro. With plans of getting bigger fights, Ikeke and his team was able to get a fight on ESPN2 with Antwun Echols for the number two position with the IBF.  
All the experts picked Echols to stop Ikeke in the fight, but when it was all said and done it was Echols that never saw the final bell. With the victory, Ikeke waited patiently. Wanting to stay active, a fight was signed for Ikeke to face Epifiano Mendoza, a fighter Ikeke and his people were after for quite some time.
Unfortunately, the fight had to be cancelled as the IBF sent word to the teams of Ikeke and number one contender Sam Soliman that if they took a fight they would be deemed unavailable to fight for the IBF title that was in the process of becoming vacant by the new champion Jermain Taylor. 
After waiting and waiting, Ikeke went through the motions of gym work to stay in shape while he waited for the call. In most cases fighters may become inpatient with the situation, but Ikeke remained calm. 
"Kingsley was remarkably calm as the chess pieces were moved around the board. I wish I could say the same for Nelson and me. It was frustrating, especially the gamesmanship, but we were always confident about the outcome," explained co-manager Gary Gittelsohn. "Kingsley remained focused and never missed a day of training. He took every update with the kind of professionalism that separates the "winners" from the "also-rans." In the perfect world, Kingsley would have fought twice more since the Echols fight. And, in fact, we scheduled an NABF title defense that we had to cancel because we didn't want to take the chance of being declared unavailable to fight for the world title. This is the hand we've been dealt -- we prefer to think positively and move forward to win the world title. After Kingsley wins the world title, he'll have the choices that have thus far avoided him." 
"I am relieved that I do not have to wait any longer," states Ikeke. "I always said my time will come, and now people will see that my time has come. I have been waiting for my chance and now I will get the opportunity against Arthur Abraham. I am going out to win the IBF title, and then the guys that refuse to fight me will have to step up. Jermain Taylor will have to step up, Winky Wright will have to step up. The name of this sport is fighting, and after I win these guys will have to fight me." 
With the recent rematch victory over Bernard Hopkins, Jermain Taylor is still considered as the top dog in the middleweight division, but at the same time he is also a fighter has had the opportunity to face Ikeke on other occasions but each time the fight has not been made. Ikeke is still looking for that fight with Taylor and feels that he will defeat Taylor to become the undisputed champion, but Gittelsohn also has thoughts on a potential fight with Taylor. 
"When Kingsley beats Abraham he will be in a much more luxurious position. Still, I believe Kingsley will need a high visibility fight in the United States to cement the star status he deserves. Jermain Taylor's career will not define Kingsley," states Gittelsohn. "I believe he will only agree to fight Kingsley if he is forced to do so. With or without Jermain, Kingsley will be a star -- his talent is too great to ignore and Kingsley's faith in God and in himself is unwavering." 
For Ikeke to get this fight with Abraham to determine the new IBF champion, many deals fell through in the process, including one deal with Ikeke willing to give up his shot at the IBF title to face Winky Wright (note: Wright and his people chose to face Soliman instead of Ikeke on December 10.), it was a risk Ikeke was willing to accept without question.  
"It has been extremely difficult to find fights for Kingsley -- every name middleweight carefully steers away from him because the outcome is predictable and the risks do not justify the reward. Kingsley is unbeatable at 160 lbs. and most insiders know this fact well," states Gittelsohn. "Accordingly, name fighters in the middleweight division avoid Kingsley like the plague. Some fighters, like Jermain Taylor, are anointed early by HBO and never have to worry about chasing opponents to make a name for themselves. Other fighters have to scrape their way to the top by traveling a hardscrabble road. If Kingsley could have his way he would sit on top of the ball in Times Square on New Years' Eve screaming to the world that he wants to fight Jermain Taylor and Winky Wright to prove that he is better than both of them. In response to Kingsley's challenges, promoters trumpet lies about Kingsley in order to matter-of-factly dismiss him as a suitable contender. We've seen it all before -- just ask the Petronellis about how hard it was to get visibility (let alone a title shot) for Marvin Hagler. The irony is that fighters like Winky Wright screamed to be noticed for most of their careers. Now that Winky is in a position to give a chance to someone as formidable as Kingsley, he instead has chosen the less dangerous option and an easy payday. I can't blame Winky ... it's a safe decision, but it stinks for boxing. At least Antwun Echols believed enough in himself to want to test his abilities against Kingsley. That fight was a seminal event for Kingsley because Echols was considered too dangerous for Jermain Taylor at the time and Kingsley proceeded to dismantle Echols on ESPN. Kingsley's performance earned him his high placement in the rankings and the IBF recognized Kingsley when others preferred to look away. People in the sport often condemn the sanctioning bodies as ruining the sport, but here is a case where the IBF followed its own rules and refused to be swayed by more powerful interests. So, the IBF should be roundly praised for following its own rules. As a result, Kingsley will finally get his chance to win a world title and the recognition that comes with it." 
"I wanted to fight Winky Wright," stated Ikeke, "but it was his people that said no to the fight. HBO wanted Winky to face me, yet he still said no. I was willing to give up my shot at the world title to face Winky, but Gary Shaw said not Ikeke and wanted Solimon. I came forward when they said they could not find an opponent. I said I am ready, they did not want the fight. They will not even say my name." 
For this fight, Ikeke has made the trip to Germany to attempt to accomplish his goal of winning a world title. Many feel that by going to Germany, Ikeke could be making a mistake, but it not something Team Ikeke is worried about. 
"I am comfortable going to Germany," states Ikeke. "I fought in Germany several times as an amateur, so it is nothing new for me. In the ring it will be just me and Arthur Abraham. I am the one that has to go in there and make the fight. I have to be the one to prove to everyone that I deserve to win the fight. It is just like every other fight, so I am not worried." 
"We were willing to go to Germany to fight Abraham," states co-manager Nelson Oliveira. "A champion fights anyone anytime and that is what Kingsley is willing to do. We know that we have competent judges for the fight and a good referee, but we do not intend on leaving this in the judges hands. I saw Abraham's fight with Howard Eastman, and I am telling everyone that this fight will not go the distance." 
"Sure I'm concerned about Kingsley competing in Germany," states Gittelsohn. "We've all heard about how difficult it is to have a level playing field over there. But home field advantages are not limited to Germany -- I've seen my share right here in the United States. Try bringing an African-American fighter to Corpus Christi to face a Mexican ... you'll need a knockout to get a draw! We have no choice but to go to Germany. German television is willing to pay for a fight that cannot find a home on American television. I wish it was different, and God knows I tried, but no premium cable date was available for the remainder of the year. The IBF has conducted itself with integrity throughout this process and I have every reason to believe that the decision makers there will continue to do so. Golden Boy and I will study the appointed officials and raise objections only if warranted. At the end of the day, when the bell rings for the first round in the middleweight title contest, Kingsley will take three steps forward and everyone else will take three steps backward. Kingsley knows what he has to do -- he is ready and has been waiting for this moment for years."
Despite this fight being for the vacant IBF title, many fans feel that it should be Winky Wright and Sam Soliman fighting for the title.  
"I believe that the real fans -- those familiar with the situation -- believe that Kingsley's fight against Abraham is the real world title fight," states Gittelsohn. "Rules are legislated and adopted for a reason -- they have to be applied consistently -- not just when it works for you. Wright's and Soliman's promoters can scream all they want -- that's their job -- but the rules in this case couldn't have been more clear. Kudos to the IBF for sticking to its guns when more lucrative sanctioning fees were being waived in front of them. The business of boxing would work a lot better, and it would be embraced more readily by fans, if the rules were honestly and consistently applied as they were here." 
"It is like this," states Oliveira, "Wright and Soliman both had their chance to face Kingsley and both declined to do so. We have had trouble getting this fight done to begin with as no one wants to face Kingsley. After it was decided that Sam was going to give up his shot at the IBF title to face Winky, we tried to make a fight with Felix Sturm, whom his people told us was available for the fight because of difficulty in making a fight with WBA champion Maselino Masoe, but as soon as we said great they announced the fight with Masoe. So that counted out Sturm. That is the second time Sturm has backed away from us and both times we were willing to go to Germany. So going by the process of elimination, we are now facing Abraham. He was willing to take the risk, as was Kingsley so now we are waiting to get in the ring and bring home the title." 
"Winky Wright would not face me," states Ikeke. "I have said from the beginning that Ikeke was coming. I will be world champion, but these guys will not face me. I have wanted to fight Jermain Taylor, but he will not fight, I wanted Winky Wright and it was the same thing. I am prepared to become world champion and by beating Arthur Abraham I will succeed in that goal, but its far from over. I want to fight the best and after I win the IBF title these guys can run no longer. They have to fight me. I have trained hard. I started training right after the fight with Antwun Echols. I am always in the gym, because this is my job. I love what I do and I am going to become world champion."
Send questions and comments to: stateofthegame@yahoo.com