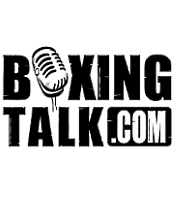 Ikeke to Ishe: Tell the contender crybaby to get in line!
Coming into his fight with Antwun Echols, Kingsley Ikeke kept his focus. He said this was a statement fight. Still most did not pick Ikeke to win the fight and most even picked Echols to stop the 6'4" middleweight contender. It was not to be for Echols or for the many that picked him as Ikeke beat Echols decisively, stopping him after the conclusion of the 10th round. Now with his statement made, Ikeke is looking to go after the top names, and if they are unwilling he still wants anyone ranked in the top 10. Ikeke also sends a message to Ishe Smith in this exclusive interview found only on Boxingtalk.
Kingsley Ikeke: How are you doing Jeff?
SOG: I am good, how are things since your fight with Antwun? Are things getting excited?
KI: Yes they are.
SOG: Did everything go as planned in your fight?
KI: It was not exactly how I planned it. I knew I was going to stop him, but I did not know what round.
SOG: All the middleweight contenders out there said they were wanting to face Antwun Echols, but none of them ever stepped into the ring with Echols until you did so Friday night and you stopped him. How has it been in the few days after the fight as far as all the attention that has come your way?
KI: There is one thing about this fight. When this fight came up, I said it is a good fight. I said this fight is a statement. It is a statement fight. I went to prayer and God showed me that I was going to stop him, but he did not show me what round. Everyone that talked to me about the fight, I said I was going to stop him and it was going to be a good fight. God revealed to me that I was going to stop him, but like I said he did not reveal what round.
SOG: Leading up to the fight, a lot of people were making comments regarding the sparring sessions between yourself and Echols, but that was several years ago. Did you see any difference between the Echols of that time and the one you were in the ring with on Friday?
KI: I didn't notice any difference, but that was like four or five years ago. If you remember he said he would slip my one-two. That all I had was a one-two, but he forgot that I put my punches together to set up the one-two. My jab kept landing and I would see him shake his head, so I said to myself, 'He don't like this jab,' so I decided to work off the jab and make my punches straighter and I take him out when the time comes.
SOG: Now that the fight with Echols has come and gone, you look over the internet and everyone is talking about Kingsley vs. this guy or that guy. Overnight it is like you have become the name to watch at middleweight. Does that make you feel better now that everyone is talking about you?
KI: It feels great. We are all a team and this is one thing we have been working for. Nobody wanted to fight Echols because they say he punches really hard. I took the fight to make a statement. I did not talk outside the ring. I let my hands do the talking inside the ring.
SOG: In the middle rounds, the ESPN commentators pointed out every time he landed a right hand. Did those right hands have any effect on you?
KI: Actually, I knew I could take his punches. He was not affecting me, if he was I would have been running back away from him. He would throw the right hand, and I kept coming forward and I was not going backward. When I went to the ropes, I put my back on them. He was not forcing me there, I did that. I was not trying to get away from him.
SOG: When did you first start noticing his eyes starting to swell?
KI: Around round three. The right started swelling fast. As soon as my jab started working, his eyes were getting worse.
SOG: Now that this fight is over do you feel that your career, since no one is willing to fight Echols, do you feel that you have moved past Jermain Taylor as for as recognition in the division as a contender.
KI: I think so, because Jermain Taylor has never been tested. All he does is talk. Everything I did has been my choice. I could have went to the Olympics, but I chose to turn professional. I beat a legitimate top 10 fighter. If they cannot make the fight between Bernard and Jermain Taylor, I am ready for the fight. Either one of them, whoever they bring to the table.
SOG: As far as your next opponent, do you have a preference on who you would like to face, or would you rather just take on anyone in the top 10?
KI: My management will come through, Oscar will come through. Whoever they bring to the table. There is not one person out there that I would not mind facing. If it is Bernard, that is fine. If it is Jermain it will be fine, but if they called me tomorrow and said it is Bernard, I would be so excited. I would be happy. I am coming to become number one in the world. I am going to be the next middleweight world champion.
SOG: Did you ever get to give Echols his pillow?
KI: No, my management told me not too and I did not know why. I wanted to give it to him, because a fan made it for me to give to him to let him know I was going to put him to sleep. Nelson told me that they did not want me to give it too him because there was not enough press there, but I did not care about that, I just wanted to give it him. After the fight they had to take Echols to the hospital. I came to fight. In one of the rounds he stuck his glove out to shake my hand, and told him, I don't want to shake your hand, lets fight. We came to fight. Keep your hands to yourself, I want to keep going. We can shake hands after it is over with.
Nelson Oliveira: I believe that Kingsley held back and took the strategy in this fight a little differently because Echols is considered to be such a big puncher. Kingsley held back, and I only think he showed about 25 percent of what he is capable of doing. When Kingsley is in his groove, you will see. It all depends on what type of fighter he is fighting, styles make fights, and this type of fight, Kingsley had to take his time and keep his distance and fight the perfect fight as Teddy Atlas said, and that is exactly what he did.
KI: Teddy Atlas and the rest told me that they thanked me for a good fight and said I made him look like a little kid. They said I made him look like a little kid in the ring.
SOG: Now a lot of people say that Echols could not do anything because he came down in weight. Do you feel that was an issue?
NO: For him to come down to 160, first off when he fought Anthony Mundine, his own lawyer Lamont Jones told me that Antwun was too small at 168 and that he was going to start campaigning at 160 again, so you cannot have it both ways. Either your too small for 168, or you are having problems making 160.
KI: He said he was too small for 168, so I said bring him to 160 and looked what happened.
NO: Lamont Jones was Kingsley's lawyer when he went through arbitration, but you cannot have it both ways and that is all I have to say on that. We would only fight Antwun at 160, because Kingsley is a true 160 pound fighter, and by weighing in at 159 he proved that. He was ready at 159 and he looked great.
KI: The next day we had to weigh again and he weighed 168 and I weighed 162. It did not bother me because I knew I was going to beat him. A great fighter has to make things work.
SOG: In a recent interview on Boxing Talk, Ishe Smith stated he was going to stay at 160 and he wanted to face Jermain Taylor, Bernard Hopkins, and you.
KI: Ishe Smith has a lot of problems. He is on the Contender crying, but he must have lost his mind already if he wants to come up to 160 to challenge Bernard Hopkins, Jermain Taylor, or myself. He wants to fight Jermain Taylor, I have to tell him to get in line. Tell him to get in line. He is needing money for whatever, he needs to get in line.
NO: First Smith would have to get rated at 160 before he even thinks about fighting Kingsley or Hopkins, or Taylor. Get rated at 160. Beat some legitimate middleweights, then come and talk.
KI: If it is not money he wants, then I do not know about him. I want to know what he has been drinking. I am telling, you see Antwun, he is going to quit boxing because of the beating I gave him. He is going to quit. Bernard never beat Antwun the way I beat him. No one has ever beaten Antwun the way I beat him. I believe he is going to be finished.
NO: You know Banner Promotions has brought two fighters to the table to face Kingsley. The first was Marlon Hayes and he has never fought again, and now we will have to wait and see of Echols fights again after this beating.
KI: Tell Ishe Ikeke says to get in line. He is bankrupt, he needs to get in line.
NO: Tell Ishe to beat Ian Gardner or any other top 15 middleweights and we will think about. It is a fight we do not need, as it does not mean anything, that would be an easy fight. A 147 guy moving up to 160. Give me a break.
KI: Get rated and maybe I will put him into retirement.
NO: If he can make it Kingsley will be waiting.
SOG: As always Kingsley, congratulations on your big win over Echols and I wish you the best of luck.
KI: Thank you and God bless you. A hungry lion just stays cool. He does not attack, he waits on you and then he strikes.
Game Notes
Team Ikeke is currently looking over things for his next bout. No opponent has been discussed at the moment, but the leading front runner names they would to see if Felix Sturm, Ike Quartey, or Arthur Abraham. To Ikeke it does not matter who it is, he is always in shape. He will be taking about a week or so off before preparing for his next fight. Ikeke is determined to become the number one middleweight in the world.
Send questions and comments to: stateofthegame@yahoo.com