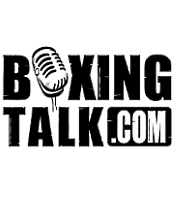 For the past several years, Kingsley Ikeke has set back and watched all the media attention focus on Jermain Taylor. He fought his fights, and yet little was mentioned of the 6'4" middleweight. In this time he has rose through the rankings, changed trainers, settled management issues, and also missed out on the biggest fight of his career that actually led to the biggest opportunity of his career as well. Ikeke has went through the motions without the backing of a major manager or promoter through out most of this time. Now with Golden Boy Promotions, and managers Nelson Oliveira and Gary Gittlesohn being him, Ikeke gets a major opportunity that he has waited for. Tonight it will be Ikeke vs, Antwun Echols for the IBF number two position.
About this time last year, we were talking about Kingsley Ikeke going to Germany to face then WBO middleweight champion Felix Sturm. The deal was signed, the fight was set and Ikeke was about to be on his way to Germany to vie for the WBO title, but little did he know that plans were already underway that would stop the biggest fight of his career. It wasn't meant to be on that occasion, as Oscar Delahoya went on to get the fight with Felix Sturm. It worked out better for Ikeke however, he got a promotional contract from Golden Boy and has been represented by the company for the most of 2004. It was a deal that sealed him a fight on HBO Latino and now as the main event on ESPN against Echols.


Echols and Ikeke are not strangers. They sparred together several years ago, and their have been many rumors that Ikeke broke Echols' ribs in those sessions and that Echols was planning on getting revenge in this fight. With Ikeke, however, he is not one to do a lot of talking outside the ring.


"He is good," states Ikeke, "but I will do my talking inside the ring. When I sparred with him it was not a problem. He is coming to fight anyway, it does not matter. It is up to me to make him fight my fight, and not let him fight his. It is funny, because at that time he said he would never fight me, but now he has too."


So if Echols claimed he would never fight Ikeke after their sparring sessions, why has he had a change of heart now? There could be many reasons. Some believe that Echols needs the money, but Ikeke feels that Echols is trying to use him to make a statement. 


"It is hard to say, maybe he wants to make a statement," says Ikeke. "You never know, all I know is it is going to be a good fight."


One thing that this fight has done, it has given a lot of attention on Ikeke and Echols. In today's middleweight division, it seems that the contenders are not taking chances. Everyone has talked about facing Echols, but none have stepped up until now.


"It is like when you go to school, you have to keep going. You cannot stay in one place. It is like that in the fight, you have to step it up. That is what we are doing."


With this fight, Ikeke has the opportunity to step into the number two position in the IBF. That is a big deal considering it could lead to a possible IBF title show later this year.


"This fight is a statement for me. It is for everyone to see. This is the fight that people will get to see me."


Now to clarify things, a few weeks ago ESPN stated the fight was between two super middleweights, however Ikeke's manager clarifies the issue.


"No this fight is to be fought at 160, no higher," states Nelson Oliveira. "That does not mean 161, it means 160 or lower. The contract weight is 160, it is a middleweight fight and we expect Kingsley to weigh in at about 159."


In Ikeke's last fight, he faced last minute replacement Marcos Primera. The fight only lasted a few rounds, but it was Ikeke that seemed to make the fight.


"He did not want to fight. I used my jab, and even in the second round you could tell that he did not want to step up. After the third he did not want anymore."


Most observers at ringside seemed to think that Primera could not continue because of a thumb to the eye, but Ikeke says it was a punch.


"No, it was a punch. They said it broke his eye socket. I used my jab and then hit him with the one-two. People do not believe that I have power. But they find out differently when they get in the ring with me."


On that night, it was a special night. Most of the middleweights that are considered to be at the top of the division were there that night, including Jermain Taylor and Bernard Hopkins.


"People got to see me. That is the difference I have now. People are starting to get to see me fight more and they now know what I bring to the table. They see that I can fight."


This fight is a major step in the career of Kingsley Ikeke. A solid win and an impressive showing could give Ikeke that title shot he has been looking for. If the showing is impressive enough, it could even mean that you could see Ikeke vs Bernard Hopkins if a deal with Jermain Taylor does not come through, but it does not matter who Ikeke faces.


"If it was to be Bernard, I would love that chance. I will be ready. It does not matter if it is Hopkins, Taylor, or Sam Soliman, I will be ready."


Game Notes


Ikeke's corner will be a little different this time around. Ikeke's cutman will be absent due to having to be in Johnny Tapia's corner. Replacing Ruben Gomez for this fight will be Joe Chavez, another very good cutman that Ikeke is comfortable with. Also coming into the corner this time around is Freddie Roach. Roach will act as the chief second in the corner. Eric Brown will still maintain his position as the head trainer in the corner.


Also, it was rumored that Ikeke was bringing a present for Echols to the weigh-in. It is not known if Ikeke delivered his present or not, but it is known that he had a special pillow for Echols that had his Antwun's name on it.


"This fight is something that is different," states Nelson Oliveira. "All these so called middleweights out there have been avoiding Echols, and we have been heading straight at him. We have been trying to make this fight for a year now. I am glad we are getting Antwun Echols before Jermain Taylor is, because as Larry Merchant said it, 'Jermain Taylor would be a good fight against Antwun Echols, that would be a real test.' So tonight, we are going to see a real test. We are going to show the world what Kingsley can do against a true middleweight/super middleweight."


Send questions and comments to: stateofthegame@yahoo.com