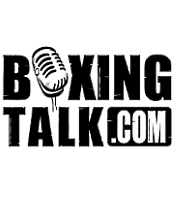 By Scott Shaffer
Three heavyweight bouts resulted in three big knockouts in New York City on Thursday.  Timor Ibragimov's single right hand against Ron Bellamy was the most violent, but  Sultan Ibragimov's third-round stoppage of Al Cole was at least as impressive given that Cole, even in the terminal stages of his career, is far more skilled than Bellamy.  Shannon Briggs' second round knockout of Demterice King was also entertaining.  Earlier, ex-featherweight Kevin Kelley stopped Felix St. Kitts, although he had to work far too hard to do so. There were empty seats at the Theater in Madison Square Garden, but all things considered, promoter Sal Musumeci put on an entertaining and well-run show.
Sultan Ibragimov doesn't possess a very imposing physique for a heavyweight, but Al Cole now knows not to judge this book by its cover.  Cole couldn't last three rounds with Ibragimov, the 2000 Olympic silver medal winner. At yesterday's press conference, Cole promised a strong performance, saying that unlike his recent losses, he had sufficient time to prepare fro Ibragimov. However, after just one round of action, Cole went back to his corner shaking his head dejectedly, perhaps realizing he was in over his head.  Less than two rounds later, the once-durable Cole found himself sitting on the canvas courtesy of an Ibragimov left.  Still possessing the warrior's heart, Cole continued to fight.  Ibragimov, however, was hitting him flush seemingly at will, and as Cole's nose started to bleed, referee Arthur Mercante, Jr. mercifully saved him from further punishment. Cole is now 3-10-2 in his last fifteen, and one has to wonder if New York Athletic Commissioner Ron Scott Stevens will put Cole on indefinite suspension just as he did to Evander Holyfield last year.  As for Ibragimov, this was a very encouraging evening as he easily disposed of Cole, who although faded, was good enough to last ten rounds with Hasim Rahman a year ago. Sultan Ibragimov is now 15-0.
Timor Ibragimov threw a single punch that put Ron Bellamy to sleep, knocking the North Carolina heavyweight unconscious for about three minutes.  One look at Bellamy's record, 14-1-4 coming in, revealed that his winning record was greatly deceiving because he repeatedly piled up wins by beating a handful of the same unknown guys over and over while fighting below boxing's radar screen in the deep South. Bellamy suffered the first knockdown of the bout in the first round.  After an uneventful second round, Ibragimov threw an overhand right in the third that slipped right through Bellamy's guard and instantly caused him to lose consciousness. Bellamy's head bounced off the canvas and referee Tony Chiarantano dispensed with the ten count in order to get medical aid to Bellamy as quickly as possible.  Bellamy's neck was immobilized and he was carried out on a stretcher, barely moving except for some eye blinks. It was a scary sight, but one of the attending physicians thought Bellamy was in no immediate danger.  A CT scan was ordered for tomorrow.  With this devastating knockout, Ibragimov's record is now 17-0-1.
Heavyweight Shannon Briggs almost always looks great against lesser competition, and Thursday night was no exception. Briggs, weighing a reasonable 258 pounds, knocked Demetrice King down in the second round with a right.  Still a great finisher, Briggs swarmed all over King and landed four big punches to end the fight. The referee stepped in just as King, 7-6, sagged to the canvas again.  Briggs improves to 41-4-1, and hopefully he will remain interested in the sport, because he looks to have some good fights left in him.
Ex-featherweight champion Kevin Kelley returned from nearly two years of inactivity with an eighth-round technical knockout of Felix St. Kitts, who also hadn't fought in about two years.  Kelley, who weighed 132 pounds, started slowly and picked it up only slightly over the next few rounds.  St. Kitts was penalized for low blows in the fifth round, and Kelley hit a low point in the sixth round when St. Kitts pounded him against the ropes. Although he looked bad doing it, perhaps Kelley just took the sixth round off because he fared much better in the final two rounds. Kelley threw a hook that puffed up St. Kitts' eye, and then landed another punch later in the seventh that deposited St. Kitts on the canvas.  In the eighth, Kelley froze St. Kitts in his tracks with another big punch, and followed up with a barrage of punches that led to a stoppage.  Officially, the scorecards after seven rounds read 70-61, 69-62 and 68-63 all for Kelley. Boxingtalk thought it was a bit closer, 67-64.  Kelly improves to 55-6-2 and will continue boxing.  Still, struggling against a journeyman deep on the undercard at the Theater is a tremendous step down for Kelley, who headlined an electric night of boxing in Madison Square Garden's main arena in 1997 against Naseem Hamed.
Former New York Golden Glove champion Jorge Teron turned pro with a first round technical knockout of Darrell Crenshaw, 1-3.  The stoppage seemed a bit quick, but Teron, trained by Hector Roca, was too skilled for Crenshaw in any event. Roca, obviously enjoying his fifteen minutes of fame for training Hillary Duff for her role in the Academy award winning movie Million Dollar Baby, got a nice round of applause from the Garden crowd afterwards… Marcus Hicks played the spoiler role by coming in from Texas to knock out local junior middleweight Tim O'Neill in two. Hicks, 5-2-1, landed a right hand that badly hurt and floored O'Neill, 9-2-3.  O'Neill gamely struggled to his feet just ahead of the ten count, but his legs wouldn't hold him up and the bout was over… Derrick Rossy improved to 4-0 with a second round stoppage of flabby Edgar Myers, 2-11… Eddie Mansey also won his pro debut, defeating Joe Howard by split decision. Mansey won the junior middleweight bout by scores of 40-36, 39-37 and 37-39.  Julio Cardenas advanced to 7-0 with a second-round stoppage of John Seme, 3-8 in a lightweight bout.