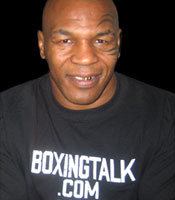 I GOT HIT BY MIKE TYSON!!!  It was on the evening of Saturday March 19th, my beautiful bride and I had just feasted our eyes on a stunning twelve-round masterpiece between Erik Morales and Manny Pacquiao, two fistic warriors who truly brought everything and left nothing in the ring.  Prior to these two ferocious junior lightweights submitting their application for Fight-of-the-Year, plans were made for me to meet up with the greatest heavyweight champion of our time, the one and only "Iron" Mike Tyson.  Having been in contact with Tyson's personal friend and confidant Nick "Nice" Gagliano throughout the evening, we agreed to convene after Morales and Pacquiao waged war on each other near the tunnel that was only accessible to the arena's security and staff.  The plan was for us to all exit the arena together so that I could get a one-on-one interview backstage with the man who still possesses one of the most feared, devastating punches in all of boxing.   
As we began to make our departure, fans seated near the passageway were being joined by "trespassers" who were all yelling for Mike's attention.  Each seemed desperate to capture a picture of him on some digital device or have their hero sign anything that ink could go on.  Once Tyson, his lady friend Jackie, Gagliano, Tyson friend Darrell Francis, trainer Jeff Fenech and wife Suzee, and my wife and I were all backstage, I readied myself to interview "Iron" Mike.  However, that plan was modified slightly by the arena's Head-of-Security who felt that we should get to the media room as soon as possible since that is where MGM's security team would be waiting for us.
As we made the ten-minute trek from the backstage area of the arena to the media room, we passed the boxers' dressing rooms, where Fenech's fighter Hussein Hussein was nursing his physical and emotional wounds after losing a hard fought battle to Jorge Arce that resulted in Fenech's team rushing into the ring to save their fighter.  Pausing, Tyson spoke with Hussein for several minutes, giving him advice on how to handle this loss, and encouraging him to keep on fighting.  He especially challenged Hussein to not be swayed by his recent defeat, but instead to learn from it, allowing himself to become the marvelous fighter that he has potential to be.  Without shame, Tyson recounted tales of his now infamous fight with James "Buster" Douglas where he not only suffered his first professional loss, but was also forced to fly home from Japan with people ogling at him while his eyes were the size of softballs.  After Fenech gave his own two-cents to Hussein, we were off again heading towards MGM's media room. 
It was in the media room, in an area sectioned off from the rest of the media who had inquiring-minds-that-want-to-know, that I began my one-on-one interview with "Iron" Mike Tyson - my second interview with him in three months.  I first asked Mike to comment on the Morales-Pacquiao fight that had just transpired.  He replied that he, like many, would love to see a rematch and felt privileged just to be in attendance to witness the spectacular ballet of pugilism that we were all treated to.  I then moved our conversation to the topic that Tyson seems most uncomfortable talking about: himself.  I asked him which current fighter does he feel is the next 'Mike Tyson', and if he feels that he could still sell out the MGM Grand Arena the way two amazing junior lightweight had just done moments ago.  His answers respectively were, "I don't know, because each fighter has their own personality and style," and "I do well." 
We then got into the topic of Tyson's future as a fighter.  Reports were that Tyson would be seeing action in Washington, D.C. this June, and Mike confirmed that this was, in fact, the case.  There had also been recent reports of Tyson working with trainer Buddy McGirt though trainer Jeff Fenech informed me weeks earlier that he was working with Mike.  In addition, during a chat on BoxingTalk two weeks earlier, trainer Freddy Roach informed me that he had also been contacted by Tyson to start training him again, but Roach had to decline due to his prior commitments to Pacquiao and James Toney.  When I asked Tyson if he was working with Fenech, Mike said that indeed he was.  So why then has Mike been linked with so many legendary trainers as of late?  To that Tyson simply responded, "I get around." 
Now that I had it nailed down that Tyson and Fenech were working together for his fight in June, I asked Tyson what Fenech was showing Mike that after twenty years of fighting professionally, Mike did not already know.  Tyson deferred to Fenech for the answer to that question, while he turned his attention toward the group of reporters standing nearby on the other side of a low barricade.  I tried to keep my subject near and dear to the camera and microphone, but the enticement to talk to other reporters was too much for Mike.  He had to heed the call of the boxing Sirens, and that is when it happened. 
As Fenech and I were talking about what he was working on with Mike, Tyson stepped towards me, looked me square in the eye, put both his fists up, and landed a clean right cross to my chest.  This was the same right hand that had caused havoc to so many fighters throughout Tyson's amateur and professional career.  I thought of names like Michael Spinks, Larry Holmes, Razor Ruddock, Frank Bruno, and Bruce Seldon, all of whom had been dismantled from the same right hand that Tyson "pummeled" my body with.
Sure, the punch that Mike had just delivered would have only tickled a fly had there been one on my person, but it had enough power behind it to "nearly put me down for the count."  While I was pretending to reel from the "pounding" I had just received from the most famous fist of our generation, I thought of countering with a left hook upstairs or a right to Tyson's body.  Instead, I "found my legs again" just in time to hear Mike playfully say, "Ah come on man, quit with that lawsuit stuff." 
I quickly regained my composure, and turned my attention back towards Fenech, who was still answering my question.  As for Tyson, he went to his "neutral corner" where some anxious reporters with cameras and microphones finally got their chance to say hi, take pictures, and get a question in with the former undisputed heavyweight champion.  However, unlike most people who get hit by Mike Tyson with a clean shot, I was still standing, and I wanted more of him.  After my mandatory eight count, Tyson came back to hear what Fenech and I were saying about him, and that is when I went on an offensive attack of my own. 
I "jabbed" Iron Mike with a few more questions about who he could fight that would put him back on top of the heavyweight division again, and what it is like for him to be so adored by fans wherever he goes.   It turns out that Tyson is still getting use to his popularity and he (jokingly) wants to take on his own trainer Fenech, to reach the pinnacle of boxing again.  With an ever-growing swarm of media still waiting to speak with Tyson, I got in one more "final blow."  I asked Mike what he would like to say to all his fans watching him on BoxingTalk.  He countered with a fierce, "Mike's coming back…with a vengeance!" And with that, he was gone.  Say what you will about "Iron" Mike, but if there is anyone in boxing that still has the potential to come back with a vengeance, and do it with one fell swoop, it's Mike Tyson, and I got hit by him.
NOTE:
  To see just how hard Mike Tyson hit me, go to the video archives and watch my interview with him.  There you will see that this article is written with tongue firmly placed in cheek.
Send questions and comments to: fool4rush@aol.com