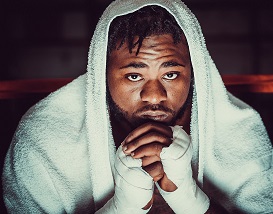 Greg Leon: How is everything going in preparation for your October 5th bout against Pavel Sour on the undercard of Claressa Shields' Michigan homecoming? Jermaine Franklin: "Everything has gone really good in preparation for Pavel Sour. I'm been changing some stuff in my preparations with my fighting style and I'm trying to get some stuff in order. I feel like I had to change some stuff on my offense, but I'm going to get better with time as I continue to perfect my craft."
GL: Change ups in your preparartion like what?
Jermaine Franklin: "Not throwing so many power shots all the time, taking my time and throwing more straight punches, and be more consistent with my output instead of throwing so many bombs. I've got to stop listening to the commentators and everybody else and just tighten up all the way around."
GL: This is going to be your third fight on TV in 2019. You've got to be pleased with the job that Salita Promotions has done with getting you air time.
JF: "Yes, yes. He's done a very good job, an awesome job of fighting for me and making sure I'm on TV."
GL: It's a double edged sword though because you're development is taking place in the public eye. I know that you feel you haven't put your best performance forward yet, are you confident that we're going to see the best of you on October 5th?
JF: "Most definitely. I'm going to be better than y'all seen me. I'm going box with more skills and I'm going to be a lot more technical. I think personally, I think getting the knockout all the time, got me used to just hurting people and having them drop whenever I touched them, but that's not what boxing is about and I had to get over my own hype a little bit."
GL: What do you expect to come in at?
JF: "I don't know, right now we're still working and I can't really predict how my body is going to react. My weight fluctuates and I'm getting muscle, but I'll definitely be lighter than the last fight."
GL: What will we see on October 5th that we haven't seen from you yet?
JF: "I think you're going to see a new and improved version of me that is more calm and fights with more consistency. I'm going in there with more strategy this time, not just looking to brawl."
GL: How do you feel about being a part of Claressa Shields homecoming?
JF: "It's an honor for me to be on another one of her shows. We're really good friends and I couldn't be happier. I'm a fan of hers, so it's the best of bot worlds for me, I get to fighton the card and watch her fight, so it's just great."
GL: What are your thoughts on Sour as a fighter?
JF: "He's a good fighter. From what I've seen of him he's a puncher and he comes looking to make a fight of it. He's weak going backwards, but I think he's coming to give a good show and he's not going to give up."
GL: Will he go the distance?
JF: (laughs) "Man I'm done predicting knockouts. I can predict it's going to be a good fight and the best performance you guys have seen from me."
GL: Closing thoughts for the fans.
JF: "I just want everybody to stay tuned. If you think I'm a joke, keep on sleeping. I'm new to the time but I'm rising to the top, you'll see."
Send questions and comments to: boxingtalkg@yahoo.com