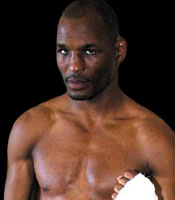 When the name Bernard Hopkins is mentioned, quite a few things can come to mind besides a boxer who ruled the middleweight division for more than a decade with supreme ring intelligence and extraordinary resolve. Think of dominance and dedication, perseverance, patience, and pride, of course. But more importantly, inspiration comes to mind. If Bernard "The Executioner" Hopkins (46-4-1, 32 KOs) never laced up a pair of boxing gloves, his life would still be a success. Take away the respect he has earned among fans across the globe. Take away his partnership interest in Golden Boy Promotions. Take away his twenty defenses of the middleweight crown, which included victories over formidable adversaries such as Howard Eastman, Oscar de la Hoya, Felix Trinidad and Glen Johnson. If Hopkins never stepped inside a boxing ring, his qualities would still make him an inspiration, maybe less famous, but still an inspiration because those qualities would still have driven him to do something positive with his life despite a rugged past that includes jail time.
Hopkins' story is more than just a tale about a young man who recognized his errors, changed his ways, and moved on with his life. His story is that of a young man who survived the horrors of a notorious state penitentiary (Graterford in Philadelphia, Pennsylvania) and not only changed his attitude, but redefined his character. 
Big deal, right? So what if Hopkins matured? Isn't that to be expected of all of us at a certain age? Don't most of us eventually get things right and settle down? Probably, but how many of us slept in a cold, musty, cramped up jail cell among killers at the age of seventeen. At an age when teens usually discuss where to hang out over the weekend, Hopkins had to watch his back to make sure older inmates didn't try to shank him for a peanut butter sandwich or do something even worse. But it's those kind of experiences that grab a hold and shake you to the core. They force you to see beyond having a nice car and a good time. They teach you to keep your head up. Be someone. Do some good. Stand for something—people will relate. They'll understand trials and tribulations, regrets, mistakes, the slips and falls. But more importantly, coming back from hard times with hope and the resolution to keep fighting.
So it's quite fitting that in preparation for his farewell fight on June 10, 2006 against light heavyweight champion Antonio Tarver, Hopkins chose the city of New Orleans to train.
Though much of New Orleans still lies in ruins after the effects of Hurricane Katrina, the city has welcomed Hopkins with open arms. For Hopkins, who typically trains in Miami or Philadelphia, holding camp in New Orleans has been more than a blessing.
"It's been a humbling experience. You talk about the destruction of a 9-11—[Hurricane Katrina in] New Orleans was a 9-11 of nature. It's real sad. People are still out there in the rubble. People have lost their houses, churches. The least problems I have is stepping in the ring on June 10th compared to these people out here," says Hopkins in his usual serious tone. "They opened their hearts to me and I'm glad to be here. It's a reason why I train so hard. It's been a motivational tool to keep the fire burning. New Orleans has shown me that anything can be accomplished if you really want to make it happen."
Making things happen is something Hopkins has been able to do rather well since his bid at Graterford many years ago. It's that do-or-die mentality that saw him through losing his first professional prize fight. It's a mindset that helped him terrorize the middleweight division for twelve years. And it's this outlook that has Hopkins ready to go for his PPV showdown versus the bigger Antonio Tarver. But bigger means nothing to Hopkins. His life struggle has always been about taking on something much bigger than he, whether it be the boxing industry or a few unruly inmates.
"Most people want to be followers in society. There's more followers than leaders—that's human nature. Nobody wants to stick their neck out and make sacrifices, but I always did. Watch my career. I took the industry by the horns and said, 'I'm going to do it my way. Stop me.' And they didn't," he says. "At seventeen, I had to go into D-block and find the toughest guy to knock him out. And he wasn't my size either. He was a big guy like Tarver, maybe bigger. I had to see him—that's where my integrity came from."
Call it madness if you like. To Hopkins it makes no difference. It doesn't matter if you think he's too proud for his own good. It doesn't matter to him if you believe he stands no chance against Antonio Tarver on June 10th. He knows he'll prove you wrong and when he does, don't say he didn't warn you.
"When Tarver goes down and I make it look easy, my corner won't be jumping, hollering crazy like we pulled something off. I won't rejoice like something dramatic happened. Ya'll should be the ones to write that something happened," says Hopkins.
Why would he be surprised if he won? After having had one of the best training camps ever under the tutelage of Brother Nazim Richardson, former champ John David Jackson and renowned fitness expert Mackie Shilstone, Hopkins knows what he must do to defeat Tarver. Moving up two weight classes is not even a concern. Why? Because Hopkins is doing the right things in order to adjust his body to fighting at light heavyweight.
"What I have to do is not get caught up in what a boxer is supposed to do to get bigger. Most people think it has to do with weights, it has to do with what you eat. Certain athletes have to go that way because of the way they live. Discipline outside the ring has made it easy for me," says Hopkins. I don't smoke, I don't drink, I don't hang out. My eating habits haven't changed because realistically, I've never been on a diet. I just know what to eat, what time to eat, and I've mastered that. My diet is basically eating a little bit more than I was eating at middleweight. If I was eating ten ounces of rice, I'm eating fifteen or twelve ounces now. I don't think I have to be at 175 because if I'm not comfortable with that, why would I subject myself to being out of my world? Why would I give up a situation that I've been great at? I would not let a situation become 'I have to be a certain size to compete.'"
And that's kept Hopkins on his toes throughout his career, despite any kind of setback. Yes, even the two fights with Jermain Taylor last year, in which Hopkins lost his undisputed middleweight crown. In his eyes, those close, back-to-back losses in 2005 are merely an afterthought now. Dwelling on the outcome of those bouts is meaningless now, as is focusing on the life of retirement after June 10th.
"The focus on me is not after the fight. The focus on me is the fight. You can't have two or three things going on in your mind at one time. Retirement on this level at forty-one years old is a blessing—to be able to do that and healthy. But you talk about that when the time comes, not before you go to combat—that'd be a mental mistake," he says energetically. "I know how much I love the sport to the point where I've sacrificed my marriage for this. I haven't seen my wife in almost seven, eight weeks. I shut down everything—I block things out of my mind. But I know where my heart and spirit are at. I know I have the same thing in this era that the Haglers, Monzons, Benny Briscoes had in them. When they were calling me a throwback years ago, I knew what that meant. That ain't mean today's athlete. That meant yesterday's athlete.  To be yesterday's athlete in this world today is high honors. Enjoy me now. You may never witness this again. When is another Bernard Hopkins going to come? You're taking a gamble if you think this happens everyday."
While Hopkins may no longer the ferocious fighter of five years ago—win, lose, or draw against Tarver, he is going to Canastota when the time comes. Then let the mythical pound-for-pound match-ups begin. Would Harry Greb overwhelm Bernard Hopkins with his brawling style? Would Sugar Ray Robinson out-slick the gritty Philadelphia native? Let your mind run loose, because Hopkins' name belongs in the mix among the all-time greats.
But it didn't come easy. It took more than blood, sweat and tears. It took enduring nightmares that would make grown men cry. It took the harsh realities of life to write the inspirational story of Bernard Hopkins. It goes like this.
Eighteen years ago, a skinny kid from Philadelphia, an ex-con, would lose his first professional fight in Atlantic City, New Jersey to a decorated amateur fighter at light heavyweight. He then took more than a year off to make the proper adjustments for his career, coming back rejuvenated at middleweight. From there he became a prospect that lost his first title fight, but two fights later, would become a champion that would rule his weight class with an iron fist, undefeated for twelve years. Some called him a pariah during his title reign; some considered him overrated. After finally losing consecutive title fights, detractors could finally nod and say, "I told you so. He was never that good. He's too old. He promised his mother he would retire and he's not doing it happily ever after."
But the story has not been completed. Not just yet. On June 10th, the very same fighter returns to Atlantic City for the last bout of his career at light heavyweight. If he wins, he would have one of the greatest farewell fights in the history of the sport. But there are many who says he's washed up; many who give him no chance whatsoever of winning the light heavyweight title. Go ahead and doubt him—he wants you to. He's lived his life that way. He's not fighting for your opinion—he's on the path to boxing immortality.
"Right now the motivation of Bernard Hopkins is history, not legacy. My legacy is already cemented. My legacy was in the middleweight division and that chapter has closed," he says solemnly. "If you knock me down and I'm not out, watch out. My record says that. My demeanor says that. I established that in boxing."
Send questions and comments to: onelove86@yahoo.com