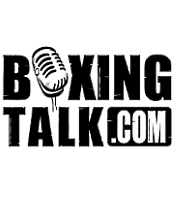 Tonight for the first time ever professional boxing comes to the Hynes Athletic Center at Iona College in New Rochelle, New York. This card is being presented by Ring Promotions. Ring Promotions is headed by the former Director of Boxing for the New York State Athletic Commission Bob Duffy. One of the featured attractions on the show entitled "Campus Collision" is Maureen" The Bronx Bombshell" Shea. Shea first garnered headlines, for her role as Hillary Swank's sparring partner during the actress' preparation for her starring role in the Oscar award winning film "Million Dollar Baby". The undefeated prospect Shea took timeout from training to chat with Boxingtalk.  
Traditionally around this time of year many young women have their minds preoccupied with Valentines Day. Well Bronx native Maureen Shea is not your typical young lady. Chances are that you won't find lots of 25 year olds that follow a daily excursion beginning at 6:00 am to clash with New York City rush hour, traffic. This daily expedition is done all in the name of learning the art of combat. Shea who is the daughter of a retired New York City, policeman used to hide her gym commutes from both her parents.  
"I used to hide going to the gym until one day my mom found my head gear in my room. She asked me what it was for and I told her I was learning to box. I know that she did not think that it would one day be my profession", said Shea.  
"They are both 100% behind me. They are my biggest supporters. My father has been to all my fights, but the funny thing is my dad just watches his expression never really changes", said Shea.  
The former Catholic school girl from the middle class neighborhood of Throgs Neck for as long as she can recall was always an athlete and always active. Maureen played soccer, softball and ran. Shea is also an accomplished flute player. Shea says that she lived a typical teenager's life. This at times found her in emblematic adolescent trouble. Boxing was an outlet that she discovered to challenge and channel some hostile energy that she carried around. She has been hooked ever since; she first wrapped her hands as a 19year old.   
"I truly love boxing. It has given me a lot and I have been able to meet so many people because of it. It has given me tremendous direction. I can see that both my parents are very proud of where I am today also. What more can you want than the approval and respect from your parents," said Shea.  
Shea stands 5'4 and currently owns a record of 3-0 with 2 wins via knockout. She is campaigning in the lightweight division but sees herself slowly making her way down to the featherweight realm. The diminutive in stature Shea has big plans for her career. The Mexican- Irish American seeks to remain unbeaten as she takes on the debuting Salena Hayden of Colorado in a 4 round lightweight bout.  
Shea has all of the physical tools to be a success in and out of the ring. It is no secret that females who are graceful athletes become media darlings. It is also a huge advantage if that same woman is easy on the eyes. However the ultimate success or however it will be measured for Shea will be dictated on her wins and losses. This is something that this English major is fully aware of. Her good looks may also lead to some detractors and haters as well.  
"At first I was self conscious about my boxing and my appearance. I guess I don't "look" like a fighter, but whatever. I'm not fighting for anyone else other than me. People are going to think what they want. I fight for myself. When you step into that rings its just you in there. Now don't get me wrong I also take my fans and supporters into the ring with me, because they are a huge inspiration to me", said Shea.  
Shea is dedicated completely to her craft. She is a gym rat who loves to work out. She will be back inside the well renowned Gleason's gym on Monday if all goes according to plan against her opponent, Friday night. Staying in top shape is never an option for Shea, since she is a licensed personal trainer.  
"As for the rest of the year I am confident and the plan with my team is to stay active. As for the immediate future if all is going well I will have about 4 fights by June. Including being a part of the under card bout at the Garden on March 16th", said Shea.  
"Expect a good show, I'm happy to be back in the ring and of course excited to be fighting at Iona, I could not pick a better place. It's where I go to school, its also close enough for all my family, friends and fans to come see me," said Shea.  
Shea is set to graduate by May with a bachelor's degree. She attends the private University on an academic scholarship.  
Iona College is located at 715 North Avenue, New Rochelle. Tickets are priced at $100 Reserved Ringside, $50 Ringside (floor), and $30 General Admission. Iona students can purchase tickets at a special school rate of only $20 (with student ID). Tickets can be purchased by calling (914) 235-2325, (516) 313-2305. Tickets can also be purchased at Souler Gym located at 170 East Post Road in White Plains (914) 946-3500. Doors open at 6 p.m. First bout starts at 7:30 p.m.  
Boxingtalk would like to thank Maureen Shea and Ring Promotions for their time and cooperation.
Send questions and comments to: spjr21@yahoo.com