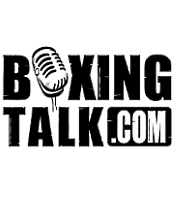 EVANDER HOLYFIELD: 
I think the layoff has helped me.  It gave me a chance to realistically go back and look at my past fights and that would let me know if I am willing to pay the price that is necessary.  People have to make that decision for themselves if it helped me after this fight.
The adjustment is that I changed trainers, which is a great thing.  A lot had to do with it.  I have a trainer that knows me.  He worked with me back in the George Benton days.  He realizes what I can do and he believes in me.  It's amazing when you get in the ring. A lot has to do with what someone expects of you.  If someone feels that you are old and don't feel that you can do it - then they don't push or have the patience for you to do it.  We have to do it at courtside working together.  With Ronnie Shields and with my work ethic, I believe that we have the team.
Everybody has a heart.  They tend to fight better.  I would expect him [Donald] to fight better.  He has good skills and he has fast hands and moves a lot.  He has a good jab.  He is trying to come back so he has something to prove, too.  When you have two fighters out there with skills, who feel that they have something to prove on the same day, somebody has to win.  That is a threat and I know that I have to put forth my best game and he will put forth his best game and we'll see on the [Nov.] 13th. 
LARRY DONALD: 
With Evander, they can say anything they want to about Evander, but everybody knows when Evander comes to fight, he comes to fight.  So I have to be ready.  I have to prepare myself for a war because Evander is a war.   
On whether he should have "let his hands go" more in previous fights:LARRY DONALD:
There are a lot of things that I could have done, but I don't go back into the past.  I only deal with what is going to happen on November 13th.  I can only prepare for that.  You can have a bad day or have a good day, I'm looking to have a good day on November 13th. 
Are you fighting for the money?EVANDER HOLYFIELD:
  That is [some] people's opinion.  I'm not going to get into that because we will be talking forever.  I can't go against someone's opinion because I know why I do what I do.  With my children and my lifestyle – that is my personal lifestyle and that is what I chose.  My work is what I chose.  For whatever reason, I choose to box.  That should be all right.  It is not illegal. People work.  So whatever you choose for your work is your choice.  I am not concerned with what people were saying for whatever reason I am, I tell them my reason. 
They have a choice to believe it.  If they choose to believe it, fine.  If they choose not to believe it, that's OK.  I'm not going to be upset with anybody and I'm not going to get into anybody else's lifestyle.  I tell them that I didn't wait till 2004 to say that, I've been saying it since 1992, when I lost that to Riddick Bowe.  I've been saying that I want to come back to be undisputed heavyweight champion of the world again.  I got the belts three different times but I still wanted to be undisputed.  That's all.  My goal is still out there. 
Do you still enjoy training?EVANDER:
  Of course it is a little different [now].  I am a lot older and a lot more mature.  The ego is not as big as it used to be.  But nothing changes the fact that my goal is to be undisputed heavyweight champion of the world.  The fact is that, yes, I could be doing something else.  But I have been brought up to be able to close the situation out.  When I actually retire, I will close the book and never open it up again.  Then I will have a press conference and tell everybody that I did everything that I wanted to do in boxing and I'm happy with it and now I will move on to something else.  And I will get into whatever I get into the same way and I will set goals and look forward to reaching it. 
On former longtime trainer Don Turner:EVANDER:
A lot of time people don't stand up to a fighter and say, 'You are too old,' but you are paid to be my trainer and I don't think you should train me if you don't think I can do it.  If you don't think that I can pull the shots and all of that, but I am actually doing what you asked me to do in camp.  If you are not pushing me…I felt that I did everything that I was asked to do in camp to be ready.  The fact that it didn't work, I don't look for no excuses, but the fact of the matter is that it didn't work.  The fact that it didn't work and against James Toney, he [Don Turner] said I was old and I didn't work like I used to [do].  When I heard what the trainer said, I'm only doing what you asked me to do.  So I just felt that I needed to get someone that felt that I could do it.  Now I'm doing what you asked me to do.  I just felt that I needed to make an adjustment to find somebody that believes that I can do it and when they ask me to do the things I need to do, they know that I can do it. Now I have somebody with fresh air that knows if I win, you win and it could be good for both. 
That was his opinion and I can't try to criticize someone on his opinion.  I'm not mad about it and I have a choice to move on and I made that choice.  I'm not upset and I won't discredit him.  When two people are in a disagreement they have to part, they don't have to be angry with each other.  I am not angry with Don.  I wish Don Turner well but I don't know if he wishes me well.  It's OK and there is nothing bad for me to say about it.  But that's what he did and he felt right about it at that time.  I felt I made a good decision and I moved on. 
On the James Toney fight:EVANDER:
  The point is that Toney outmaneuvered me in the fight.  He was getting his hands off and all this and the only chance I had winning at that point in time I had was if I could get this boy to be still and come up on me so I can hit him because I just can't get him.  He was fighting them back.  But you know what?  He was hitting me and was getting close, but you know what?  It was a 12-round fight.  Let me do, in all my power, figure out how could I win?  The whole thing is that I am willing to pay, and you don't lose till you quit.  I have told Don [Turner] and Don knows that, hey look, you never lose until you quit.  You may never win that fight on that day, because in your mind you are saying there is something else that you could have done.  You can make a decision, but you don't quit.  The referee or anybody may stop the fight, but you didn't quit.  And that is the plan.  I understand what it takes to be successful and a lot of people don't know what it takes.  So they found themselves quitting a lot.  I don't quit.  I realize that there was another day and that maybe today wasn't my day.  The fact is when it happened, it happened.  I'm not blaming Don for what he did.  But he didn't see it and I don't team up with people like that.  We left it that way and I still respect him.  I respect what he did, but I moved on.  I'm happy and I don't see why anyone should be overly concerned about the decision that I made. 
Later on in life I will have prepped myself for what I want to do.  All of my life I have been prepping myself to be able to endure whatever it takes.  That's the reason why I got another trainer.  The trainer is making adjustments, making everything clear and all of that and being really competitive to see if I can really do this.  In all of this, I know that I am good enough not to get hurt.
I realize that, unfortunately, a lot of people don't think fighters have enough common sense to protect themselves.  There is nothing that I do that somebody else doesn't do.  It's just that there is a different time and I'm a different person in a different place for it and people say that, well, George Foreman did it but he was bigger.  But there was a price that he had to pay, too.  There was a fight that he fought that he didn't look too good after the fight, but at 45, he was the champ.  So don't sit here and make people feel sorry for me.  I'm happy and I have all of the business I could do but this is what I have decided to do. 
RONNIE SHIELDS:
  The first thing I noticed, from being a fighter myself, is everybody wants Evander to prove it to them that he can still fight.  My thing is that he only has to prove it to Larry Donald because Donald is the only person that is going to be in the ring with him, not everybody else.  Everybody can criticize what he looked like in the ring [recently], but he's been training hard and I'm very pleased with the way everything has been going.  I've been pushing him real hard and I told him from the beginning, this is not going to be easy.  In order for you to get back to the top is going to take a lot of hard work.  He's been giving me everything he can in the gym.  I am satisfied with it and, like I said, on November 13th the only person he has to prove it to is Larry Donald. 
EVANDER:
  You look at the past fights and you can say that my skills have declined for what you have seen.  And I wouldn't be mad with them.  I would tell them, 'You are absolutely right.'  But what has that got to do with the 13th?  If I make the adjustments, then you will get a chance to see.  There won't be any sense in talking about what was in the past.  On the [Nov.] 13th, I have a fight, then if I win I have another fight.  People will get the chance to see if there was really an improvement.  The fact of the matter is that I have a choice.  Why would somebody want to take that choice away?  Why would I be the only fighter that wouldn't have a choice?  I fight competitive fights.  I'm not one of the fighters that fights somebody with losing records.  I fight competitive people who will fight.  Larry Donald is a good fighter.  I don't plan on fighting guys who don't know how to fight. 
You have to understand that a lot of people that [Holyfield should retire] have never been a winner.  I have.  They never did.  They never completed anything.  They never went through that.  I came form the ghetto.  I always had a rough time and I had to make adjustments.  I went through my whole life making adjustments.  When I won the heavyweight title they thought I wasn't going to win anyway.  Now why would anybody think that I would win the heavyweight title again when they didn't think I would win it when I was coming up?  I've shocked all of the people that didn't think I could do it.    Now why, at 42, would I think they would believe that I could do it again?  Now I have to prove again that I can make a difference. 
LARRY DONALD: 
Evander is a war, do you know what I mean?  He is a champion.  Champions don't die easy.  They keep going.  You have to take the fight away from a champion.  That's what I am planning to do.  I plan to take the fight away from him.  Old warriors are strong.  He is strong and I have to use my quickness. 
It doesn't make any difference if Evander is listening or if he is not listening.  The truth is the truth.  I am not underestimating Evander in no truth or fashion.  I will always say that Evander was a great champion, and he always kept himself in great condition.  When you keep yourself in great condition that is the majority of it.  But in watching the films and what not, I don't see myself having any problems with Evander.  When you fight Evander, you have to be right.  You have to be in shape because he is coming. 
When you come to fight, you come to fight.  I do it on the inside and I do it on the outside.  It doesn't make any difference.  I will be very comfortable (fighting on the inside). 
COLIN MORGAN:
  Larry is a real hard worker.  He makes adjustments well.  He is working on his speed and keeping sharp.  He will cause a lot of problems for Evander because it won't just be the jab coming.  It will be a lot of punches. 
People always say that Larry just uses his right hand and is not aggressive.  From the time I have been working with him he's been more aggressive.  You can see by the boxers that I have trained and they just blow people away.  Mentally, I am getting him to be more aggressive-minded.  You will see a different Larry Donald.
Larry would always sit when he threw his right hand.  I got him to stand up more and raise his elbows and snap off the punches.  The sparring partners are feeling it now.  Then we will carry it into the ring.  We are fighting Evander as if it was the Evander of 10 years ago.  We just have to go into this fight as if it was a regular fight, not answering the other questions about Evander.   
You've go to do what you've go to do.  That is boxing.  Evander is a great fighter and is good for boxing.  And that is the attitude we are taking into the ring.  It's not an old Evander.   We don't want to get into that.  This is a regular fight.  We can't think like everybody else is thinking—that he is old and finished. 
RONNIE SHIELDS:
  I was with Evander when he won the heavyweight championship of the world.  This is not the same Evander that you saw back then.  This is the Evander Holyfield of 2004.  I've been with Evander now for maybe 6 weeks, and I've been trying to get him to do some of the things he did back in the old days.  So far, everything is working perfect.  It is going to pay benefits in the ring.  The thing about Evander Holyfield is he needed someone to believe in him, and he needs somebody to push him to the limit and that's what I have done.  I've gotten a lot out of him in the gym and it is going to show in the fight. 
Evander is an optimistic person and he can feel a lot of positive energy from the people around him.  If you don't feel that then you have a tendency to slack off.  If he slacks off on the person that makes him do things then of course he is going to be a lazy fighter.  All I am saying is that I pushed him, and I pushed him hard, and he's doing all of the things he knows he has to do.  I told him it's one fight at a time.  This time Larry Donald is the only fighter and the only person that we have to prove that to that means anything. 
LARRY DONALD:
  It's going to be an exciting fight.  Evander will come to fight and that is the only Evander I expect to come to the fight.  It is going to be thrilling and chilling.   I just want everybody to sit back and expect a great show.  This might be the fight of the year. 
RONNIE SHIELDS: 
That has always been Evander's motivations.  We talk about it all of the time, back to when he fought Mike Tyson.  I had David Tua sparring with Evander.  He said then that 'nobody is going to give me a shot.'  I told him then, you just be Evander and go out there and do what you know how to do.  And he did it.  He did it twice.  The Evander Holyfield that I know loves [it] when people tell him he can't do it.  This is what I tell him all of the time.  Everybody wants you to prove that you can still fight, but the only person you have to prove that to is Larry Donald, and that inspires him every day in that gym.  I have to do what I have to do to get him inspired.  Evander is no Mike Tyson, and I've trained both of them.  Tyson doesn't train half as hard as Evander Holyfield does. 
How is Evander's shoulder?
The shoulder is great now.  He had problems before the last fight with Toney.  He wasn't comfortable with the shoulder but he told me, 'Hey, I went in to fight anyway.'  The shoulder was still bothering him.  After that fight, he went back to rehab and it's been over a year since he fought now.  The shoulder is great now.  You will see it.  You will se everything on November 13th.