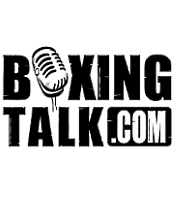 "I'M BACK!"
Boxingtalk.com recently spoke to Jr. Welterweight prospect Kendall "Rated R" Holt 16-1(11), who last Thursday night defeated rugged hard nosed Miami Based Columbian Roberto Ortega 17-11-2(13) on a Darwish Brothers promoted fight card at the Robert Treat Hotel in Newark, NJ. In this one on one exclusive interview, the Paterson, NJ native give us his thoughts on his highly anticipated return to the ring, as well as what next for him in the months to come. Read on, to see what one of the must talented prospects in the game had to say.
RC: What's going on Kendall?
KH: Nothing much, man I am just happy to be back on the winning track.
RC: After suffering your first loss as a professional, what was it like stepping back into the ring in front of your hometown crowd?
KH: At first I was nervous, but with this guy (Roberto Ortega) I watched the tapes on him all day. So I knew exactly what he was going to do, and I knew exactly what I had to do. That is the best thing about when I get a new opponent, most of the time I don't get tapes and I don't know anything about my opponent. But when I do get a chance to study my opponents I already know what they are going to do. So it makes it a lot easier when you study tapes, so I already knew what he was going to do, I already knew what he could do and I already knew how to react to everything that he was going to do, and that is what I did.
RC: As far as the nervousness, do you feel it came from the knockout loss you suffered to Tommy Davis and not wanting to get hit, was it about trying to impress the hometown cro…..….

KH: (Cutting in) Nah, just nervous about another fight, just regular nervousness. But about getting hit, just so people didn't think I was gun shy, towards the end of the fight I did a little show boating, I put my hands down, I rubbed my head a couple of times, I was patting my waste down just so my hometown fans and everybody didn't think I was gun shy. That wasn't the case, so I showboated a little bit just to show how I felt. I got caught the last time (In First round TKO loss to Tommy Davis) but it didn't affect me.
RC: So you did a Mayorga and dropped your hands?

KH: Not really, I started jabbing, I could hit him anytime, I wanted to because he didn't move his head and that is one of the things I noticed when watched the tapes. I was jabbing him and jabbing him, then I started talking to him, so as I kept on talking to him I was getting more and more comfortable with what I was doing. Then towards the end of the fight I just started playing around to let everyone know I am not gun shy, I am not going to be scared to unload, I'm not going to be scared to attack, and I am not going to be scared to fight. Because I lost my last fight the way I did I wanted to show people that it didn't affect me in that way.
RC: Do you think you will still feel the same way when you have to step up your level of opposition against much more competitive fighters?
KH: I mean most of my fights I am nervous in the begging, but once that bell rings, all of the nervousness is gone. I guess it is normal to have pre fight nervousness, but nothing more than that, nothing more nervous than usual, or that is expected.
RC: Since this fight wasn't televised, why don't you give us a run down on how the fight played out?
KH: I came out boxing, popping lovely jabs. I hit him with a jab anytime I wanted. Looking back now I should have doubled up, a few times I did, I would double up, put a right hand to the body, and I already knew what he was going to do. He was going to duck down, then he was trying to take a jab to the body and come in with an over hand left. So all I did was get out of the way, I got head butted a couple of times, I got caught a little once or twice. I caught him with a couple left hooks that sent him to the canvas, I don't remember which round they were, but I know I dropped him twice. On the ropes, I was unloading bunches and bunches of punches. When he got me against the ropes, then I would tie him up and spin him off. So when we were on the ropes I basically would get my work off, but I wouldn't let him get his off. That was the only time he was going to be able to get anything off on me. So I would tie him up, spin off, and then get back in the middle of the ring. I caught him with two lovely body shots a left hook to the body that really really seemed to hurt him.
In this fight I was exercising patience, and I was really trying to get the rounds in. I didn't go after him to try and stop him. I just kept boxing and doing what I was doing because I wanted to get the rounds in. When you come back to fight, sometimes they call it a tune up, but if you get a tune up and knock him out in the first round, how is that a tune up?
You didn't really get any rounds in, you didn't get any ring rust off, so I was happy that I was going to distance and just getting back into using my boxing skills.
RC: So you feel as if you would have pressed the action you would have been able to stop him in less than five rounds as your stable mate Demetrius Hopkins did who isn't known as being as big a puncher as ….
KH: (Cutting in) Man listen if I would have pressed it, it would have went three tops. Three tops because I already seen that he was out of shape. He started huffing...not huffing and puffing but breathing a little heavy. After he threw a few punches, he had to take a deep breath. So I already knew from that, that when he threw a couple of punches it made him a little winded. But that didn't make me go out there and try to get him out of there because I wanted to get the rounds in.
He came in on the scale 153lbs and he went and lost a half of pound of whatever and they gave me a couple extra dollars to take the fight.  But no matter what I would have taken the fight.
RC: Was that bravado or because you were anxious and looking to get back into action and put on a show for your hometown fans?
KH: It's because I watched the tape and I already knew his skills didn't compare to mine. I knew I would outclass him. I didn't even remember that he was the guy Demetrius fought until I got the tape, and once I did I knew that if I stayed focused and didn't fall asleep in there, I wouldn't have any problems.
RC: Was it the type of performance you wanted to have in front of your hometown crowd in your first fight back?

KH: Yup, I wanted to go out there and show that first of all, I wasn't guy shy, second of all that it is not over, and third of all I wanted to go out there and show speed. I wanted to go out there and distribute an ass whooping, and I wanted to go out there and prove I can box and punish the guy. I didn't need to look for a knockout; I was alright with a decision. Just because I had him hurt I didn't want to go out there and try to finish him off in that round. I had more rounds to go, I could have got him out of there if I wanted to, but I wanted to give my hometown fans their dollars worth.
RC: In the future when you step up your level of opposition is that something you plan on doing?
KH: I always got it in my mind that the faster I get him out of there…….well because the longer he stays in there he has a better chance of getting me out of there. But I am working on my defense a little more, I am still not gun shy, so I am aware of dropping my hands in between exchanges, and I am conscious of it now because of my fight before this one. All throughout my career now, I am going to exercise a lot more patience. Just because I hurt a guy the first time doesn't mean that he is hurt to the point to where he can't respond. So I am going to go out there and do what I have to do, I am going to be patient and if it looks like he is hurt I am going to jump on him. But if I sense that he is not hurt that bad, I am going to go the body and set him up with some punches, but I am not going to go out there and go all crazy trying to get him out of there right then and there.
RC: How would you rate your performance overall?

KH: I give myself a B; it was a comeback fight so I gave myself a B+
RC: What do you feel you could have done better to earn an A in your opinion?
KH: I feel I was kind of hype, I think I should have been a hair bit more relaxed, just a hair bit. But being that it was my comeback fight, and it was in front of my hometown, I was a little bit anxious, not anxious where I was trying to knock him out, but just a little anxious, I think I could have been a lot calmer and set my punches up a little bit better. They were sharp throughout the fight, but if I would have been a little bit more relaxed, it would have been that much sharper and I would have been able to get that many more combinations off.
RC: Your lone conqueror Thomas Davis recently lost to Nurhan Suleyman, is that rematch you'd still like to pursue, or being that he lost you see any sense in it?

KH: In the beginning because you know I am not use to loosing, I wanted to get that back like all of the greats did. But then after I calmed down, and a month or two went by, I could watch the fight, and I can watch it over and over where as before I couldn't. But now I realize this guy is 32, he should have lost to me but he didn't, he lost to Suleyman, I think he tried to get his professional career going, and now it is stalled again with two losses, and I think the highlight of his career is going to be when it is all said and done when I become undisputed he can say I beat Kendall Holt. So I am not really going to pursue it unless we meet up there somewhere. If he goes on and wins and win and wins and we finally meet again like Hearns and Leonard did when they met later on down the road at a bigger weight class, then yeah I will take the fight. But am I going to pursue it now.
RC: So when can we expect to see Kendall Holt back in action?
KH: Well all of the T.V. spots are booked up throughout the year. But there is another fight card coming up where I fought my last fight, it's on December 2nd. If I can get on that card again and Headline again, I will do it just to stay busy until next year when I can get back on T.V., but right now I am just going to try and stay busy. So hopefully I will be able to take another fight before the end of the year.
RC: So you'll be looking to step it back up during the early part of next year?
KH: Well actually, if I can get on this next show at the Robert Treat Hotel, with the Darwish brothers, by the way I want to thank them for letting me get on their show, but if I get back on I want to fight a ten rounder, and I am pretty much set to go now. Don't get me wrong, Ortega wasn't a slouch, but he didn't have the skills to be able to beat me, then again neither did Davis but he beat me. I am going back to the gym tomorrow, I went running this morning. So hopefully we can get another quality opponent for December 2nd if I get on that show, and hopefully it is going to be my first ten rounder.
RC: Is there anything else you would like to say in closing?

KH: Yeah, just tell them Welterweights and Jr. Welterweights I am back. I had a minor setback and I am here to cause ruckus on the mother fucking Jr. Welterweight division. If they are not here to fight, then they shouldn't be here because in this division you can really get hurt and I am looking to hurt somebody.
CLICK HERE FOR THE REST OF THIS MUST READ INTERVIEW
Send questions and comments to: rayocampbelljr@hotmail.com