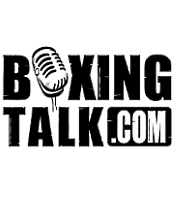 This Friday evening at the Bracknell Leisure Centre, England, popular cruiserweight David Haye tries to step up from prospect to European level for the second time. First time around, in September 2004, Haye was found wanting when going in with European and world class stalwart Carl Thompson. The London bomber had a bright start, punched himself out and then suddenly collapsed in the 5th round. Since that loss, he has rebuilt with four wins and four early stoppages, and now makes another try at stepping up in class as he takes on European champion Alexander Gurov, a hard hitting veteran southpaw who has twice challenged for the WBA title.
Haye, 14-1-0 with all wins by knockout, has been a known puncher since his amateur days when he won a silver medal in the world championships. He has a loose limbed style with a low guard and fluid punching skills. The knock on him is his lack of punch resistance, something which was evident in a tough fight with super-middleweight Lolenga Mock, who badly rocked and floored the Brit. The criticism intensified when he was later stopped by Thompson, and since then he has avoided being hit simply by blowing the opposition away. Even 30-3-2 Italian Vincenzo Rossitto was quickly taken out inside two rounds last time out to set this fight up.
In Gurov, he faces a similar 'KO or be KO'd' type, albeit one who has operated at a higher level. In a 38-4-1 record, the Ukrainian has won the European title four times, but has been KO'd twice in matches for the same belt. He was also blown away in two rounds by then-WBA champion Nate Miller, and then in eight rounds six years later by Jean Marc Mormeck, currently the division leader. He has scored 33 knockouts, but is extremely susceptible in the early rounds, as proven by his opening round demolition at the hands of Terry Dunstan in 1998. Their European title match lasted just seconds. Gurov was rendered semi-conscious from the first right hand Dunstan threw and was counted out immediately.
So on paper, this looks like a dead cert for a knockout one way or the other. Both are extremely tall (Gurov is 6'5", Haye is 6'3") and are natural punchers with defensive flaws and vulnerable chins. It may be a case of who lands the knockout shot first.
The main factor here could be age. Haye, still just 25 years of age, is on the way up. Gurov is now 35 and, whilst having not lost since the Mormeck title fight in 2003, has really just been marking time against low key opposition. The formline says that in this kind of situation, the younger man is usually the one to jump on the older opponent and score the knockout. But then that's what we said about the Carl Thompson fight and look what happened there.
However, it's possible that Haye may have learned from his loss to Thompson. Whilst he has won early in his recent fights, it was not down to him rushing in and swinging away. His two recent impressive knockouts over Rossitto and also over Glen Kelly (the same Australian who challenged Roy Jones for thelight-heavy belt a few years ago) saw him employing a more careful, patient style. Instead of charging in, he used his long jab and waited for a mistake from his opponent before suddenly capitalising and punishing them for it. It is a testament to Haye's power that he was still able to get early stoppages whilst using more patient tactics.
So, to my mind at least, if Haye doesn't rush in, and opts to work behind his jab until Gurov exposes himself, Haye's athleticism will allow him to get the knockout without risking himself. An early charge (as he did in the Carl Thompson fight) may see him walk onto a big shot from Gurov, or may see him blow himself out before three rounds are completed. In the case of the latter, his lack of experience will allow the veteran Gurov to control the pace and stop Haye in much the same way Thompson did.
Either way, I think that this is a 5 or 6 round fight tops. Both are major power hitters, and both have shown they can be stopped or knocked out, and I think that of the two, at this stage in their careers, it could be the youth and athleticism of Haye that allows him to take control of the fight and pull off another impressive early stoppage. But then there IS that lingering memory of Haye wobbling around the ring exhausted and hurt in the 5th round of the Thompson fight...
Whichever is the case, we may see either Haye or Gurov priming himself for a world title shot sometime in the next 18 months.
The pick:
With both being aware of the other's reputation as a puncher, they start more cautiously than usual, and Haye's speed and relaxed style sees him being unfazed by Gurov's height or southpaw stance and looking more comfortable early on. This, therefore, increases his chance of landing the first big shot, and once he does, it may lead to another quick win, maybe inside three rounds. There is every chance, however, that Alexander Gurov pulls out another Carl Thompson-type performance to sink Haye inside 6 rounds. Which one do I go for? Take your pick.
Send questions and comments to: mattwinsper@yahoo.co.uk