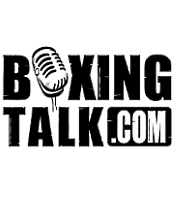 It may have been a trying few months out of the ring for IBF Jr Welter champ Ricky Hatton with all the legal battles going on, but inside the ring he is still a whirlwind of rage, as he pummeled, mauled and battered rival WBA titlist Carlos Maussa before knocking himout with a perfect left hook in the 9th round of their unification match at the Hallam FM Arena, Sheffield, England. 
Beforehand, there was much speculation on just how sharp Ricky would be following the start of tedious and draining legal battle with former promoter Frank Warren. When Hatton jumped ship to Dennis Hobson and Robert Waterman's Fight Academy, Warren insisted on getting a court injunction to see this fight aborted…but luckily he allowed it to go on at a relatively late stage. Ricky assured everyone he'd be OK…but would he?
The answer was emphatically YES. He started fast, and, quite simply, the tall, gangly, 34 year old Maussa just could not match him. The Colombia is something of a live wire himself, and had promised to throw a hundred punches a round to beat Hatton. This was just never the case, as Hatton jumped on him at the opening bell, and did not stop chugging forwards, swinging full-on left hooks to Maussa's head, straight right's to his chin, and digging in the body hooks that have become part of the Ricky Hatton folklore. Maussa, who dropped to 20-3-0 (18) tried to fight back, and managed to open a couple of nasty cuts over Ricky's eyes (probably with his head in the first round), but as the rounds went by, it was obvious he had neither the punching power to keep Ricky, now 40-0-0 (30), off him or the boxing finesse to evade the onslaught.
In the ninth round, a short, solid right hand made Maussa's knees dip, and the follow up barrage culminated in a left hook that landed on the jaw. Maussa instantly capitulated, collapsing in a heap in his own corner. Referee Mickey Vann reached the count of eight, but with Maussa still huddled on all fours and his corner-men looking worriedly on, Vann waved the count off. It goes into the record books as an official KO, and an impressive one it was…certainly a punch that will adorn Ricky's highlight reel before his next fight.
For Maussa, it was the end of a dream. He had never looked anything like a world champion in the making at any stage of his career, and especially when he was outboxed by Miguel Cotto and then Arturo Morua two fights later. However, he brushed himself off and put on the greatest performance of his life to flatten Vivian Harris on the night he won the WBA title. He was never in the races here with Hatton, but can console himself with a career-best payday and the satisfaction that comes with having risen to the pinnacle of the division. Maussa was surprisingly upbeat afterwards, saying he couldn't wait to get in the ring again for another opportunity. Waiting outside his dressing room and with his eye cut and closed and his face battered, he told me that "Dios es fiel", God is Faithful. Perhaps a rematch with Vivian Harris might be another springboard back into the big time?
For Hatton, who was rushed to hospital afterwards to receive treatment for his cuts, it's onto more big defences and possible super-fights. Of course, the questioning after the fight was directed straight to potential big matches with Floyd Mayweather and Miguel Cotto. Billy Graham, Hatton's trainer, was positive about the possibility of those fights happening. 
"I want Floyd Mayweather", he reiterated over and over again, "I've always wanted Floyd. Him and Ricky need each other like Ali needed Frazier and Leonard needed Hearns. The boxing world is screaming out for it. It can happen next year."
The conversation also turned to the location of Ricky's next fight. His usual stomping ground, the MEN Arena in his home city of Manchester has now been exclusively signed for Frank Warren's use only, which is the main reason for Hatton's switch to Sheffield this time around. There was another pulsating sell out crowd of 12,000 in attendance, the vast majority vociferous Hatton fans, but Graham still said the possibility of fighting in American next was viable. A second title defence in, say, Las Vegas or Madison Square Garden would be great to attract publicity to Hatton in preparation for a mega fight with Mayweather or Cotto. The division is currently bubbling, and it would be a shame if those fights went astray without happening. Mayweather has been linked to Cotto, and it's no secret that HBO would LOVE that fight, so perhaps Hatton could take on the winner in a late-summer spectacular that would unify the jr welter division and give boxing fans possibly the most intriguing fight in the whole world.