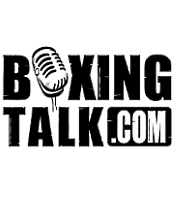 British sensation Ricky "The Hitman" Hatton puts his undefeated record on the line against veteran spoiler "Sucra" Ray Oliveira tonight in London.  Hatton is rated #6 by Boxingtalk in the murderous junior welterweight division. The Sports Network card from the ExCel Arena also features Martin Power, Kevin Mitchell, Wayne Elcock and John McDermott. Sky Sports broadcasts the action live in the UK starting at 10PM GMT. Boxingtalk.com was fortunate enough to speak with the ever exciting Ricky as the vicious body puncher was winding up his training camp and you won't want to miss what he had to say about this fight and his much anticipated possible showdown with Kostya Tszyu.
In the twelve months since defeating Ben Tackie, Ricky Hatton has experienced frustration on top of frustration as he has sought to both attain his goals and silence his critics by facing the best opposition that the light welterweight division has to offer. Proposed interim title bouts against first Kelson Pinto in April and then Sharmba Mitchell in June fell through, causing the Manchester whirlwind to question the shape his career had taken. A ray of hope came in the form of a proposed WBA title fight against Vivian Harris, scheduled for October, but true to form that fell through as well.
This last aborted matchup had a silver lining, however, as possible salvation came in the form of the IBF. Hatton's promoter Frank Warren had arranged the star of his stable to face American Mike Stewart and the IBF declared the winner would become their number one contender. The New Jersey based sanctioning body already had the once dominant but now dormant champion Kostya Tszyu set to defend his remaining title against the very active and highly dangerous southpaw Sharmba Mitchell, in a rematch of their somewhat inconclusive meeting almost four years before.
With the winner of Hatton - Stewart pencilled as the mandatory challenger to the survivor of Tszyu - Mitchell, the pride of Cheshire had all the motivation he needed. A year of anger was taken out on the brave but outgunned Mike Stewart as Hatton overwhelmed and stopped the American for the first time in his forty fight career. Stewart, a Philadelphia area fighter as tough as they come, was unable to cope with the British buzzsaw, who landed a staggering array of lethal head and body combinations in perhaps his most effective display to date. With the win Hatton moved to an impressive 37-0 (27) mark.
Kostya Tszyu followed suit just one month later by systematically dismantling a fighter many considered the most difficult assignment in the deepest weight class in boxing. Serious injuries had forced twenty two months of inactivity on Tszyu and many questioned whether or not the thirty five year old native born Russian, now living in Australia, still had enough to overcome Mitchell. Tszyu solved the equation by hammering the American in brutally simple fashion. Before the second round was over the referee was saving Mitchell from further punishment via Tszyu's howitzer-like right hand and clubbing inside left hooks. Tszyu proved that beyond a sliver of doubt that he was indeed back to reclaim the throne of the light welterweight division.
Before Hatton can even think about meeting Tszyu, he'll have to drive his way through the steel tough "Sucra" Ray Oliviera on Saturday first, something "The Hitman" isn't taking for granted. "Ray Oliviera has never been stopped and he's mixed in some very high company," said the twenty six year old Hatton. "He holds a win over Vivian Harris, fought Ben Tackie to a standstill in a very close loss and went the distance with Vernon Forrest. He's a very well respected name fighter and if I'm not up for it, there's every chance that I could become unstuck. I've worked so hard to get to the mandatory position for the IBF and the WBO so obviously I'm not only putting my unbeaten record and title on the line against Oliviera, I'm also putting my mandatory positions on the line as well."
Ray Oliviera, 49-7-2 (22), certainly has put together a sterling body of work over the course of his career, a career that has seen him also share the ring with Jake Rodriguez, Zach Padilla, Omar Weiss, Vince Phillips, Charles Murray, Reggie Green, Tracy Span and Fitz Vanderpool among others. The Rhode Island native is thirty six years old however, and while many fighters in the last decade have shown resiliency into what in regards to boxing is considered their later years, Oliviera's prime ended roughly two tears ago. Since that time the 5'10 tall American has moved up to welterweight, going 5-1 (3) in his last six fights against largely respectable competition such as Saul Duran, Elio Ortiz, Lorenzo Smith and Byron Mackie. Regardless of the past, Oliviera is the single most experienced opponent Hatton has faced to date and will in all likelihood employ every sage strategy in his arsenal for this last chance to climb into a major world title fight.
Should Manchester's favorite son get past Oliviera, the menacing shadow of Kostya Tszyu looms large in his future. The Aussie universally exceeded everyone's expectations by carrying out his one sided hiding of Sharmba Mitchell, a fight which Hatton covered as the color commentator for Sky Sports' broadcast of the event to Britain. "I think that Sharmba Mitchell boxed a just totally and utterly wrong fight," said Ricky. "He's a very good fighter and has achieved things in his career that right now I can only hope to, but I don't think that he's as quick and sharp as he was, say, two years ago. Sharmba just seemed to stand right in front of Kostya and Tszyu just lined him up for that right hand. There was nothing whatsoever that Sharmba did to worry Kostya Tszyu, he just stood at medium range and didn't really do much. Kostya just couldn't miss him and I think if you look at Sharmba's last few fights, Mike Stewart had no problem hitting him, Lovemore N'Dou had no problem hitting him so obviously Kostya Tszyu wasn't going to have any problem hitting him. The last thing you want to do is get hit by Tszyu because when he does hit you, you don't get back up."
With his victory over Mitchell, Tszyu finds himself at perhaps the pinnacle of a long and glorious career. In addition to the proposed matchup with Hatton, contests with WBC titlist Arturo Gatti, and IBF kingpin Vivian Harris have also been mentioned for the former international standout of the Soviet amateur program. Another possibility may be the realization of a longstanding ambition by the resident of Sydney, Australia to move up to the welterweight class, currently ruled over by unified Champion Cory Spinks. Like Mitchell and fellow Tszyu knockout victim Zab Judah, Spinks is a slippery southpaw, a style the IBF boss has shown complete mastery over in recent years.
While some who formerly had Tszyu in their sights may be shying away after the Mitchell bomb out, Hatton isn't one of them. The longtime holder of a fringe title, Hatton burns with ambition when it comes to the mere mention of the name Kostya Tszyu, as the unbeaten body puncher sees such a bout as an irrefutable way to prove his belief of being the best fighter in boxing's most glamourous division and bristles at the suggestion that he could fight for a vacant title if Tszyu moves up in weight. "I'd like to fight Kostya Tszyu and prove myself against the best, as I think that he once again proved he's one of the pound for pound best in boxing. The way I see it, when you fight Kostya Tszyu, you've got to gear yourself in regards to his right hand. That's his danger, that's what his whole game is, to line you up for that big right hand.
"You don't stand there at medium range so he can hit you. You either stay on his toes, so close that he can't get his shot off because no one can throw that right hand when you're that close, or you need to jab and move. Keep on the outside and keep away from that right hand. Give him loads of movement, loads of footwork and loads of backpedaling. Sharmba Mitchell wasn't far enough away and he wasn't close enough to Tszyu either. He was just standing in a perfect spot and I bet Kostya Tszyu thought it was Christmas."
To bring about a fight with Tszyu, Hatton hopes to turn in the kind of performance against Oliviera as he did against Mike Stewart two months ago. On paper that may seem unlikely given the New Englander's abundant ring smarts and his record of never having been stopped despite fighting some of the best light welter and welters in the business. In actuality though, Hatton may be unlike anything Oliviera has seen in a ring before. Opponents come into a contest with "The Hitman" expecting a strong, come forward fighter that they hope to time on the way in. After the bell rings they find something far different. Quick, crafty and deceptive, Hatton uses vastly underrated boxing skills to land pinpoint jabs and lead rights as he closes operating distance. Once inside, the twenty six year old unleashes an excruciating blizzard of pain in the form of deeply penetrating body shots that can sap an opponent's will to compete.
One factor that may contribute to the outcome of the bout is the issue of Oliviera's weight. This occasion will mark the first time since August 2001 that Oliveira (rated #18 by Boxingtalk at welterweight) has made 140lbs, having fought his last seven fights at welterweight or above. Should the thirty six year old find himself weight-drained come fight night, it could spell disaster for his hopes of winning the match or even maintaining his no stoppage streak. A fair number of fighters have gone the distance with Hatton but in the last two years only Ben Tackie, Vince Phillips and Carlos Vilches have done so, with the latter pair achieving that distinction by mainly going into survival mode. It's unlikely that Oliviera will simply look to survive and his high workrate may place him at a disadvantage, as Hatton trainer Billy Graham is almost assured to have devised a fight plan that involves pushing the American to the brink of his endurance level and beyond.
On Saturday night Ricky Hatton will once again puts his WBU Light Welterweight title on the line but this time it won't be in the cozy confines of the home town arena that has hosted his last six matches. Instead, the former British titlist will look to work his magic in a more cosmopolitan locale. Regardless of where he fights, Hatton simply wants the chance to test himself against the best the world has to offer and give his fans what they have long hoped for. "I'm looking forward to going down to London," he said. "It's great to box in Manchester as the support I get there is fantastic, but it's important to keep my fan base going in different parts of the country. It's been three years since I've boxed in the capital and I've personally sold a lot of tickets from my home to people from London. They've been pestering me for God knows how long (laughs), asking me things like 'when are we going to see you fight down here again'? So, it'll be good to go to London and just get back in the ring.
"I've had a lot of fights fall through but hopefully being the mandatory challenger for two of the belts now will make a difference in the Tszyu fight not following suit. The big fights will happen though because one way or another Ricky Hatton will make sure they happen. If it's not Kostya Tszyu, it'll be Miguel Cotto, if it's not Cotto it'll be Vivian Harris and if it's not Harris it'll be Arturo Gatti. Either way, I'll make sure I get one of the belts because I don't want the frustrations of the last year anymore."
Boxingtalk.com would like to thank Ricky Hatton, Billy Graham, Frank Warren and Richard Maynard for making this article possible.
Send questions and comments to: thomaspointrd@aol.com