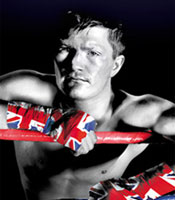 Ricky Hatton's trainer Billy Graham heads to America fully confident of victory going into The Hitman's WBA Welterweight title challenge of Champion Luis Collazo on a joint Fight Academy/Banner Promotions venture at Boston's TD Banknorth Garden on Saturday, May 13, 2006. Graham has turned his keen eye on Hatton's opponent. "Collazo is a good fighter but I have no doubts that Ricky will beat him," remarked the Manchester legend. "I think it will be very lively at first, while Ricky adapts to the southpaw thing, but I see Ricky as starting to break him up after a few rounds before stopping him." 
The occasion marks Hatton's first foray into the welterweight division, what Graham says is a business decision rather than a necessity born of physical limitations. "I don't want anyone to forget that Ricky is the light welterweight champion of the world and this is the fight that the TV companies have picked," said the trainer. "The only reason we'll be fighting at welterweight is that the big money fights are there with Mayweather, Gatti and Judah all having moved up and I think Cotto is going to have to move up too. If it were my choice, I'd rather drag all of those fighter back down to light welter to fight Ricky, cause he makes 140 with no problems at all." 
Before Hatton and his trainer can even dream of turning their attention on anyone else, they'll have to successfully overcome a heavier, taller southpaw who is not without good experience of his own. "Collazo has very fast hands but he won't be the stronger guy," declared Graham. "He's fast, he's shifty and he looks good but I don't think that he's got the same substance as Ricky. If Collazo gets on his feet and starts movin', it just gives him enough rope to hang himself. Nobody can hold Ricky out for long and Collazo is going to have to start getting involved. If he spends a few rounds using his legs, then he'll just be more worn out when he does start getting involved with Ricky." 
Graham's sole concern heading into Hatton's HBO debut and first major US appearance is the Englishman's only proven weakness. "Ricky always gets cut early on so there's more chance of that happening with a southpaw, especially a southpaw as quick and as good as Collazo," he said. But Ricky's used to dealing with it and has a great cutsman in Mick Williamson; we're prepared if it happens. I definitely think the American crowd and the viewers at home will enjoy this fight as I see it as being very quick and lively early on but the most likely outcome is that Collazo's going to get smart, get on the jab and start moving. Collazo likes to stand in close sometimes like Winky Wright, cover up and that, but obviously, he ain't Winky Wright and I see Ricky stopping him as the kid begins to fall apart." 
Fight Academy and Banner Promotions present the Ricky Hatton - Luis Collazo WBA Welterweight title clash held on Saturday, May 13 at the TD Banknorth Garden in Boston, MA, televised live by HBO World Championship Boxing at 9:45PM ET/6:45PM PT. Tickets can be purchased online at
www.ticketmaster.com