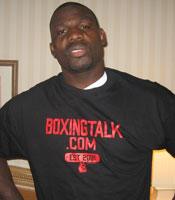 It's been a whirlwind of activity for world champ Hasim Rahman since he left Caesars Atlantic City NJ this past weekend for his hometown of Baltimore. The Rock will celebrate 'Hasim Rahman Day' in Rochester,  NY on Thursday and then he will head for Bristol, Conn. where he will review his big title fight in-studio during the ESPN Friday Night Fights.
"Wow -- Rock's phone hasn't stopped ringing since the Toney fight," sighed his manager, Steve Nelson.
The mayor of Rochester, Robert J, Duffy, this week issued a proclamation which reads:
"....Mr. Rahman has adopted Rochester as his 'adopted hometown.'  Mr. Rahman chose Rochester as the site of his training camp for the March 18, 2006 heavyweight title fight against James Toney. Mr. Rahman defended his title successfully against Toney in one of the biggest heavyweight fights in the last five years. Mr. Rahman has given back to the Rochester communities by putting on exhibition bouts and speaking to city youth to provide them with a positive role model....therefore, I, Robert J. Duffy, Mayor of the City of Rochester, N.Y., do hereby proclaim March 22, 2006 to be 'Hasim 'The Rock' Rahman Day...."
Rahman will also be at a fight card held at the Blue Cross Arena in Rochester, N.Y. on Thursday night. The Rock will then head to Bristol.
THE NEXT WORLD TITLE DEFENSE FOR 'ROCK'
Bob Arum, CEO of Top Rank, said today:
"There appears to be a dispute between the Oleg Maskaev camp and the James Toney camp on whom WBC World Heavyweight Champion Hasim Rahman has to fight next.
"Our position at Top Rank, as promoter of Hasim Rahman, is that we will do what the WBC decides.
"We only ask that the WBC decide the issue expeditiously so we at Top Rank can begin planning for Rock's next championship fight."