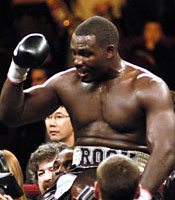 As the old boxing cliche' goes: 'You're only as good as your last fight." Hasim Rahman knows this.  Rahman has never been the most gifted heavyweight around the block - although now, he just may be - never the less, the Rock has gone from fringe contender to the legit and recognized undisputed heavyweight champion. And then, back to contender. And now, with former heavyweight champion Vitali Klitschko retiring due to injury, back to a champion - or belt holder. The last time Rahman was a champion his parade didn't last long enough to savor.
Lennox Lewis, who looked sluggish and off beat in South Africa, delivered a career defining performance by knocking Rahman cold in four rounds to recapture the heavyweight titles that he said "were on loan" to the Rock.
Going into this weekend's fight with James Toney, Rahman has a chance to somewhat redeem himself for his lackluster ability to back up his mouth against Lewis in their rematch.
Nobody is confusing Toney the heavyweight with Lewis the champion.  But most people see Rahman as a piece to the puzzle of heavyweights that no longer fits.
 Toney is a fresh face with an ability to talk trash that you either love or hate. Regardless on your preference, no man can take away the fact that Toney can fight. Add that to the universally poor state of the heavyweight division and the fact that he hasn't lost a fight in nearly 10 years - going 15-0, 8 KO's, 1 NC - and a win for Rahman seems more evident to bring back to the elite level fighter he once showed glimpses of being.
I can remember following Rahman at an early stage in his career. He looked to be a decent sized heavyweight who could punch, knocking out or stopping 24 of his first 29 opponents from '94 to '98.  Then came David Tua and his blatantly late hook that nearly took Rahman's head off after the bell to end the 9th round.
Despite being ahead on all three judges scorecards going into the tenth (89-87, 89-82 twice) Rahman was never able to recover and the fight was stopped.
Olega Maskaev was supposed to be a part of the comeback trail for Rahman, who previously had stopped journeymen Arthur Weathers and Michael Rush.
Instead, Maskaev would become known as the Career Killer for Rahman.
Rahman, once again ahead on the scorecards (70-63 twice, 68-65) was knocked through the ropes and on to the arena floor from a looping overhand shot that he never saw. This time there was no controversy and it all but seemed over for a once promising prospect.
Boxing is a tough sport and an even more brutal business. A couple of years back Floyd Mayweather put it perfectly.
"Allen Iverson can have a bad game. Fighters can't have a bad night."
When you appear to choke down the stretch of fights you are winning the media darlings don't forget.  The L in a fighter's record becomes more than just a symbol for losses. Forget the once popular "Golden Palace" back tattoo's. Those are for winners, guys that are marketable.
Losing fighters are rarely any of that. If you lose, you might as well pack it in. Go to the shop and have Big Willie tattoo "Underachiever" or "Chump" on your back. Boxing won't get easier and neither will life outside of it.
Especially if you've been to the mountain top and stumbled.
Just like Hasim Rahman, who not only lost in his rematch with Lewis but has since gone on to a draw in a rematch with the faded Tua, lost to an aging Holyfield and the ever-so boring John Ruiz while barely squeaking by Monte Barrett in a snoozer for the decade.
The "friends" you thought you had are gone. The people who had your back when you were on the cover of magazines and on billboards down the highway aren't around when you experience the trials and tribulations of this wicked combat.
Hasim Rahman knows this.
He plans on changing it.
By beating Toney Rahman will win over those who have doubted him since he knocked out Lewis. The comparisons to Buster Douglas will fade into the background and the heavyweight division will have a reason to cheer.
Rahman will still hear some criticism.
Toney was out of shape.
Toney is a blown up heavyweight.
Etc ...
But who cares? There are always going to be detractors and the harshest critics out there. That goes for when you're winning and when you're losing. You can't please everyone.
Hasim Rahman knows this.
"His whole gameplan is based on me missing," explained Rahman while visiting Boxingtalk headquarters earlier this week. "I'm gonna hit [Toney] at an alarming rate, and then let me see him counter these shots."
Confidence is usually a trait expressed best by the fighter from Ann Arbor.
This Saturday it looks like Baltimore will have plenty to say.
ROCK SOLID CHANCE
The closer and closer we get to this fight the more and more I want to slightly favor Rahman. Based on Toney's resume at heavyweight and inability to stop cruiserweights (Jirov, Booker) and heavyweights (Guinn, Ruiz) I find it hard to believe he will be able to dominate the Rock as easily as some people think.  Rahman's inconsistencies since knocking out Lennox Lewis worry me, but something tells me he won't have a mental lapse in the ring this Saturday.  Look for a prediction soon.
EARTH TO ZAB
After hearing both Mayweather and Judah talk up a storm for months before their fight was actually signed, I find it ironic that Super Judah has remained mostly mute. Perhaps it would have been different if Judah would have gotten by Baldomir - maybe he wants to concentrate entirely on the Pretty Boy with no distractions. But the fun with the promotion is going to take a hit, in my opinion, if both guys don't start spewing their dislike for each other. I look forward to seeing and hearing more of Judah in the future. For asking 50.00 from the public for this fight, it's the least Zab could do.
Send questions and comments to: tyson180@aol.com