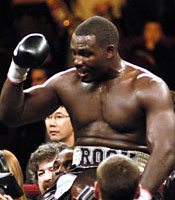 It's official, Rahman-Barrett for interim title!
GL: Before we get into any questions about your upcoming fight with Monte Barrett, can you tell us what you thought about James Toney vs. John Ruiz?
"I thought James fought a good fight, a smart fight. Ruiz fought the wrong fight. If he would've fought a typical Ruiz fight, he would've had a chance. But he was so worried about James inside game that he got out of his own game and that's the wrong thing to do."
GL: Many were skeptical of Toney as a heavyweight following the Holyfield fight. Do you think he's more of a legitimate heavyweight now than....
HR: (cutting in) "I told you I always considered James Toney a heavyweight fighting as a middleweight. You never heard me call James a middleweight. He was weighing 205 pounds when he was playing high school football. In my eyes, he's always been a heavyweight."
GL: I understand that you signed on to face Barrett during your stay in NYC. What can you tell about that?
HR: "Yep. Everything's official. July 23 is on and popping and Madison Square Garden. I'm just focused on winning a heavyweight title and then I'm going to take everyone else's heavyweight title. They could just give them to me and let them go so I won't have to inflict too much pain on them."
GL: Monte is a New Yorker is there any concern about fighting him in his backyard?
HR: "Naw. Ain't no concern about where I get down at. It's no problem to me, we could fight in New York or anywhere else. It don't matter to me."
GL: You wouldn't give us a prediction before the fight was signed. Now that the ink has dried on the contracts and both you have Monte have signed, what's your prediction? Do you see this fight going the distance?
HR: "Monte is a warrior and he's coming to fight and I'm a warrior and I'm coming to fight so there's no way that I see this fight going the distance."
GL: And obviously, based on your previous remarks to Boxingtalk that Monte's going to need more than Two Gunz when he fights you, you feel that you're going to knock him out, correct?
HR: "It's obvious that I think I'm going to win the fight and I don't see it going the distance."
GL: So in other words, you're going to knock Barrett out?
HR: "Ain't no in other words. I'm going to win the fight and it's not going to go the distance."
GL: Boxingtalk understands the fight has been approved for the interim title. Do you have a gut feeling that this interim title will become the full blown title? Or do you eventually see Vitali Klitschko returning to defend his title?
HR: "I would think that Klitschko gives it a go and I would love to fight him. But if he doesn't, I guess he just doens't want the title."
GL: Where does James Toney fit in on your things to do list?
HR: "I saw him at the press conference and he told me to handle my business so we could get it on and that's just what I'm going to do."
GL: Who do you like this weekend Rock?
HR: "I'm going with my stablemate Diego Corrales. I don't think Castillo has ever been hit by someone like Corrales and I see something in Diego that leads to me to believe that he's hungrier than Castillo. I don't think he's going to be denied."
GL: What about Trinidad-Wright and Brewster-Golota?
HR: "Winky Wright is going to outbox Trinidad and I pick Brewster to stop Golota. Lamon's got a lot to prove and I know he's been training really hard. Lamon knows he can't afford another lackluster performance so I think he's going to let everything go. I think Lamon's going to stop him."
Send questions and comments to: gleon@Boxingtalk.net