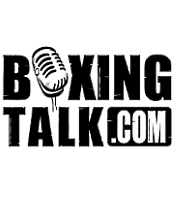 WBO Featherweight Champion Scott Harrison has his sights set on lofty goals but must first dispose of his #6 ranked contender, Samuel Kebede. The two meet tonight as the headlining match of Sports Network's big Glasgow, Scotland show, which also features local heroes Willie Limond, Lawrence Murphy and Martin Watson. Sky Sports screens the action live in the UK on SS1, starting at 10PM GMT. Boxingtalk.com caught up with Scott, his father/trainer Peter and manager Frank Maloney as they were counting down the hours before this deceptively dangerous title defense. Read on to learn more about one of Britain's true world champions and his plans for dominating the hyper competitive featherweight division.
Scott Harrison, (insert record), looks to extend his second reign as WBO champ tonight by posting a comprehensive victory unbeaten challenger Samuel Kebede. The twenty seven year old Scotsman won the title with a stirring performance over the far more experienced Julio Pablo Chacon in October 2002 and cruised through a stirring defense over Wayne McCullough before running into four time former champion Manuel Medina a year ago. Medina used razor sharp tactics to nullify Harrison's pressure offense over twelve rounds to emerge the victor on a split decision. Just four months later Harrison got his revenge by stopping the clever Mexican in the 11th to take back the title. Since then the Cambuslang man has posted stoppage victories over southpaws Walter Estrada and William Abelyan.
Samuel Kebede, 24-0 (14), has had more fights than Harrison has, but certainly is the less experienced fighter. The Ethiopian born, Swedish based thirty year old has never been more than ten rounds and has no names of high level international consequence on his record.  He is however undefeated and has the advantage of being a largely unknown quantity to Team Harrison, who must avoid overlooking the opponent in favor of big matches in the near future. "I think this will be a good fight for the fans," quipped Scott, "he's 24-0 and I'm not looking for easy options. Kebede has never been twelve rounds before and I've been in big fight situations for most of my career. It'll be a good fight for as long as it lasts and I think I'm going to knock him out, but that's just my opinion."
In preparation for this title defense, the Harrison's have shed their usual locales in Scotland in favor for two different situations in the south of England. "It's my job to make Scott as strong as possible and to pick the training locations to carry that out " said Peter Harrison, the WBO champ's trainer and father. "Our normal training area, Fort William, has become like a second home for us so I felt the need to go somewhere different. We traveled down to Torquay and there's plenty of hills for Scott to run up, so it worked out well."
Harrison's manager Frank Maloney also had Scott working out of the Maloney Fight Factory, a gym shared with Frank's brother Eugene, a fight manager and promoter in his own right. "It was good for Scott to have gone to London," said Maloney. "We originally brought him down to attend a luncheon in which he was awarded the honor of being named British Fighter of the Year. We kept him down there so he could train at the Maloney Fight Factory, which is a little bit like the British version of Detroit's Kronk gym. It's small but a lot of good fighters work out of it, usually at least ten at any given time. Scott had a big selection of sparring partners such as Kevin Mitchell, Danny Hunt and others. I think that it helped him to improve and sharpen his skills"
Should Harrison get past Kebede as expected, the prospect of big money matches loom on the horizon. While Scott holds the WBO, Korean hardman Injin Chi wears the WBC crown and the very dangerous Juan Manuel Marquez holds both the IBF and WBA versions of the featherweight world title.  As always the expert career strategist, Maloney has a plan as to how he hopes the unification process will go for his fighter. "I'd like to see Scott in with Injin Chi next as that would be a cracking fight," he said. "We did, however, learn a hard lesson in that loss to Manuel Medina, so we're focusing only on Kebede until Scott gets by him, but I'd like to see Scott in with Chi sometime next year should everything turn out as I expect on Friday night."
While many British fighters have been accused of not wanting to leave their country to box abroad, particularly in the US, Harrison has no qualms about taking his title defense show on the road, especially for a unification bout. "I have a strong following in the Glasgow area, but at the end of the day, money talks, you know?" said Scott. "I have no problems going to America and I've already fought in Madison Square Garden before. Wherever the most money is generated for a fight between myself and Chi or Marquez is where I'd like the fight take place. I'd love to fight in America but at the end of the day, money talks, so we'll see."
In addition to the prospect of Harrison facing the other titlists at featherweight, there has been talk of having him jump up to super feather to try his hand at the higher weight class. "Our promoter Frank Warren talked to Scott recently about the idea of moving up because Scott is such a big featherweight," said Peter Harrison. "We'd like to fight Eric Morales and there's no problem at all with Scott going up another four pounds. He's a world champion but we'll probably go up to nine stone four (130lbs) just to chase the big fights."
Scott Harrison has big plans for the remainder of his career and isn't about to let anyone stand in his way. Will the Scotsman make it past Samuel Kebede and move on to unify the featherweight division or will he make the classic mistake of overlooking the lesser known opponent this evening and have all his hopes dashed? Only time will tell but the proud champion has his mind made up as to which outcome he sees happening. "I'm hoping to get out once more before Christmas and Frank Maloney is going to fly us all out to Las Vegas in November to see the third Morales - Barrera fight," he said. "We're going to be making a ringside challenge of sorts but I think Morales will win in another war. Barrera is a good fighter, but at the higher weight that they're fighting at, I think Morales has the edge. I can see him moving up to lightweight eventually as I think he has the height for it. I'm really excited about the trip, as I've never been to Las Vegas before. First thing first though, I've got to get this fight out of the way. It'll be my fourth defense and every one of those for me is a major event. There's no way I'm taking this one lightly as every single fight means a lot to me. Once I take care of this character I'm moving on to what I hope will be the big unification fights that I've wanted ever since I won the WBO belt."
Boxingtalk.com would like to thank Scott and Peter Harrison, Frank Maloney and Richard Maynard for making this article possible.
Send questions and comments to: thomaspointrd@aol.com