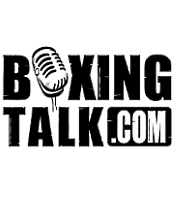 The same bill as the intriguing Scott Harrison-Nedal Hussein featherweight clash sees a fine array of undercard matches at the Braehead Arena, Glasgow, Scotland. The main attraction, of course, is the young sensation Amir Khan, who since winning his Olympic silver medal last year at just 17 years of age has graced the cover of every British publication and even the latest edition of Ring magazine…high honours indeed for a youngster with just two professional fights to his name!
However, rarely does one see such a blend of speed, skill and power in a novice professional. Don King, present in Cardiff for Khan's four round win over Baz Carey, was delighted to tell the fans on Britain's ITV network that Khan is the future of boxing, not just in Britain, but for the world. I'm sure Don would have liked to add an extra comment of him being even bigger under the Don King stable of fighters, but the cameras didn't stay on Don quite long enough for that to happen.
Whatever, it adds credibility to an already sparkling young career. Khan, still very much in the learning stages, takes on journeyman-type Steve Gethin in a mark-time fight, but the attraction here isn't seeing a competitive fight, it's seeing the future of British boxing in action live.
Another quality undercard match sees unbeaten Andy Morris (12-0-0 with 4 KO's) take on in form John Simpson (13-2-0) over 12 rounds for the vacant British Featherweight crown, formerly held by the event's show-topper Scott Harrison. Simpson had previously challenged for the belt, losing only via controversial decision, and gets his second chance against the 22 year old hope for the future in Morris, a Manchester textbook stylist who has shown steady progress since turning professional just two and a half years ago.
Simpson, who was unlucky not to get the decision in his first shot against Dazzo Williams, will not be favourite to pull off the upset on Satuday, but should push the youngster hard and give him his toughest test to date.
Other prospects in 14-1-0 Nigel Wright and 13-0-0 Gary Young also square off with opponents on the big bill.
Send questions and comments to: mattwinsper@yahoo.co.uk