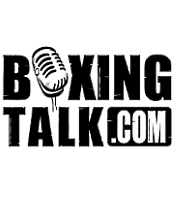 Scotsman Rocked but Survives to Win a UD
Apart from a few troublesome moments, featherweight Scott Harrison managed to put just enough pressure on opponent Nedal 'Skinny' Hussein to rack up the points and give his Scottish fans at the Braehead Arena, Glasgow a unanimous decision. The judges at ringside scored the twelve rounder 116-111, 116-111 and 117-111, which included a 4th round flash knockdown against the Australian. 
Harrison managed to win whilst never really moving out of second gear. At the Scot's best, he is known for his intense, non-stop style that has in the past overwhelmed quality opposition like Manuel Medina, Wayne McCullough and Michael Brodie, but this time he seemed less active and more patient, using his jab more and only occasionally storming in the way we are used to seeing. It was still enough. Hussein, a quality puncher with a languid rhythm, has been plagued in the past by an inability to turn the heat up when being tested in a big fight, and again that happened here, although bursts of power punches did have Harrison reeling in a couple of the rounds, particularly the 11th. But overall, Hussein didn't quite throw enough to make a bigger impact on the fight. He spent too much time posturing and posing instead of getting his decent jab working and following it up with the power-shots that gave Harrison trouble in several rounds. Legendary former champ-turned-trainer Jeff Fenech will not be happy with his protégé's reserved effort.
Harrison, who holds the WBO trinket but more importantly is seen by most sources as being a definite top 5 at the weight, was coming off a big win over British rival Michael Brodie, and a further big win here might have thrown him into the mix for a real title fight against the likes of Marco Antonio Barrera up at super-featherweight, or with Juan Manuel Marquez, the current feather titlist who is desperate for anything approaching a decent payday after some strange career decisions.  
I'm not sure this can be termed 'a big win', but Harrison certainly stuck a big, fat 'W' in the result column, and ultimately that's what counts.
Hussein, 39-2-0 coming in, had challenged for the WBC crown down at 122lbs last year, coming up short against Oscar Larios, and in the opening round here, he looked in danger of simply being overpowered. Harrison looked positively huge for the weight, and Hussein, tall but lean, looked about 3 divisions lighter. When Harrison steamed in at the bell, Hussein looked all at sea and unsure what to do. By the second, however, he'd settled down and showed flashes of a nice jab and counter punching. In the third he hurt Harrison with a big right uppercut that caused the Scot to hold briefly. Hussein looked good…but he just wasn't doing enough to win rounds. And when a left hand flashed past Hussein's jaw in the 4th and knocked him off balance for a quick knockdown, it seemed that any chance of victory for the Australian now rested on him stopping the big Scotsman.
Harrison, however, wasn't applying the same level of intensity he normally does. The middle part of the fight saw him boxing conservatively and allowed Hussein back into the fight. The rounds were closer, and whilst Harrison probably still had the better work-rate, Hussein was landing some showy shots that made it harder to score.
The fight continued as such, with Harrison nicking most of the rounds, until the Australian contender suddenly exploded in the 11th. With both men looking a little weary, Hussein leapt on Harrison with a long, hard right hand. And then another. And then another…Harrison was looking worried. As the local guy tried to fight back, Hussein coolly detonated a left uppercut-left hook combination to the point of Harrison's chin, and the Scot was at crisis point. He bravely fought back as Hussein tried to end the show, and was too clever and too strong to be stopped, clinching and pushing his way around the ring until the bell went to end one of the toughest rounds of his career. 
By the 12th, Hussein was a little tired to finish it, and Harrison, who moved to 25-2-2 (14), was content to spoil his way to the final bell. The Scottish fans, normally loud and abusive with non-stop soccer-style chanting and national anthem singing from bell-to-bell, were a little muted, probably because of the slower pace of the fight compared to Harrison's normal performances, but it had still been an entertaining match with decent action coming from both boxers. Was it a good audition for a Barrera fight? Well, it certainly won't have the American public chomping at the bit for the promoters to make the fight seeing as Larios had already completed the trick a year ago, but it kept Harrison ticking over in the mean-time. 
Perhaps a significant featherweight title fight would suffice…Harrison vs WBA champ Marquez (should he come through against Indonesia's Chris John), or Harrison vs WBC champ Injin Chi, in a battle of strength between two of the physically biggest featherweights in recent history. Manager Frank Maloney hinted afterwards of getting Harrison back in the ring by February, but that fight will probably be with Dominican puncher Joan Guzman, seeing as that fight has been talked up, and Guzman is the mandatory for Harrison's belt. Whatever happens, Harrison is now in his prime at 28 years of age, and we don't want to see it wasted!