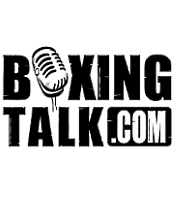 In Berlin, Vivian Harris, 139 lbs, stopped German challenger Oktay Urkal, 139.75, 56 seconds into the eleventh of their rematch. The 34-year old Urkal (rated #9 by Boxingtalk) was behind on points and tried to smother the stronger champion when caught by a short right hook that landed flush on the chin. Urkal went down but got up almost at once but he had no legs under him and as referee Armando Garcia asked him to come forward he stumbled and mr Garcia did the right thing and ended matters. Trainer and chief cornerman Uli Wegner was on the ring apron with the towel ready to retire his man had the fight been allowed to continue.  It was the second time this year that Harris (Boxintalk #5) visited Germany and defeated Urkal to retain his WBA junior welterweight title. 
The first fight was cleaner and fought at a faster pace. The rematch was more tense, both knew what to expect and it became quite messy at times. Urkal never reached the heights he has been capable of in the past while Harris is a still developing fighter with more to come and that propably made all the difference. 
Harris was physically stronger and had the more powerful punches but Oktay kept coming back to make a fight of it. In the fourth the two exchanged low blows and mr Garcia took time out to tell both "I´m not going to let this to happen!" That seemed to cool both off a bit. The champion was at times a bit wild with his punches and was made to miss a lot and Urkal won rounds by darting in and out scoring with quick hooks from both hands. The overall picture was though that the stronger Harris was in control and Urkal must have been told he needed to win all the remaining rounds by the ninth or so. But he was tiring, had problems with a heavy nose bleeding and just didn´t have that extra in him to turn the fight around. He was behind by one, two and six points after ten on the judges´ cards. 
Urkal didn´t announce his retirement afterwards but said he was through at World title level. When he gets a few days to think he will probably see the light and call it quits. Fighting at a lower level just won´t do it. He was an exellent amateur boxer who may have turned pro a little too late in his career. 
As for Harris he and his team were hoping the win would help him get the recognition he feels he deserved. And Vivian Harris is certainly a good fighter, unfortunately that alone don´t help making a superstar. Manager Emanuel Steward hoped for a fight with Richie Hatton in either London or Berlin. Berlin? Well, Harris confirmed a rumor that he was looking for an apartment there. 
Alexander Sipos, 152,75, Ger  D8-M  Aziz Daari, 153,25, Fra
Sipos overcame a heavy knockdown in the first to salvage a draw in what was the pick of a very good undercard. The German was bascially gone late in the first from a short left hook but recovered and even at times outboxed the dangerous Frenchman, who kept looking for that big punch. It was scored 76-76 on two cards and an out of line 79-73 for Sipos. These two will be rematched early next year. Alexander will now have his wisdom teeth fixed. 
Danilo Haussler, 171,75, Ger  W8-U  Rueben Groenewald, 170,5, RSA
Haussler put up a solid performance against a tough opponent  and won on scores of 78-74, 80-73 and 79-74 and the cutprone German finished almost unmarked. 
8x3: Cengiz Koc, 219,5, Ger  TKO 7 (0.27)  Cerrone Fox, 214,75, USA
Fox, a sub for Marcelo Dominguez, made a positive start but was worn down by the steady work from Koc. Cengiz was overly careful though and didn´t follow up until the seventh when referee Ernst Salzgeber stopped it with Fox under pressure. 
8x3: Sebastian Sylvester, 161,5, Ger  KO 2  (1.36)  Clive Johnson, 157,5, UK Sylvester impressed in his debut for Sauerland Event as he took out Johnson with a single right hand. Clive was badly hurt and took some time to recover. 
8x3: Pietro Aurino, 190,75, Ita  TKO 7 (0.59)  Adrian Pop, 178,5, Hun Pop stood up well to Italian southpaw and it wasn´t until the sixth that Aurino broke through with bodyshots. Two more knockdowns followed in the seventh before it was stopped. Aurino have announced plans to make 175 but it will be tough. He was not in top shape for this fight but looked relatively trim and there´s more than 15 lbs to go. 
Serdar Akova, 175,25, Ger  W6-M  Radek Serdan, 175,25, Cze
Akova had problems with his opponent´s constant movement but looked like a clear winner. It was scored 59-56, 60-54 and a surprising 57-57. 
Firat Karagol, 164,75, Ger  W4-U  Gabriel Botos, 161,75, Cze
Karagol´s timing was a bit off while the chunky Czech was in the mood to fight. It was scored 40-36, 40-36 and 40-37. 
There was about 3 000 fans in attendance at the Tempodrome. Next Sauerland Event show is set for November 20 in Kempten with Sinan Samil Sam taking on WBC Int´l heavy ruler Dennis Bakhtov. Co-headlining is Russian giant Nikolay Valuev but finding an opponent is difficult. Neither Henry Akinwande or Michael Moorer are available due to illness and injuries. Even finding suitable sparring that lasts against the steelchinned "Beast from the East" is said to be hard.