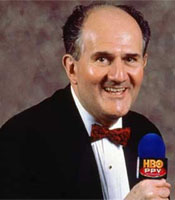 In January 2012, I had the privilege of conducting an in depth interview with HBO's unofficial ringside scorer Harold Lederman. During our conversation, Lederman talked about a legendary middleweight from Philadelphia by the name of Bennie Briscoe (66-24-5, 53 KOs), who is considered [along with Bernard Hopkins] to be the best middleweight to ever come out of Philadelphia. Briscoe passed away in December 2010 at the age of 67. I had no intention of interviewing Lederman about Briscoe, but when the topic of Philadelphia fighters came up, Lederman went on a rampage of appreciation for a man he refers to as "the best fighter to never win a world championship." With Lederman's recent passing at age 79, I wanted to share his memories of Briscoe with the readers of Boxingtalk.com. It's a good old fashioned story told by one of the most passionate boxing fans who ever lived.
HAROLD LEDERMAN: "Have you ever heard of Bennie Briscoe? He was a middleweight from Philadelphia. And like a lot of fighters from Philly, he was the quintessential left hooker. He had a left hook to the body that you could feel up in the rafters! He was just vicious. And in my mind, he was one of the best fighters who ever lived. He was certainly the best fighter to never win a world championship. There was nobody, NOBODY who was meaner in a boxing ring than Bennie Briscoe. He was the meanest man I ever saw. He would scare his opponents half to death when he would come out for the referee's instructions. He was one of the first guys to have a shaved head. He'd come out with that bald head and you'd see him with that Jewish star on his trunks. There he was, black as the Ace of Spades, and he had this big Jewish star on his trunks because of the fact that his manager Arnold Weiss was Jewish.
When you talk to people on the streets of Philadelphia and ask them who the best middleweight was from Philly, you'd expect them to say Bernard Hopkins or George E. Benton. But 99% of the fans will tell you it's Bennie Briscoe. Bennie was just so exciting. I lived two or three hours from Philadelphia and yet, if Bennie was fighting, I had to be there. I didn't care if I was judging or I wasn't judging. I wanted to see him fight! The atmosphere at a Bennie Briscoe fight was just incredible, because you knew that something was going to happen. Something ALWAYS happened when Bennie fought. To give you an example… And I'll never forget this if I live to be a zillion! But one night, Bennie was fighting this tough Mexican named Rafael Gutierrez at the Spectrum. And as fate would have it, Bennie had his own personal referee, who was Pete Tomasco. Pete was a good referee, but for some reason he wound up working an awful lot of Bennie Briscoe fights. And to this day, I believe that if Bennie threw a low blow, Pete, for some reason, would never see it. That's just the way it went.
So, sure as the devil, in the first round, Bennie comes out and Gutierrez knocks him down. Bennie gets up… And so help me God, he doesn't know where the hell he is. He was staggering all around the ring and any normal referee would have stopped it right then and there. But Pete wiped off Bennie's gloves and took an inordinate amount of time to get him ready. And then he yells, "Box!" And sure as the devil, Rafael Gutierrez drops him again! Bennie was laying there like he's dead and he gets up at about eight or nine. Pete cleans off his gloves and takes as long as he can and yells, "Box!" And with about ten seconds left in the first round, Bennie lets go with a left hook so low that you could hear it all the way in the third deck! And everybody knew that Bennie hit him low except for Pete Tomasco. But For some reason, Pete never saw it.
The bell rang to end round one and I said to myself that the fight was over. It had to be. Bennie was finished. And sure as the devil, they come out for the second round and Bennie knocks him dead! After Gutierrez was hit with that one low blow, he didn't want to fight no more. Bennie took all the fight out of him with that one left hook to the crotch. It was just over right there. But that was the story of Bennie's life. If you look up Bennie's record, it was really incredible. When Bennie was younger, he stopped Benton and he beat Jimmy Lester, who was a real tough middleweight from San Francisco . His nemesis was Rodrigo Valdez who was a great fighter from Colombia . He fought him for the title twice and lost both times. But Bennie has a draw with Carlos Monzon. They fought in Argentina and that right there tells you that he won. Because in Argentina , there was just no way you were going to beat Carlos Monzon. He was a legend there.
Bennie died not that long ago. He had a big funeral in Philadelphia and everybody was there. And it was rumored that Russell Peltz paid for his funeral-- Russell was his promoter. But it was this big funeral in a huge church and there were a lot of rumors that Russell paid for the funeral. They told Russell that he could talk for two minutes at the service. But he talked for a half an hour and he had the whole place crying. That was Bennie for you… When it comes to great fighters, I loved going to Philadelphia to watch Bennie fight. He was something special. He really was."
NOTE: Doveed Linder is the author of RINGSIDE: INTERVIEWS WITH 24 FIGHTERS AND BOXING INSIDERS, a trilogy of books, each consisting of 24 in depth interviews with various fighters, trainers, corner men, promoters, commentators, and officials, including "Sugar" Ray Leonard, Roy Jones, Jr., Lennox Lewis, Evander Holyfield, Kathy Duva, Angelo Dundee, Bob Arum, Emanuel Steward, Larry Merchant, Lou DiBella, Ann Wolfe, Joe Souza, J Russell Peltz, Gerry Cooney, Leon Spinks, Al Bernstein, Naazim Richardson, Harold Lederman, George Chuvalo, Steve Smoger, Winky Wright, Ronnie Shields, Dwight Muhammad Qawi, Duane Ford, and Jackie Kallen. The foreword for the first RINGSIDE book was written by Boxingtalk publisher Greg Leon, and is available on Amazon.com.
Send questions and comments to: doveed@hotmail.com