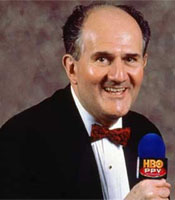 Arguably the greatest boxing judge of his generation, Harold Lederman passed away over the weekend at age 79, losing his battle against cancer. Lederman was one of the sport's leading judges before becoming an HBO commentator. Born and raised in The Bronx, New York, Lederman was HBO's first unofficial ringside scorer. Lederman had been a boxing fan his whole life, often keeping score of the fights he watched. Since it was already his habit to score fights, he finally asked representatives of the New York State Athletic Commission if he could be a judge. Lederman began his career as a licensed professional boxing judge in 1967, going on to judge over one hundred title fights. When he wasn't sitting at ringside with a scorecard, he watched boxing on television, notably the fights on HBO. Even at the height of his HBO run, Lederman would attend many club shows and delight fans and others in the boxing business with his stories of fights from the past.
In the mid 1980's, Lederman suggested to HBO's Ross Greenburg that the network should include a judge on the broadcast team to offer an unofficial scorecard and teach the viewers at home how to properly score a fight. Lederman himself got the job and he was a part of HBO's broadcast team until 2018, which was HBO's final year in boxing. While boxing had always been Lederman's passion, he made his living throughout the years as a pharmacist.
Harold Lederman is survived by his wife Eileen and their two daughters, Julie and Iris. Julie followed in her father's footsteps and has developed a reputation of her own as a well-respected professional boxing judge. In January 2012, I called Harold Lederman and interviewed him at length about the time he had spent in boxing. Below are some quotes from the interview. At the time of this interview, Lederman was awaiting his next assignment, which was the Julio Cesar Chavez, Jr. vs Marco Antonio Rubio bout, scheduled for February 4th of that year.
TOPIC: Lederman's early boxing memories
"It started for me at a place that nobody seems to know anything about. Nobody's ever heard of it, nobody gives a damn about it… If you lived in New York in the '40s, everybody used to go to summer vacation at a place called Rockaway. During these summer getaways, every Friday night, my father would throw me in the car and take me to the fights at a place called Long Beach Stadium. It was in Long Beach, Long Island, which was the next town over from Rockaway. Long Beach Stadium was an outdoor summer arena and they used to get pretty good crowds there. Everybody fought at Long Beach Stadium. It was a legendary place during a special time in boxing."
TOPIC: Lederman's start as a judge
"I used to go to the fights with my wife Eileen, and I would sit there and keep score. I thought, "What the hell? I can do this." Eileen's dad was an inspector with the New York State Athletic Commission, so I talked to them and said that I'd like to judge boxing. They told me I had to get some experience and that I should start judging amateur boxing. I started judging amateur boxing in 1965. I did that for two years and I learned an awful lot. I used to judge twenty fights a night, five nights a week. When I judged twenty fights a night, they used to pay me five dollars. After two years (of judging amateur fights), I got my license as a professional boxing judge."
TOPIC: Judging the 1981 heavyweight fight between Gerry Cooney and Ken Norton, a bout that Cooney won via first round knockout
"Let me tell you, I got such a kick out of hearing my name being announced over the loud speaker at Madison Square Garden ! I was in seventh heaven! Be that as it may, Gerry Cooney was a hell of a puncher. To say the least, Norton didn't like to fight big punchers. Norton would always go into that crouch and he had that defense with his hands crossed in front of his face and he came forward dragging that back foot. His style always gave Ali trouble, but he didn't like to fight big punchers. Boy could Gerry crack!"
TOPIC: Becoming HBO's unofficial ringside scorer
"I was sitting there one night, watching a fight at home. I called Ross (Greenburg) on Monday morning and I said that what I was watching Saturday night and what his announcers were saying were two different things. I suggested to him that he get a boxing judge to keep score and tell the public what the rules are. He said, "Harold, that's not a bad idea. I'm going to get back to you about it." Two weeks later, he called me up and he said, "Harold, how would you like to work a fight for us?" I said, "Sure, Ross. No problem." WBC heavyweight champion Pinklon Thomas was fighting Trevor Berbick. They sent me a plane ticket and I was all excited, but I said to my wife Eileen, "Pinklon Thomas is a 7 to 1 favorite. What's going to happen is that Thomas is going to whack this guy out in the first round and my career at HBO is going to be over right then and there." Little did I know that Trevor Berbick hired Eddie Futch, who was one of the greatest trainers in the history of boxing. Sure as the devil, Berbick goes out and outboxes Pinklon Thomas and wins a twelve round decision. HBO liked hearing what I had to say about the fight and I've been there ever since."
TOPIC: His daughter Julie following in his footsteps
"When Julie was a little kid back in the early to mid 70's, I used to work fights all over the world - Argentina, Chile, Colombia, Venezuela, Panama, Paris… No matter where I went, I always took Julie with me. If there were fights in Albany for example, we would take a ride up there together. When the fights were over, Julie would jump into the back of the car and fall asleep on the ride home. I took Julie all over the place. She loved boxing. One night, a man named Tony Russo, who was an executive for the New York State Athletic Commission, he said to her, "Julie, why don't you judge?" She said, "No, I don't want to judge." Tony said, "You go to all the fights anyway. Why wouldn't you want to be a judge?" I said, "Listen, Julie. If you want to judge, I'll pay all your expenses. I'll pay all your fees and you can keep whatever money you make." She said, "I like that idea."
TOPIC: Balancing his passion for boxing with his responsibilities as a pharmacist
"I'd be working in the drug store and all of a sudden I'd get a call, "Hey, Harold? Can you judge a fight in Colombia next week?" I'd say to my boss, "I need to take seven days off." He'd say, "You take off seven days and you'll need to find a new job." I'd have to go out and find another job, and that's just how it went. My wife Eileen put up with me for all those years and I don't know how she did it. There were a lot of times when I should have been in the drug store, but I was out catching a fight somewhere. Eileen was a teacher in the South Bronx for forty years, so at least one of us had stable income. She loved boxing, too, so she understood. It's not like we were starving to death. We had a boxing family and we made it work."
NOTE: Doveed Linder is the author of RINGSIDE: INTERVIEWS WITH 24 FIGHTERS AND BOXING INSIDERS, a trilogy of books, each consisting of 24 in depth interviews with various fighters, trainers, corner men, promoters, commentators, and officials, including "Sugar" Ray Leonard, Roy Jones, Jr., Lennox Lewis, Evander Holyfield, Kathy Duva, Angelo Dundee, Bob Arum, Emanuel Steward, Larry Merchant, Lou DiBella, Ann Wolfe, Joe Souza, J Russell Peltz, Gerry Cooney, Leon Spinks, Al Bernstein, Naazim Richardson, Harold Lederman, George Chuvalo, Steve Smoger, Winky Wright, Ronnie Shields, Dwight Muhammad Qawi, Duane Ford, and Jackie Kallen. The foreword for the first RINGSIDE book was written by Boxingtalk publisher Greg Leon, and is available on Amazon.com.
Send questions and comments to: doveed@hotmail.com