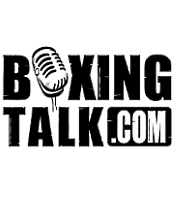 BoxingTalk.com's request for a credential at the International Boxing Hall of Fame weekend was rebuffed during the four-day gala. After the initial request was denied on Friday, I attempted to speak with Ed Brophy, who runs the Hall of Fame, along with brother Mike and nephew Jeff, on Saturday. I asked Brophy for five minutes of his time in an effort to persuade Brophy to issue a credential for BoxingTalk, one of the major boxing Web sites. However, Brophy could not even spare five minutes. Apparently, he was too busy. The Brophy clan informed Lang, during his first attempt to get a credential, that one had already been issued for BoxingTalk. However, a BoxingTalk writer, Larry Tornambe, who planned to attend the Hall of Fame weekend, could not make it because he had to serve as a ring announcer for a fight in Philadelphia.
Mike Brophy gave Lang an excuse about how writers must apply for credentials as early as April, but one writer from a site ran by a moron who's name rhymes with crackpot, showed up without ever having sent in a form for a credential, was able to get one made up for himself the day he arrived on the Hall of Fame grounds.
If the Brophy clan had given Boxingtalk a credential, there would have been a write-up on the Hall of Fame festivities, instead of this little piece exposing their stupidity.
In other news, more than one person reported that Ed Brophy yelled at them for waiting outside the nearby Days Inn hotel to get autographs from fighters, even though that is what people go to the Hall of Fame for – to get autographs and photos with the fighters. If the Hall of Fame made certain fighters more accessible on the Hall of Fame grounds, maybe fans and autograph collectors wouldn't have to wait outside the Days Inn across the street from the International Boxing Hall of Fame. The Hall of Fame also made it difficult for fans to get close to the fighters at the Celebrity Boxing Night at the Turning Stone Casino, an event where people used to have a shot at getting some autographs. One Hall of Fame security guard volunteer told BoxingTalk.com that he was given orders to prevent the fans from approaching the fighters.
Also, a number of boxing fans who paid to get into Sunday's Breakfast of Champions were displeased that they had to wait three hours before any boxing celebrities were made available at the autograph table.  In addition, one local resident said Ed Brophy accused him and his son of sneaking into Saturday's VIP Cocktail Reception. They were subsequently "escorted" to the entrance of the Greystone Church. When the person who took their tickets told Brophy they in fact handed over tickets for the event, Brophy allegedly still refused to believe they had paid to get in, according to the father.
Some of this past weekend's attendees found it was easier to get autographs or talk to the fighters at the nearby Graziano's Restaurant than on the grounds of the International Boxing Hall of Fame. Legendary former middleweight champion Jake LaMotta seemed to sign more autographs at the bar at Graziano's than at the Hall, although BoxingTalk spotted LaMotta signing gloves in a backroom of a Hall of Fame building when he knocked on the door to try to speak to a member of the Brophy clan for a credential. The door to the room he was in had the words "private" written on it. While the Hall of Fame does sell gloves signed by fighters to raise money for the Hall of Fame, there was a rumor that the Hall has an "arrangement" with boxing memorabilia collectors and dealers, the same people who Brophy was allegedly yelling at the Days Inn. One alleged collector, Gary Leibow, a writer for the Hartford Courant, told BoxingTalk that Brophy banned him from the Days Inn parking lot. Leibow said Brophy took issue with the portable chair he had.
Editors Note
: Marty "Loser" and the company he hired to credential the press for the Tyson-McBride also deserve a big time dishonorable mention for being completely clueless  how a boxing event should be ran. 
Send questions and comments to: eworldtv@yahoo.com