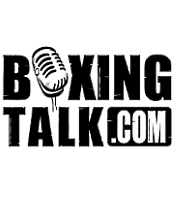 Body Shot Does In Golden Boy
Bernard Hopkins retained the world middleweight championship with a ninth-round knockout of Oscar De La Hoya. Hopkins, who picked up the WBO belt to go with the WBC, IBF and WBA versions he already owned,  landed a vicious left hook to the right side of De La Hoya' body, that put the Golden Boy down for the count Saturday night at the MGM Grand Garden Arena in Las Vegas. At the time of the stoppage, Hopkins was ahead on two of the three official scorecards. Judge Dave Moretti had it 79-73 Hopkins, Paul Smith scored it 78-74 Hopkins while Judge Keith MacDonald had De La Hoya up 77-75. With the victory over De La Hoya, Hopkins retained his title for nineteenth time.
Round one was very tense, as both fighters looked to feel each other out. Hopkins landed the first punch, a left hook that grazed De La Hoya, and he also managed to land a lead right hand.  De La Hoya landed a good left jab at the end of the round, bringing a roar from the crowd, but otherwise there was little action.
Hopkins and De La Hoya both tried to establish their jabs in the second round, as both looked to counter the other in an effort to get closer to land something with more power. Hopkins landed two good right hands to De La Hoya's chin. De La Hoya landed a quick flurry at the :10 warning that brought the crowd to its feet.
Hopkins started to land his right hand with a little more frequency in the third, catching De La Hoya on three occasions. De La Hoya came back to land a few left jabs and then tried once again to land something meaningful to end the round, but was unable to.
Both fighters had their moments in the fourth round, as Hopkins' main weapon was his right hand and De La Hoya countered with flurries, not landing flush, but possibly getting the judges attention with the crowd cheering every time. De La Hoya did land a shot below the belt that had Hopkins take a deep breath, but it didn't get a warning from referee Kenny Bayless.
Hopkins won the fifth round using his jab as his main weapon; he even dropped his left hand to his side, smile at De La Hoya, then fire with his jab. One jab even sent De La Hoya to the ropes.
The fight was close up to this point, with the rounds close and with both fighters looking to counter if any mistake was made. Hopkins picked up the pace in the last half of the sixth and seventh rounds.  He pressured De La Hoya, landing lead right hands on De La Hoya's chin. De La Hoya tried to fire back with flurries, but he was starting to miss the target, and Hopkins would counter and land the right.
Hopkins won the eighth round, continuing to pressure De La Hoya, who looked to be slowing down a little. Hopkins landed hard right hands and out-jabbed De La Hoya, beating him to the punch.
Hopkins continued to stalk De La Hoya in the ninth round, landing lead rights followed by jabs. As Hopkins closed in, he landed a left hook to the body of De La Hoya that crumbled him to the canvas in pain. Referee Kenny Bayless reached the count of :10 at 1:36 of the round, with De La Hoya still on his knees pounding the floor in pain. Hopkins jumped on the top ropes and crossed his arms in his customary execution symbol.
De La Hoya said after the fight that he was hit on the right spot and couldn't recover. "It doesn't matter how hard a person hits you but if you get hit on the right spot, it doesn't matter", said a disappointed De La Hoya. "Believe me if I could have got up I would have, but he caught me good."
Hopkins raises his record to 45-2-1, while De La Hoya falls to 37-4. 
CLICK HERE FOR FULL REPORT AND PHOTOS
Send questions and comments to: broncosnm@comcast.net