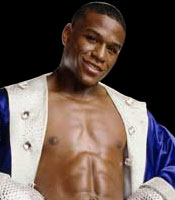 On May 22, 2004 Floyd Mayweather Jr. made his junior welterweight debut againt DeMarcus Corley in a twelve round eliminator for the mandatory position to WBC junior welterweight champ Arturo Gatti.  Mayweather got stunned early on in the bout, but thoroughly dominated Corley, dropped him twice and won a lopsided unanimous decision.  As many in the boxing world already know, this was Mayweather's last fight under the terms of his exclusive agreement with HBO.  HBO has been paying  approximately $3.25M license fees for Mayweather's fights. I don't want to call Mayweather's contract with the network expired, because my phone rings enough as it is, and it's possible HBO may feel they still have rights on Mayweather. However it's factual that the network recently offered its only undefeated fighter a $1.5M license fee to fight Gianluca Branco.
Mayweather-Branco would have taken place for the WBC's interim title on December 18.
By the way, Mayweather had to pay Branco from the $1.5M license fee as well.
After learning of HBO's offer Mayweather's face probably looked something like it does in the picture above, but for all the wrong reasons.
This isn't how undefeated superstars and elite pound for pound fighters should be treated by HBO.
And this is far from some puff piece on Floyd. Most of us may be able to agree that Mayweather is as arrogant as they come.  Outside of the ring his rapsheet rivals his resume as a boxer.
But in terms of boxing, it doesn't get much better than Lil Floyd.
And HBO is supposed to be the heart and soul of boxing right?
Who knows? Perhaps the suits at HBO made such a low offer because they knew Mayweather wouldn't accept it. In either case, Floyd wound up hurting himself by not accepting the short money.
Mayweather not accepting HBO's $1.5M license fee prevented him from fighting for the WBC's interim title, which prevented Mayweather from ever being entitled to a 55-45 purse split with Gatti.
Under WBC rules the interim champion receives 45% of the purse-offer as compared to the 25% a mandatory challenger receives.
Taking the offer might have been insulting to Mayweather, but not taking it destroyed his leverage at the negotiating table.
You don't think Main Events would offer Mayweather parity do you?
As it stands Mayweather still has no HBO date.
Boxingtalk.com first reminded the boxing world that Mayweather was Gatti's mandatory immediately after Gatti's impressive second round KO over former lightweight champ Leonard Dorin on July 24.
Mauricio Sulaiman confirmed to Boxingtalk.com that Mayweather was the "immediately due mandatory."
Again as Boxingtalk.com first reported Gatti underwent nose surgery which sidelined him for ninety days.
The Gatti-Mayweather fight should have come to the forefront immediately, but once again Mayweather hurt himself.
The confusion over his representation complicated matters for Mayweather. Isolating himself from the boxing world didn't help either.
With Mayweather's immediate future at a virtual standstill, Team Gatti kept it moving.
As Boxingtalk.com first reported over a month ago, Gatti will be fighting Jesse James Leija on Jan. 29. The venue hasn't been confirmed yet, but the Boardwalk Hall in Atlantic City, New Jersey would seem like the safe bet. It's where Gatti's last four fights-two memorable bouts with Micky Ward, Ginaluca Branco and Leonard Dorin-have taken place in front of standing room only crowds.
The Confusion Over Mayweather's Representation:
About a month before he fought Corley, Mayweather signed a management contract with Enrage Management, known as the SCUNCI people in boxing circles. Mayweather signed this contract without first showing it to his attorney.
Enrage Management gave Mayweather a $2M signing bonus.
Mayweather's relationship with Enrage Management was over after five months. Boxingtalk.com understands Mayweather  will have to reimburse the $2M bonus with interest over his next few fights to terminate his contract with Enrage Management.
A couple of weeks ago, Boxingtalk first reported that Al Haymon was in the Floyd Mayweather Jr. business. Haymon replaced Mayweather's now former adviser Leonard Ellerbe.
As it stands, Mayweather's date is still up in the air. Not even our sources closest to him have any idea what his next move will be. 
CLICK HERE FOR MORE OF THIS MUST READ EXCLUSIVE REPORT
Send questions and comments to: gleon@boxingtalk.net