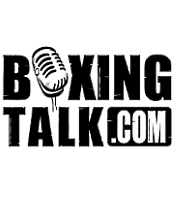 Press release:
Two of boxing's most talented pound-for-pound fighters will square off in a highly anticipated rematch when International Boxing Federation (IBF) "Super" 140-Pound Champion Kostya Tszyu defends his title against Interim IBF Junior Welterweight Champion Sharmba Mitchell Saturday, Nov. 6, 2004, on SHOWTIME CHAMPIONSHIP BOXING.  In the co-feature, World Boxing Organization (WBO) Junior Featherweight Champion Joan Guzman will defend his title for the second time when he takes on WBO No. 13 contender Marcos Licona.
SHOWTIME will televise both world title fights from the Glendale Arena in Phoenix, Ariz., at 9 p.m. ET/PT.* Millenium Events Inc, in association with Gary Shaw Productions, LLC, will present the fight card. 
In their initial meeting on Feb. 3, 2001, Tszyu scored a controversial seventh-round TKO over Mitchell on SHOWTIME.  The bout was prematurely halted when a knee injury forced Mitchell to retire after the seventh round. At the time of the stoppage, Tszyu was ahead on two of the scorecards, 68-65 and 68-64, and even on the other, 66-66.
Tickets for "Unfinished Business: Tszyu vs. Mitchell" reserved seats are priced from $34.95 to $304.95, and are on sale now at the Glendale Arena box office and all TicketMaster locations. To order tickets by phone, call (623) 772-3800.
"This is the fight that everyone has been waiting for,'' said Tszyu (30-1, 24 KOs), who will make his first start since January 2003.  The champion was scheduled to defend his crowns against Mitchell on SHOWTIME Feb. 7, 2004, but was forced to withdraw after suffering a shoulder injury during training. 
"Mitchell has done a lot of talking," Tszyu continued.  "It is time to shut him up.  Let's finish our business. My shoulder is fine. I have been testing it and doing heavy work for more than two months. All I do is train.  I am very excited about getting in the ring again.''
Since the disputed loss to Tszyu, Mitchell (55-3, 31 KOs) has defeated highly skilled ring veterans such as Vince Phillips and Ben Tackie en route to winning eight consecutive bouts.
"Waiting for Tszyu has been frustrating, but I understand the politics of the game," Mitchell said.  "We have had a couple of false starts, but I am thrilled that the fight is going to finally happen."
"I will win. I am injury free and very pumped up. I am ready to do my thing.''
Tszyu, of Sydney, Australia, by way of Serov, Russia, stamped himself as the world's premier 140-pound boxer and added the IBF belt to his already-glitzy wardrobe with a scintillating second-round TKO over previously undefeated Zab Judah Nov. 3, 2001, on SHOWTIME.
In a sensational performance in which he became the first undisputed junior welterweight champion since Paul Fujii in 1968, Tszyu finished Judah off with a single, devastating right hand in the second round. Six months later in his sole 2003 outing, Tszyu retained his titles with a one-sided 12-round decision over then-IBF No. 1 contender Ben Tackie May 18 on SHOWTIME.
Eight months after defeating Tackie, Tszyu retained his undisputed title by scoring a sixth-round TKO over former WBC titleholder "Jessie" James Leija on Jan. 19, 2003, from Melbourne, Australia. 
The once-beaten world champion captured the WBA belt on SHOWTIME with a seventh-round TKO over Mitchell on Feb. 3, 2001.  Nearly one-and-one-half years earlier, Tszyu won the WBC 140-pound title by knocking out Miguel Angel Gonzalez in the 10th round on Aug. 21, 1999. 
A winner of 12 consecutive bouts, including 10 by knockout, Tszyu will make his 16th world title appearance (plus one no decision). After going 259-11 as an amateur, "The Thunder From Down Under" turned pro on March 1, 1992.  He made his initial six starts in Australia, and 17 out of his first 22.
Mitchell (55-3, 31 KOs), of Takoma Park, Md., captured the Interim IBF 140-pound crown with a hard-fought, 12-round unanimous decision over Lovemore N'dou on the day he was scheduled to face Tszyu - Feb. 7, 2004, on SHOWTIME.
In his lone defense nearly two months later, Mitchell registered an impressive 12-round decision over Mike Stewart April 3 on SHOWTIME.  Mitchell, who scored a second-round KO over Moises Pedroza in his most recent start on Aug. 7, 2004, at Mashantucket, Conn., earned a lopsided 12-round unanimous decision over Ben Tackie on May 17, 2003, to become the IBF No. 1 140-pound contender.
Less than four months earlier on Jan. 25, Mitchell opened the 2003 campaign by dropping Carlos Vilches three times en route to registering a fourth-round TKO -- his first victory inside of the distance since February 1998.
The southpaw boxer-puncher captured the WBA title with a 12-round decision over Khalid Rahilou on Oct. 10, 1998. Mitchell made four successful defenses prior to losing to Tszyu.  The defeat ended a six-and-one-half-year run in which Mitchell won 16 consecutive contests.
Guzman (21-0, 17 KOs), of Santo Domingo, Dominican Republic, won the vacant WBO junior featherweight crown by scoring a third-round knockout over Fabio Oliva on Aug. 17, 2002, in Cardiff, Wales.  In his initial title defense on Feb. 26, 2004, the undefeated Dominican recorded a seventh-round knockout over Agapito Sanchez in San Diego, Calif.   
Prior to winning the world title, Guzman, who will make his third SHOWTIME appearance, registered a 10-round unanimous decision over Armando Guerrero Feb. 16, 2002 on America's No. 1 boxing network.  The judges scored the San Antonio, Texas, contest 100-89, 100-90 and 98-92.
On Aug. 10, 2001, Guzman knocked down world-ranked contender Hector Avila five times in two rounds en route to capturing the vacant NABO junior featherweight title before a hometown crowd.  The undefeated 28-year-old has knocked out 12 of his 21 opponents within two rounds, including eight in the opening stanza. In his SHOWTIME and "ShoBox: The New Generation" debuts, Guzman won the WBO Intercontinental/NABO and Latino 122-pound title with a 12-round unanimous decision over Edel Ruiz on Sept. 29, 2001, in Tacoma, Wash.
Licona (21-4-1, 7 KOs), of Mexico City, Mexico, earned the North American Boxing Organization (NABO) 122-pound crown by tallying a 12-round decision over Israel Vazquez on March 27, 1999 in Las Vegas.  Nearly 14 months later, the pride of Mexico City secured the California State featherweight title with a fourth-round TKO over Priest Smalls on May 11, 2000.  On Aug. 16, 2003, in Uncasville, Conn., Licona fought admirably as a late replacement for Derrick Gainer and extended the WBA/IBF Featherweight Champion Juan Marquez to nine rounds before Licona's corner stopped the fight.  In his last outing, the former California State champion registered a 10-round majority decision over Christian Favela on March 18, 2004 in Irvine, Calif.