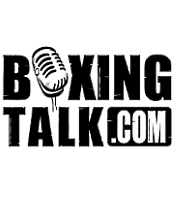 His career was at a crossroads.  He knew it and fought like it.  Dominick Guinn had to defeat veteran gold medal left-hander Audley Harrison and win impressively or else his future as a once-promising heavyweight prospect would be relegated to that of "opponent" status. The Arkansas native, who had established himself as a star in the making after knocking out Michael Grant and garnering a unanimous decision victory over Duncan Dokiwari on consecutive HBO telecasts, realized – along with his promoter, Dan Goossen -- that changes would have to be made if Guinn was ever going to fulfill the promise he showed in winning his first 24 professional bouts, while being touted as the next dominating heavyweight champion.  
The first key change made was the hiring of Joe Goossen, an innovator who orchestrated the championship careers of Michael Nunn, the Ruelas brothers (Rafael and Gabriel) and Diego Corrales, among many others.  The real major change was Guinn's commitment to dedicate himself physically and mentally to his new mentor and follow the unique game plan Goossen devised to combat the taller, bigger, stronger British southpaw.  
Last Friday night in the Goossen Tutor Promotions main event, before a national television audience on ESPN2's "Friday Night Fights" and a sellout crowd at the Agua Caliente Casino in Rancho Mirage, CA, those changes paid major dividends for Guinn as he totally out boxed and out punched Harrison in route to a convincing, unanimous decision victory.  
Goossen devised a strategy geared toward penetrating the long-armed defense (8" length advantage) of the 6'6" Harrison with inside fighting, while defensively focusing on avoiding his right jab by having Guinn, in a nontraditional manner, move to his right towards Harrison's cocked left hand.   
"Make no mistake about it, Harrison is very tough defensively.  It took a lot of patience for me to finally wear him down to the point that I could exert more consistent body and head punches in the final rounds," stated an elated Guinn.  I was in great shape and very excited to get back on this track.  I will do whatever is necessary to get back to the top."  
While Guinn followed the game plan to a tee, boxing superbly with an aggressive work rate on the inside while consistently moving to his right, this tactic went against the conventional wisdom of fighting a southpaw.  ESPN2's highly-respected boxing analyst, Teddy Atlas, tried unsuccessfully to take Goossen to task on the strategy.  
"Teddy, you know as well as I know every southpaw expects the guy to go to his (Harrison's) right hand," Goossen responded during the telecast.  "We're going to his left hand here, and he hasn't been able to hit (Guinn) clean yet…We're not going the way he (Harrison) likes to jab."
"After studying tapes of Harrison's past bouts, it was clear his power shot from those fights was his right jab and not his seldom used left hand," Goossen later explained in dismissing Atlas' standard theory.  "By moving right and reducing the accuracy of Harrison's jab, we believed it would then completely nullify his left and Dominick would be able to control the offensive part of the fight.  I believe this strategy worked."  
"Considering Harrison's tremendous defensive skills, Guinn had a magnificent showing offensively," Dan Goossen observed.  "It was probably his best performance since his victories over Grant and Dokiwari.  The fans showed their approval of the action in the last round standing on their feet cheering U-S-A, U-S-A."   
The victory for Guinn revitalizes his status as a heavyweight championship contender, according to Dan Goossen, who is already working on a list of ranked opponents for Guinn to meet in the ring.  
"With conventional-styled boxers and punchers in front of Guinn, it can only get better.  Make no mistake about it -- Dominick Guinn has placed himself back into the heavyweight picture, in a big way."