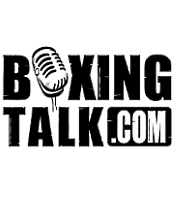 Press Release: In a rematch of an action-packed bout that wound up as one of 2005's most shocking upsets, Gamaliel "Platano" Diaz (20-5-2, 9 KOs) will face Robert "The Ghost" Guerrero (17-1-1, 10 KOs) in the ShoBox: The New Generation main event Friday, June 23, 2006 (11 p.m. ET/PT, delayed on the west coast). The winner of the WBC featherweight elimination bout - and first rematch in the five-year history of ShoBox- will become the mandatory challenger to WBC featherweight champion Takashi Koshimoto. In co-featured bouts, the promising, unbeaten Dirrell brothers, Andre and Anthony will make their ShoBox' debuts in separate six-round super middleweight bouts. Andre (7-0, 4 KOs) will meet James Morrow (9-2-2, 4 KOs). Anthony (8-0, 8 KOs) will face Marcus Don "The Barber" Hall (11-1, 4 KOs). The tripleheader from the Oakland/Alameda County Arena in Oakland, Calif., will be promoted by Goossen Tutor Promotions. 
Diaz stunned the boxing world by winning the initial collision of top-10 featherweights with a well-deserved, 12-round split decision Dec. 5, 2005. Going in, southpaw Guerrero was undefeated and regarded as one of boxing's brightest young stars. Diaz was a virtual unknown going in but that is not the case anymore. The Mexico City native proved he was not afraid of apparitions by outpointing Guerrero 115-112, 114-113 and 112-115.   
Diaz, of Mexico City, has won 11 straight bouts and is unbeaten in his last 19 (17-0-2). "I see this fight the same as the first one, except I will win easier," Diaz said. "He got in some good punches the first time that he will not land this time. I am changing my style and working more on defense. I do not care if it is a knockout or another decision.  I am confident that I will gain the victory." 
Guerrero (17-1-1, 10 KOs), of Gilroy, Calif., is unusually tall and rangy for a featherweight, Guerrero is known for tremendous defense and speed. He showed no effects from the Diaz bout by scoring a third-round TKO over Sandro Marcos May 18, 2006, in San Jose, Calif. 
In a sharp and overpowering performance, the popular Guerrero bloodied Marcos' nose in the second round and scored a knockdown in the third. Marcos made it to his feet, but was staggered again from a series of punches. He was falling to the canvas when the referee stopped the fight at 0:54. "I am back and right on track," Guerrero said, after his first outing in five-and-one-half months.  
"Looking back at the first Diaz fight," Guerrero said, "I thought I had edged it out and won, but the judges saw it differently. It was a really close fight and a great learning experience. Now, I know I cannot take anything for granted or take anybody lightly. I have to be on my toes for everybody.
"I am working hard and watching the tape of me and Diaz, and basically going off of that. I know I have to change it up more and not focus as much on defense.  I plan to work much more on offense. I have so been into being slick and slipping shots and looking good in there that I left out what got me there: coming in and grinding in there. I plan to come out in round one firing punches and keep it that way, picking it up round after round."  
Andre "The Matrix'' Dirrell was the 2004 Olympic Games bronze medalist. After an outstanding amateur career in which he went 214-22, the youngster turned pro with a fourth-round TKO over Carlos Jones on Jan. 27, 2005, in Glen Burnie, Maryland. The southpaw is coming off of a hard-fought, six-round unanimous decision over Alfonso Rocha on May 25, 2006, in Temecula, Calif. Despite getting floored from a right hand in the closing seconds of the third, Dirrell dominated and finished strongest to win 58-55 on all the scorecards,
"This fight proved that I was in great shape," said Dirrell, who recovered after the hard knockdown to bloody Rocha's nose in the fourth and cut him over the right eye in the fifth. "Rocha could take a punch. It was not an easy fight, but this is what I want. To be champion you have to fight tough guys."
Between fights, Andre, who is 13 months older than Anthony, is working on getting his high school diploma. "When the Olympics came around, I started slowing down. I had to go to camps and stuff, so I did not have the time to finish."
Morrow, of Lafayette, Ind., is coming off of an eight-round decision over James Rice on March 18, 2006. Morrow won five straight at the outset of a career that began on Nov. 29, 2003, and was 8-0-1 after nine starts. However, he has gone 0-2-1 with one no contest until beating Rice.
"I wanted the win and a good performance and I got both," said Morrow, who fried Rice by the scores 80-70 on the three scorecards. "This gets me close to where I need to be.''
Anthony "The Dog" Dirrell is a switch-hitter who has majored in finishing off opponents quickly and decisively since turning pro on the same show as his brother.  None of his eight starts have lasted more than two rounds. Four have ended by knockout in the first round, including his last three.
In his most recent outing, Dirrell stopped Juan Ramos in the opening session on May 25, 2006, in Temecula. Dirrell scored one knockdown before the referee stopped the fight at 2:54.
"I was a little surprised the Ramos fight was so easy," Dirrell said. "I did not expect a first-round knockout. I was just more aggressive, and he realized that my punch was too much for him."
The Dirrell brothers have tattoos of the face of their grandfather, Leon Lawson, on the back of their shoulders. "We never had a father figure," Andre said. "Our grandfather took me and my brother in. He got me started in boxing when I was 10. He has ridden our backs in school and everything we have done, including boxing. We decided to make it literal, and put him on our backs." 
Hall, of Savannah, Georgia, has gone unbeaten since losing his pro debut on Sept. 27, 2002.  The Georgia native has won nine straight since his third bout ended in a no contest. In his two 2006 starts, Hall has won six-round decisions, including one in his last outing against Vincent Harris on April 14. It was the fourth time Hall outpointed Harris, but the scores were tighter this time: 58-56 twice and 56-58. 
"My style is that I give a lot and I take a lot. I am determined, durable and come to fight," said Hall, who goes by the name of Don, although Marcus is his real name. He got his nickname because "I have been a barber since high school.'' The upcoming bout will represent his first fight outside of Savannah.