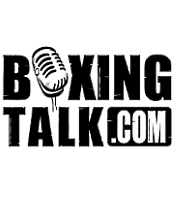 GL: Has Diego's training for Castillo changed in any way?
"I would just say we started off a lot quicker, a lot fresher and a lot sharper. You know we didn't have that nine month lay-off and those first couple of weeks last time were a little tough. But coming off the last fight his senses are working very well. It's almost like jumping right back in there. Diego's wheels are good, and don't get me wrong he was sore after the first couple of days, but his timing and accuracy and work is much more intense than it was the first time."
GL: After what you saw in the first fight does the strategy have to change for Diego to be successful? And should the strategy change in order to perhaps make the fight easier for Diego?
Joe Goossen: "Those are questions that need hard to the point answers and I can't give you that. The most I can say on it is this. We're still formulating a strategy and we're still working on the things that we need to pick up and what we're going to lay-off on. It's still a work in progress right now. A lot of things worked for us in that fight and some things worked better than others. I can give you a better, more definitive answer in about a month from now."
GL: After the first fight with Castillo you said people would have to be sadistic to want to see a rematch. Sadistic we are, do you still feel the same way?
Joe Goossen: " No and let's face it. That was literally five minutes after the fight. Nobody wanted to give anybody time to bask in the victory. These guys were already talking about let's see it again, and it was just a sadistic statement to be made that quickly. I knew it was going to come around to happen again, but it is unsual for a fight of this magnitude to return with a rematch immediately. I just didn't want to hear about the rematch five minutes after the fight and I think that was really the intent behind my statement."
GL: On October 1 Antonio Tarver and Roy Jones Jr will fight for the third time on HBO PPV. Their fight will be replayed for free on HBO on October 8 the date you're going to be fighting Castillo on Showtime PPV. Are you concerned that promotion will have a negative impact on your PPV's success?
Joe Goossen: "I really don't. I think Diego and Castillo's first fight spread like wild fire. People who don't even watch boxing were talking about it around their water coolers. I know that went on for a month after the fight here in Los Angeles. Forget about the calls I got from people around the country. I also think you have a different audience for this fight as proposed to the Tarver-Jones fight. I don't know if the interest in that fight will be even close to the interest this fight is generating. I don't think anything they could do is going to be able to stop the momentum that this fight has already picked up. I think the PPV sales for this are going to be higher than anythign they've had in quite a while."
GL: Shortly after the first fight Diego told me he would come out for a rematch as though it were round 11. His outlook as far as that is concerned hasn't changed one bit. Does that challenge you to keep him under control? Or do you feel that attitude is just the attitude he needs to be successful in this fight?
Joe Goossen: "I wouldn't want to change the way he's thinking. I don't think that implies any particular style as much as it points to his mind-set right now. He's ready to keep fighting as long as they have to and he's looking at it as round 11."
GL: Earlier you mentioned Diego being sharper without the lay-off. How much of a difference will that have in Diego's performance on October 8?
Joe Goossen: "I'm not going to say if things are going to be easier or harder. I would say we're going to capitalize on what he gives us. Consider the performance Diego put on after that long lay-off, while Castillo was fighting every eight weeks. He was in his groove and Diego, all things considered, knows he can perform even better. Diego and I have spoken and we feel there's some things we see that we're going to build on after the first fight.
Send questions and comments to: gleon@Boxingtalk.net