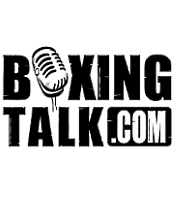 PRESS RELEASE:
He is one of the most exciting fighter in the light heavyweight division, he won the championship against the man Roy Jones Jr. wouldn't fight, and he rebounded from losing his title to beat two of the top 175-pound contenders.  Now Julio Gonzalez is a little over 2 days away from his title shot at regaining a championship. "It's been a hard road back, but with all the movement in the light heavyweight division, I know that my fans believe that I can rule the division for the next few years," said Gonzalez, who defeated former world champion Montell Griffin in May to earn the IBF's number one contender and mandatory spot.  "There is no more exciting light heavyweight in the world, and my fans know I bring knockouts with me like a true Mexican warrior."  
With Gonzalez (38-2, 23 KOs) preparing himself for his mandatory challenge to IBF champion Clinton Woods, promoter Dan Goossen would like nothing better than to bring this championship back to California. "With (Roy) Jones and (Antonio) Tarver fighting in October, Glen Johnson fighting September 30 on FSN's "Best Damn Sports Show Period," and Joe Calzaghe stuck in the UK, Julio has the opportunity to push himself right into the mix and we want the fans to know we believe he's bringing the title home to America against Manchester's Woods," said Goossen.  
After first crashing onto the world boxing scene with his stirring win over Julian Letterlough in 2001, Gonzalez – a native of Mexico who now makes his home in Huntington Beach, California – won the WBO light heavyweight title in October of 2003 with a 12 round decision victory over the then-undefeated (48-0) Dariusz Michalczewski.  Gonzalez lost a hard-fought decision to unbeaten Zsolt Erdei in January of 2004, but since then the Mexican warrior has bounced back with three consecutive victories, including wins over Griffin and David Telesco.  
Said Gonzalez' manager Rogelio Robles, "Julio has done everything that we have asked of him and he's ready to knockout Woods."  
"Jones, Tarver, Johnson, Calzaghe better be ready to add my name to the list, 'cause I'm ready to take care of business September 9," said Gonzalez.