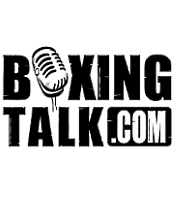 By Per-Ake Persson
January 15, 2005, Magdeburg, Germany:
The show drew around 4500 fans to the Boerdelandhalle and Thomas Ulrich´s late pull-out probably kept the numbers down.
Many fighters were on hand: Felix Sturm, Michel Trabant, Ralf Rocchigiani, Robert Stieglitz, Malik Dziarra, Rene Monse - and then the in Magdeburg, the oh-so-popular Sven Ottke, recently retired super middleweight world champion, arrived and just about stole the show.
Juan Carlos Gomez (231.5 lbs) TKO4 David Defiagbon (232.5)... 
Juan Carlos Gomez, fighting with his left eye swollen shot finally hurt Defiagbon with a left in the fourth and piled on the pressure. David fought back on unsteady legs but was eventually out on his feet from an upercut and moments later referee Kurt Stroer stepped in. The southpaw still is not in top form, however.  "Juan was about 70% of his capacity," said trainer Michael Timm afterwards and Gomez himself acknowledged the need for a few more fights to get back to top shape. He quickly found Defiagbon´s chin with his fine left but couldn´t follow up on his advantage and his eye began to swell after a clash of heads. All of a sudden the fight looked open again but Gomez had too much punch for Defiagbon. Gomez entered the bout as Boxingtalk's #39 rated heavyweight but will be promoted in next week's update.
Regina Halmich, 111.25, Ger W10-U Marylin Hernandez, 111.5, Dominican Republic...
Halmich retained the WIBF title on scores of 100-92 on two cards and 100-91 on the third. She was well in control for most of the fight darting in and out against her smaller opponent for a clear win.
Bert Schenk, 161, Ger  TKO3 Hamid Bouhembel, 159, Fra...
Schenk (rated #16 in Boxingtalk's middleweight ratings) looked sharp in his comeback but was in rather soft against Bouhembel,
who was down in the first from a left and hurt by the same
punch in the third.  When Bert followed up referee Andreas Schweiger stepped in.
Jan Zaveck, 146.5, Ger KO 4 Martine Kukula, 147.75, Lat...
Zaveck worked over Kukula with good bodyshots and the Latvian was punched to a standstill. He finally caved in during the fourth, got up but was counted out standing.
Denis Boytsov, 204, Rus/Ger KO 1 Ladislav Slezak, 224.75, Slo...
They don´t come much softer than Slezak ... and the powerfully built Russian quickly finished him off at 1:44 of the first.
Julia Sahin, 112, Ger  W10-U  Maja Frenzel, 111.5, Ger...
Julia Sahin won the vacant German female flyweight title on scores of 100-90, 100-90 and 99-91 - Julia was simply a league above her slow, plodding opponent.
Alesia Graf, 117.75, Ger TKO5 Dayana Santana, 118.5, Domincan Republic...
Graf is the real thing as far as female boxers go - she has the talent and the looks to become a real star in the real world of boxing. Her outclassed opponent on this show was wisely retired by her corner and didn´t come out for the fifth.
Natascha Ragosina, 167.5, Kaz/Ger W4-U  Borislava Govanova, 157.5, Bul...
Ragosina won the four-rounder by 40-36 on all three cards.
Susanna Kentikian, 112, Ger W4-U Iliana Boneva, 112.5, Bul...
Another shutout, 40-36 on all cards. It was Kentikian´s pro debut.