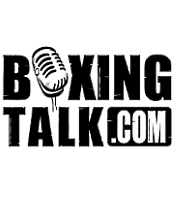 Michael Gomez defends his WBU Super Featherweight crown as the main co-feature attraction on stablemate Ricky Hatton's IBF Junior Welter title eliminator against Mike "No Joke" Stewart at Manchester England's MEN Arena on Friday, October 1st. Also on the Sports Network promoted bill are Thomas McDonagh, Michael Jennings, Steve Foster Jr., Matthew Hatton, Steven Bell, Paul Smith, Andy Morris, Tony Quigley and Matthew Hall. Sky TV will air the main contests in the UK as they happen on Sky Sports One, commencing at 10PM GMT. Boxingtalk.com was lucky enough to speak with Michael, who is also the British Champion at 130lbs, as he was starting to wind down his preparation to meet opponent Leva Kirakosyan. Read on for a closer look at the resurgent Gomez, one of Britain's best and most popular fighters.
Michael Gomez's new lease on life began exactly two years and three months ago. That's when the twenty six year olds world came crashing down in the form of a loss to a far less experienced opponent. Kevin Lear, a good fighter who's skills belied his having had less than fifteen professional bouts at the time, shocked the British boxing public by stopping Gomez, then one of the country's leading fighters, in the ninth round. Critics were quick to condemn the Manchester native as a has-been, pointing out that his notorious training habits had finally caught up with him.
Shortly thereafter, a shattered Gomez sought out the help of a man who is without question one of England's top trainers, Billy "The Preacher" Graham. Graham, a former boxer himself, is well known for his no nonsense approach to fight preparation and for training a good number of British, Commonwealth, European and World Champions. With the assistance of Graham and his team of co-trainer Bobby Rimmer and nutritionist - strength trainer Kerry Kayes, collectively known as "Phoenix Camp", Gomez once again returned to his winning ways as he blazed his way to six straight stoppage victories.
Today's version of Michael Gomez may resemble the old to the untrained eye but the new version no longer cuts corners in training, and has permanently left the nightlife behind. The new Michael Gomez has greatly improved his punching power and sharpened his skills, as evidenced in his remarkable victory over British boxing's Golden Boy, Alex Arthur, in a stunning fight of the year slugfest last October. Not only had Gomez stopped the previously unbeaten Arthur, taking back his old British title in the process, but he'd also convinced his country's highly skeptical press of the validity of his return.
Five months later Gomez put away a game but overmatched Ben Odamattey in three rounds to take the same WBU title that he was striving for when he lost to Lear. One month later Justin Juuko became Gomez's latest victim, as the former world title challenger was simply overwhelmed within two brutal rounds this past May. While Juuko was no longer the formidable challenger that gave Floyd Mayweather, Diego Corrales and others difficulty, it was still the most one sided loss in the thirteen year pro's career.
Now the man born Michael Armstrong in Dublin, Ireland, is set to face Leva Kirakosyan in one weeks' time. The opponent's name won't ring many bells outside his native St. Petersburg, Russia or his current home base of Valencia, Spain. It certainly doesn't register with Michael Gomez, who faces Kirakosyan on October 1st, and that's something the fighting Mancunian isn't exactly thrilled with. "I want to be back in the ring but it's a bit hard for me to concentrate on this fight when all I know is that I'm fighting a kid from Russia," said Gomez. "I believe that I'm a world class fighter and feel that I can handle anybody but I'm going in blind. We may get a tape yet of the Russian but right now I know nothing about him."
Kirakosyan, 13-3 (6), has fought at lightweight and even higher, likely putting the British fighter in the unusual position of not being the stronger man in the ring. Realizing this, Graham has encouraged his fighter to display more boxing ability than has been shown previously, which a somewhat reluctant Gomez claims he'll do. "Kirakosyan has boxed at light welterweight before, against Guiseppe Lauri, who had fought Ricky Hatton," said Gomez. "Ricky took five rounds to get rid of Lauri while the Russian kid done him in three, so that shows he can punch at a higher weight. He's boxed at lightweight a few times too, so it looks like this will be a tough opponent. He's about 5 foot 5, very stocky and very tough. I think it's a good chance for me to show my boxing skills because all I've really shown previously is my heart in toe to toe wars."
"Billy has had me working on things like my jab and moving and I think this will be a good chance for me to show that I can box. I want to keep my opponent at the end of the jab, bust him up and hopefully wear him down. If that doesn't work, I'll just go back to having a good tear up, which I like and what I'd rather do. But, Billy's getting a bit teed off at me to start showing what I've got, to start showing that I'm a world class fighter. He's right because I'm looking to fight the big names in the division and I can't just keep going in there with just my heart and desire. I have to show my skills too and on October 1st, I should have a good chance to do just that."
Far from being the burned out shell of a fighter the British boxing media made him out to be before the Arthur upset, Gomez is now a model citizen in the gym and is reaping the benefits of Graham's teachings. "I've sparred with stablemates Steven Bell and Matthew Hatton and I did pick up a little cut on my right eye but it's nothing major to worry about, although I did cut my sparring down just to be on the safe side. But my fitness is absolutely brilliant and I'm lifting very good weight. My cardio work is very high, and I'm in great shape. Since the Arthur fight I've gotten stronger, I've got fitter and it's all coming together nicely and that's my brain as well, not just the brawn."
One of the contributing factors of Gomez's downfall was his lack of motivation, something he says is no longer a problem as he understands third chances are few and far between in this most unforgiving business. "There's no problem whatsoever with my motivation," he said. "I'm in the best shape of my life, I'm the best I've ever been in boxing and I'm really looking forward to showing what I can do. The only problem I'm having is that it's getting a little hard to make the weight but it's something I can overcome and there's no lack of motivation for this fight."
"I'm really up for it, I'm really looking forward to it. One little slip up now and it'll stick me right back. I can't afford it with where I've gotten to in the world ratings. I'm ranked number 9 by the IBF, number 5 by the WBA and number 3 by the WBO, so I'm really up there and at some point that will pay off. I'd be stupid, really, not to be motivated for this fight."
A motivated, fully prepared and hungry Michael Gomez will be a handful for the Russian tourist come October 1st. A stoppage win over Guiseppe Lauri has been Kirakosyan's greatest achievement to date, and no doubt the thirty one year old who now calls sunny Spain home will try to top that by extinguishing Gomez's flame. Unfortunately for Kirakosyan, he stands between Michael and his goals. "This is a big fight for me because I want to keep increasing fan interest in my career, as I feel that I'm good enough not to be sharing bills with Ricky Hatton or any other British fighters," said the British Champion. "Ricky has said himself that he thinks I should be topping my own bills. I've had a big fight against Alex Arthur and now I'm getting the world ratings so all that is left now is for me to deliver."
"Billy Graham, Bobby Rimmer and Kerry Kayes have done their part, my manager Tom Jones has done his part, my promoter Frank Warren has done his part, so all there is left is for me to do my part. There's no one to blame but myself if anything goes wrong. Things won't go wrong though because I'm extremely confident, extremely prepared and up for the fight. I'm going to just go in there and have a quiet one or two rounds, have a look, check this kid out, and then go to work. It's hard to say that I'm going to go in and do this, this and that because I don't know what the kid is like except that he's a puncher because he knocked Guiseppe Lauri out in three rounds when it took Ricky Hatton five. So, I might keep back for a bit, with full respect for him and use my experience to pick my shots well so that they land cleanly."
Michael Gomez may not be a well recognized name among boxing fans outside of Britain and his Irish American fans in the US but the opportunity to change that may be coming his way soon. "This is another step for me, another big step to a world title," he said. "I've heard a rumor from America, I don't know if it's true, but that Morales is vacating the IBF Super Featherweight title in order to fight Barrera and that Robbie Peden is going to fight for the vacant IBF belt. Hopefully, I'll get the chance to fight Peden for that. I'm ranked number 9 by the IBF and I don't know how much pull Frank has with them but hopefully he can convince them to give me a shot."
"I've been a professional ten years now and I'd like to have a decent money fight. I haven't seen Peden box but I've heard a lot about him and that he was quite a good amateur. I think Peden and myself would be a good match but I just have to wait and see what happens with October 1st and get that out of the way. If I slip up, all my dreams and hopes go out the window and I'm not really ready to have that happen."
Boxingtalk.com would like to thank Michael Gomez, Billy Graham and Richard Maynard for making this article possible.
Send questions and comments to: thomaspointrd@aol.com