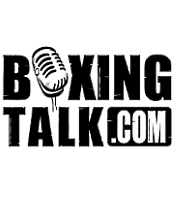 PRESS RELEASE:
Renowned jewelry manufacturer and designer, IceLink Watch has partnered with Golden Boy Promotions to craft history.  For the first time ever, boxing will crown a single nation as champions when Thailand and Mexico compete in the "Boxing World Cup" of Boxing at the Desert Diamond Casino in Tucson, Arizona on Saturday, October 29th.  The tournament victor will be presented with a Boxing World Cup created and designed by IceLink Watch. The Boxing World Cup will be televised on HBO Latino (Saturday, 9pm ET / 6pm PT).  
IceLink Watch, whose association with boxing began earlier this year when they entered into a sponsorship deal with middleweight world champion Bernard Hopkins, came up with the idea when evaluating further boxing sponsorship opportunities and realized, unlike other sports, boxing did not have any World Cup formatted events.  This priceless, one-of-a-kind, 15-pound, 18-karat gold Cup is set with more 15,000 diamonds, rubies, sapphires, emeralds and other precious stones.     
The Boxing World Cup will undoubtedly secure IceLink Watch's mark in athletic tradition, linking it to such prestigious awards as Hockey's Stanley Cup, Tennis's Davis Cup and Golf's Ryder Cup, each presented annually and held by the winning team. "We are always trying to be creative and thought that our presence in boxing would be stronger if we came up with something original" said Andy Sogoyan, President of Ice Link.  "The World Cup tournament is a wonderful way to establish ourselves in the sports arena with a solid program that has staying power."   
The event, presented by Golden Boy Promotions, will feature five world championship bouts and one additional contest pitting the best of Mexico against the best of Thailand battling for nationalistic pride. The victor will receive the inaugural Boxing World Cup (Copa Boxeo Mundial), and will return the following year to defend their title.
IceLink Watch, with over 25 years of manufacturing expertise, has seen its popularity grow most recently in the fields of entertainment—Hollywood and Hip-Hop—and sports.   Their men and women's lines include their recognized Six Time Zone watch collection—a notable "must-have" in the fashionable hip-hop market—as well as glamorous bicycle bracelets and chains.  
Earlier this year, they designed a signature six time zone watch for Hopkins—each zone representing one of his favorite cities and five championship belts.  His style, charisma and love for his sport was the inspiration behind the platinum design.  "Golden Boy Promotions was established to change the face of boxing, which we are achieving with The Boxing World Cup tournament," said Oscar de la Hoya, President of Golden Boy. "To have IceLink Watch as a sponsor and the Cup's designer for this inaugural event is worth its weight in gold.  I wouldn't trust any other jeweler for this prestigious undertaking."  
IceLink Watch has a global presence, with headquarters in Los Angeles, and state-of-the-art factories in the United States, Italy, Hong Kong, China and Switzerland. For more company and product information on IceLink, visit
www.icelinkwatch.com
and for Golden Boy Promotions, please visit
www.goldenboypromotions.com
.