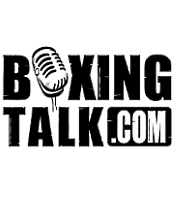 Boxingtalk.com members get to be a fly on the wall for G. Leon's 40 minute exclusive interview with former six division champion Oscar De La Hoya. The Golden Boy discusses everyone in his stable from Vicente Escobedo to Bernard Hopkins and shares with us his thoughts on Barrera-Chavez, Mosley-Vargas, why Barrera would be able to turn the tables on Manny Pacquiao. And yeah, Oscar's plans to "bang with Mayorga"and possibly fight Floyd Mayweather Jr in September also come up.
ONLY ON BOXINGTALK...IT'S GREAT TO BE A MEMBER!
Editor's Note:
All Boxingtalk.com readers, check out for
FREE
what the Golden Boy had to say about your favorite website.