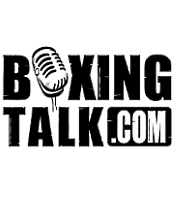 Matt "Too Smooth" Godfrey (11-0, 6 KOS) puts his title on the line Shaun George (11-0-2, 5 KOs) in a unification bout headlining the "Put Up Or Shut Up" card May 10, on ESPN2 Wednesday Night Fights, at Foxwoods Resort Casino in Mashantucket, Connecticut.
Godfrey, 25, and George, 27, are both risking their unbeaten pro records, something admirable, yet, unusual in boxing today. "I think he feels the same way as I do that if I'm not ready now, when will I be?" Godfrey said. "I'm making professional prizefighting my life and what I do is fight. I don't look for the easy way out. He is the guy I want to fight because this
is what I do. I take fights and don't say no to anybody."
Godfrey is coming off of a second-round TKO of former IBU cruiserweight champion Ernest "M-16" Mateen in February. Matt is rated No. 26 by the World Boxing Council, as well as No. 1 by the NABF.
"The cruiserweight division is a unique weight class where there is a lot of talent at the top," Godfrey's manager Bret Hallenbeck explained. "It really drops off after the top cruiserweights and the winner of this fight will separate himself, pull away from the pack, and be positioned closer to the big boys. Matt and George are the two new kids in the division. It's good for boxing to have two unbeaten prospects like this fight each other."
George, rated No. 15 by the WBA, is coming off of a 10-round decision against Chad Van Sickle (20-1-2) for the NABA and IBC Americas cruiserweight belts last November.
"I'm excited about fighting on ESPN in my first main event, or co-main event," Godfrey said. "This is right where my team saw me being a year ago. Everything is on schedule; I just have to keep winning. I plan on winning this fight and than fighting two, possibly three more times this year."
Godfrey and George have two common opponents. Matt schooled former NABO champion Jermell "The Truth" Barnes (17-8), a high school science teacher, winning every round en route to a unanimous eight-round decision (80-72 three times). In Barnes' previous fight, Shauna won a 10-round decision (97-93 twice, 96-94) for the IBC Americas title. Godfrey captured the World Boxing Council-affiliated USNBC cruiserweight title last August with a near shutout performance 99-91, 98-92, 98-93) against Willie Herring (11-3-3), who was coming off of an impressive nationally televised draw (96-94, 95-95, 93-97) versus George, in Matt's first 10-round match.
Godfrey heads to training camp April 23 at the Wild Card Gym in Hollywood (CA), where he'll train until the week of his fight against George, along with his head trainer, Peter Manfredo, Sr.
Last month, Godfrey had the opportunity to serve as one of WBC heavyweight champion Hasim Rahman's sparring partners as he prepared for his recent fight with James Toney. "When you spar with the heavyweight champion of the world," Godfrey concluded, "you quickly realize why he is where he is. His work ethic is unmatched for a heavyweight. He's like a madman. Even though I got in limited rounds, I learned so much from him. Rahman's so strong and deceptively fast."
As an amateur, Godfrey defeated many boxers who today are outstanding professional fighters such as Randy "The Gentleman" Griffin (22-1-2, 22 KOs), Lenord "Haitian Sensation" Pierre (18-2, 13 KOs), Devan Vargas (8-0, 4 KOs), Chazz "Mensa With Muscles" Witherspoon (10-0, 7 KOs), Corey "Black Ice" Cummings (14-0, 11 KOs) and John "Voodoo Man" Johnson (10-1, 9 KOs).
No risk, no reward for Matt "Too Smooth" Godfrey. That's why he's fighting Shaun George May 10th.
For more information about Matt Godfrey visit his web site at
www.mattgodfreyboxing.com
.