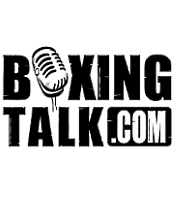 Glen Johnson relinquished his IBF belt in order to fight Antonio Tarver Saturday night at the Staples Center, while the Magic Man gave up his WBC belt to take on the Road Warrior in front of nine-thousand boxing fans in Los Angeles.  However, less than half way through the opening round it was Johnson who seemed most disgruntled about having to get rid of a title that he worked so long and hard to earn.  Johnson used a similar style against Tarver that he used in his ninth round stoppage against Roy Jones Jr. last September.  Johnson smothered Tarver throughout the first round, and as Tarver's punches landed they appeared mostly ineffective against the Road Warrior, who was nailing the Magic Man with crushing hooks both upstairs and down below.
Tarver came alive in the second frame, using his uppercuts to punish Johnson's body and chin.  The Road Warrior answered back with numerous right hooks to Tarver's ribs, and followed up his body attack with uppercuts of his own to his opponent's face.  The question of Johnson being able to handle Tarver's superior power was answered after six minutes of action with an astounding "YES!"
The Road Warrior became more defensive in the third round ducking Tarver's punches to land two unanswered hooks the Magic Man's head.  However, even though Tarver missed most of his punches that he threw in combinations, it was more than what Johnson was allowed to land against the busier Tarver.  On more than one occasion, Johnson, who was easily absorbing Tarver's punches, trapped the former WBC champ in a corner, but was unable to take full advantage of the situations, giving Tarver the third round on the judges' scorecards.
Tarver fought the opening moments of the fourth round against the ropes, allowing Johnson to land every hook to the rib and face that he tossed out.  When the fight was not being played out on the ropes, Johnson still earned points by landing the quicker left jab to Tarver's head.  The two fighters looked tired as the round drew to a close, fighting mostly in a phone booth in the center of the ring.  However, Tarver possibly stole the round by landing a flurry of powerful hooks on Johnson's head, who seemed to absorb them well.
It was Johnson who pressed the action in the fifth inning, catching Tarver with more hooks downstairs that were followed with powerful crosses upstairs.  Johnson hurt Tarver and had the crowd at the Staples Center on their feet when he landed a crushing right uppercut on Tarver's chin that Johnson followed up with overhand rights to his opponent's temples.  Tarver escaped the round by moving around the ring, but Johnson proved in this round that he could hurt the Magic Man.
An accidental head butt from Tarver momentarily halted the action in the opening moments of round six, causing Johnson to fight dizzy and giving Tarver a much needed boost to land many unanswered punches on the slightly stunned Johnson.  However, in the seventh inning, with Johnson fully recovered from Tarver's headshot on his left eye, the Road Warrior scored each and every time with his lead left jab-straight right combination.  Tarver did not fire back, but instead held his gloves up beside his head to lessen the blows of his more aggressive opponent.
Both fighters took turns fighting against the ropes in round eight, but it was Johnson who proved to be more effective.  Not from any offensive attack, but from making Tarver miss almost every shot he threw out.  The now exhausted Magic Man was forced to evade Johnson's attack at the end of the round in the form of one-two combinations upstairs.
In the ninth round, Johnson made Tarver pay for trying to punch him by landing an uppercut to the side of Tarver's face, and a hard right hook upstairs moments later.  Tarver appeared feather-fisted for the remainder of the round, giving Johnson the chance to easily eat his leather, and land punishing shots to Tarver's ribs.
The Road Warrior stalked Tarver across the ring in the beginning of round ten until he caught his opponent with a hard right hook upstairs.  Tarver got on his bicycle after Johnson's attack, drawing boo's from the Los Angeles crowd, but Johnson got those in attendance cheering again with clean combinations of hooks to Tarver's head and body.
In the first championship round, the two fighters, who looked more than exhausted, peppered each others' faces until they both decided to take a step back and land monstrous hooks to their heads.  Johnson got the better of the exchange when he caught Tarver with huge right hook upstairs.   The punch was ruled a slip by referee Pat Russell, but seeing his opponent on the mat reinvigorated Johnson and he punished Tarver across the ring with crisp hooks and overhand rights in the neutral corner.
In the twelfth and final round, Tarver caught a lucky break when he stunned Johnson with a monstrous left cross in the first minute.  Johnson came back and punished Tarver with rights of his own, and with that exchange, the entire Staples Center was on their feet.  They each showed the size of their enormous hearts by continuing to land a flurry of punches to each others' heads.  Even when Johnson caught Tarver with a disastrous right hook upstairs, he could not take advantage of the now hurt fighter since he himself was completely and entirely exhausted.  The crowd showed their approval by giving the two warriors a standing ovation as the bell sounded to end the fight, and it was Johnson's name that they shouted in unison.  It turned out that they got what they wanted as the judges scored it 116-112 for Tarver, but was overruled with scores of 115-113 (twice) for Johnson, giving the Road Warrior a split decision victory over the Magic Man.  Johnson is now the recognized light heavyweight champion, capturing the Ring Magazine title and improving his record to 42-9-2 (28), while Tarver drops to 22-3 (18).  After the fight, Johnson said he would be willing to give Tarver a rematch if the circumstances were right, while Tarver told BoxingTalk that he hurt his left hand early in the fight when he caught Johnson on the top of his head.  He is looking for an immediate rematch with his conqueror, and was quick to remind us that he is 3-0 (3 KOs) when it comes to rematches.
Tarvis Simms Narrowly Stays Undefeated Against Carlos Bojorquez
The fight between Simms and Bojorquez started off slow with Simms pressing most of the action, backing Bojorquez up with a solid left upstairs.  In the second frame, Bojorquez landed a monstrous straight right that sent Simms down to the canvas.  Not hurt, but extremely frustrated Simms quickly got up and was once again fighting toe-to-toe with his opponent.  As the bell sounded to end the round, Simms landed a right hook that did shook Bojorquez but did not really hurt him.  However, Bojorquez did not want Simms to get away with his flagrant shot, and overplayed his dizziness to the referee, judges, and crowd.  The acting job worked, because referee Tony Crebs took a point away from Simms as the two fighters went to the respective corners.  Even though Simms was the quicker of the two, Bojorquez's experience seemed to be the major factor in this grueling fight.  The third round and fourth round saw Simms coming out to land far more punches than Bojorquez could get off, but in the fifth inning Bojorquez was back to showing his younger opponent who was boss by landing monstrous right hooks to Simms head.  The sixth round turned into a cat-and-mouse game as each fighter attacked the body and then went upstairs only to have the other perform the same combination when they stepped back to admire their work.  Neither fighter gave up any ground in the final seconds of the frame.  As they stood inches from each other in the closing moments, but landed rib-cracking shots and head-crushing hooks until the bell separated them.
Simms looked fresher coming into round seven getting off more combination of punches to Bojorquez's reddened face.  But for the more experienced boxer, he kept moving forward absorbing his opponent's leather upstairs, taking two to land one.
Since the eighth round was the last scheduled round, both Simms and Bojorquez dug deep to toss out as many punches as their arms would allow.  Simms was satisfied with merely attacking his opponent's body while Bojorquez mixed up his arsenal with two-punch combinations upstairs, and single hook shots downstairs.
The final moments of the fight once again had Bojorquez fighting at a 2:1 hit-to-get-hit ratio, giving Simms a split decision victory over the rugged Bojorquez.  The scores were77-73 for Bojorquez, and 76-74 (twice) for Simms.  He stays undefeated with a record of 20-0 (11), while Bojorquez drops to 23-6-6 (19).
Andre Ward Defeats Christopher Molina in First Pro Bout
The Gold Medalist from the 2004 Olympics, Andre Ward was trying to look impressive with his power and speed in the opening moments of his first pro bout, but the sloppy Christopher Molina kept Ward from connecting with his best shots.  It did not take long for Ward to show why he was the only fighter from his Olympic class to floss his chest with a gold medal as he began to catch Molina with punches to the body and head.  The first round ended with Molina looking overmatched.  As the second round started, Ward landed a solid left to the body that signaled the end was near.  Ward kept landing shots that Molina would taunt showing he would rather whine about Ward's punishment than fight back against him.  After landing another flurry of punches upstairs, Ward had Molina against the ropes and down again by a straight right.  The referee gave Molina the mandatory eight count, but decided that Ward's opponent had seen enough.  The official time of stoppage was :40 seconds in round two.  Ward is now 1-0 (1), while Molina is 2-1 (1).
In other bouts:
-Mia St. John caught Janae Archuleta with a left hook half way through the first round that was followed up by a flurry of punches.  Failing to fire back the referee stopped the action at 1:40 in round one.  St. John improves to 39-4-2 (16), while Archuleta drops to 4-10-1 (2).
-Heavyweight Vinny Maddalone shutout Ronnie Smith over six rounds to earn unanimous decision and a record of 22-2 (15).  Smith drops to 6-32 (6).
CLICK HERE FOR FULL FIGHT REPORT AND PHOTOS
Send questions and comments to: Fool4Rush@aol.com