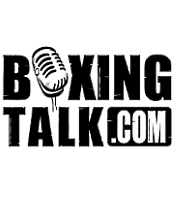 PRESS RELEASE:
Promoter Don King announced today his longtime friend "Big" George Foreman has accepted his invitation to be an analyst for his pay-per-view boxing telecast of Global Glory at the United Center on Aug. 13.  The main event, for the interim World Boxing Council heavyweight championship, pits former unified heavyweight world champion and No. 1-ranked WBC contender Hasim "The Rock" Rahman against WBC No. 2-ranked contender Monte "Two Gunz" Barrett.
"George was with me in the beginning of my boxing career, including at the Rumble in the Jungle in Kinshasa, Zaire, back in 1974," King said.  "He stood up for me during a time and climate when it wasn't apropos for a brother to stand up for a fellow brother, and we made history together.  Now he's standing up for me again on Aug. 13 in Chicago.  He's an American original—the exception, not the rule of thumb."
Foreman said the timing is right for him to participate in the event.
'I was as hungry as the days when I needed a cheeseburger when Don called," Foreman quipped when asked why he decided to make a return to broadcasting.  "Seriously, Don and I are great friends. He is the best promoter in history and he promoted many of my biggest world title fights.  It's a great opportunity for me to come back with Don and to touch base with boxing fans.
 I have missed that."
Foreman is one of the most beloved sports figures and broadcasters in history.  He won a gold medal as a heavyweight at the 1968 Olympics in Mexico City; became heavyweight world champion in 1973 by defeating the legendary "Smokin'" Joe Frazier; and stunned the world when he returned to heavyweight prizefighting and brought to living reality the American credo,
"Life begins at 40" when he knocked out Michael Moorer at age 45 to win the heavyweight championship of the world in 1994.
Foreman provided expert analysis during HBO boxing broadcasts beginning in 1991 until he departed in 2004 to spend more time with his family.  His popularity has earned him numerous
endorsements including the wildly popular George Foreman Grill.  His latest venture is the George Foreman Knockout Cleaning System, a line of household cleaning products.
Global Glory is being promoted by Don King Productions in association with the United Center and will be produced for television broadcast by KingVision and domestically distributed by SHOWTIME Pay Per View at 9 p.m. ET/6 p.m. PT with a suggested retail price of $39.95 and is being distributed internationally by DK International Sales, a division of  Don King Productions.
Additional matches included in the domestic telecast will be hard-punching former unified world welterweight champion Ricardo "El Matador" Mayorga facing former International Boxing Federation welterweight champion Michele Piccirillo for the vacant WBC super welterweight title; World Boxing Association welterweight champion Luis Collazo defending his crown against Italian champion Luca Messi; and the Polish Fight of the Century with Andrew Golota taking on Przemyslaw "Chemek" Saleta.
Foreman will be joined by blow-by-blow announcer Barry Tompkins, fellow analyst Rich Marotta, host Jim Hill, and locker room reporter JT "The Brick."
Hill is a former NFL great who has been a staple in Los Angeles for the last 30 years as a reporter, anchor and commentator, mostly at CBS-TV where he is their longtime sports director. He is an Emmy Award-winning sportscaster and has won many other awards including Best Sportscast by the Associated Press, a total of six awards from the Los Angeles Press Club for Best Sportscast and Best Reporting, and four awards from the California Associated Press Television and Radio Association for Best Sports.
He has hosted numerous Don King Productions and SHOWTIME boxing events.
Tompkins, a recipient of six Ace and four Emmy Awards as well as the Sam Taub Award for Boxing Commentator of the Year in 1992, continues to be well known for his boxing and Pac-10 football and basketball broadcasting on FOX Sports Net.
He has also recently experienced a national renaissance as the result of the re-broadcast of some of his most memorable fight calls on HBO's Legendary Nights 30-year fight retrospective series where Tompkins can be heard bellowing his signature phrase, "How do you like it?" during pivotal moments, which has become part of boxing lore.
Tompkins has also covered seven Olympics, 20 Super Bowls, six World Series, 14 Wimbledon Championships, six French Open Tennis Championships, three U.S. Open Tennis Championships, three NCAA Final Fours, The Masters golf tourney and countless world championship boxing matches.
Marotta has been a fixture of Los Angeles broadcasting for decades having spent three years with the NHL's Los Angeles Kings, 11 years with the NFL's Los Angeles Raiders and four years with the NBA's Los Angeles Clippers, which makes him the only sportscaster ever to have been a part of the regular broadcast teams of three major league sports franchises in Los Angeles.
Marotta is considered one of the America's foremost boxing experts.  He provides ringside commentary on FOX Sports Net's Sunday Night Fights and hosts their Nothin' But Knockouts show.  Rich Marotta's Neutral Corner weekly radio show is heard on XTRA Sports, and he also provides sports updates weekday mornings on KFI-AM.
Marotta previously worked on the long-running KCAL-TV Fight Night series as well as Fight Night at the Forum.  He has won four Emmy Awards—three of them for boxing broadcasts—and 10 Golden Mike Awards presented by the Radio & Television News Association of Southern California.  The Los Angeles Daily News called Marotta "LA's most versatile sportscaster."
JT "The Brick" hosts FOX Sports Radio's nationally syndicated Gametime React, a four-hour show heard weekday evenings in over 175 markets across America.  Prior to joining FOX Sports Radio in 2001, JT had been a late-night, sports-talk staple on Sports Fan Radio Network for six years.
He has also been the host of the Oakland Raiders pre- and post-game radio shows on the Raiders Radio Network as well as FOX Sports Net's regionally broadcast weekly Raiders television show Behind the Shield for the past six seasons.
This year, "The Brick" has been tapped to host a new one-hour weekly television show called Raiders Report that will be syndicated on the Raiders Television Network.
JT is also a sports columnist for MSNBC.com is a frequent contributor to Fox News Channel and MSNBC-TV