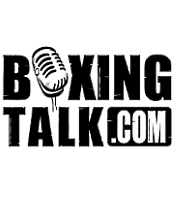 Ah, the New York City prospect. The one fighter in the sport of boxing most American fight fans want to see lose. Why? Critics and detractors will have you believe young New York City boxers are overhyped, too brash and too aloof for their own good. But that's just an outsider's common misconception of anyone who hails from the Big Apple. If you talk to Gary "The Kid" Stark Jr., who lives in the borough of Staten Island, even for just one minute, you'll find yourself laughing and waiting to hear more from the young featherweight prospect setting the New York City boxing scene ablaze. Though Stark is all New York, he is far from being cocky and standoffish—in fact, he may be one of the most engaging, charismatic personalities in the sport. And at the age of 26, perhaps one of the most mature, too.
Stark (15-0, 8 KOs) is coming off an impressive technical knockout victory of Debind Thapa, returns to the ring this Friday at the Grand Ballroom in New York City against former world title challenger Luis Bolano. Though Bolano is riding a losing streak, Stark knows his opponent is far too experienced to take lightly. "I know Bolano's lost his last four fights, but that really doesn't mean much because I know he's lost to fellow prospects like me," says Stark calmly. "At first I really didn't know much about him, except that he had a very good record. But I recently saw a tape of his fight with "Too Sharp" [ex-world champion Mark Johnson] and he looked like a good, seasoned veteran, so I know it's going to be rough and tough. I've got my work cut out for me, especially since he's a southpaw, but I'm coming out victorious on Friday. I'll be fighting till I have nothing left."
For Stark, who was raised in Staten Island and Brooklyn, fighting in his hometown is just the extra boost he'll need in the ring against a crafty fighter like Bolano. "I'm so happy about fighting here in my hometown, where everyone's shouting your name out. It's just a great environment," he says excitedly. "At first, people heard about me but they didn't really know much about me. But now a lot of people have gotten to see me. I'm appreciative of all the people, even strangers who I don't even know, who go to see me. I'm glad I'm getting TV exposure in the New York area like with Fox Sports Network [and SportsNet New York, which will show Friday's fight on a tape-delay basis]. And thanks to [Lou] DiBella, I'm getting to show my talent, which I've always known I have."
Along with Edgar Santana and Emmanuel Clottey, Stark will be one of several fighters on the "Broadway Boxing" card promoted this Friday by Lou DiBella, CEO of DiBella Entertainment. Though Stark is still a prospect at this point in his career, he feels as though his recent appearances on Dibella's "Broadway Boxing" cards have caught on even with the casual boxing fan. "I'm a humble dude and I don't talk bad about anybody, but every time I fight, I'm the standout of the show. After me, nobody watches anymore. I take nothing from the other people who fight on these shows with me, but my fights are more explosive and exciting," says Stark quietly. "I got good hand speed and I do the things that people like [in the ring]. I guess my style is kinda flashy, but I just fight with my heart. I give everything I can give and I don't do things to be cocky—I just hate losing. I have the will to win, whether it's Playstation or the softball games I play on Sundays. And it's all thanks to DiBella, who's given me the opportunity to shine."
Though he has been fighting on the undercards of several DiBella promoted events for some time now, the speedy featherweight is not officially signed to DiBella Entertainment. In fact, Stark Jr. has no official promoter, but to him, that is no real concern. "DiBella likes me now that he's seen me fight. He's let me display my talents, but I'm not signed with him or anyone else right now. Hopefully he pulls the trigger and says, 'This kid is the real deal.' Hopefully he steps up and puts something on the table, but I just need to keep winning, starting with this Friday," says Stark. "But right now I think DiBella's doing this on the strength of my relationship with Damon Dash, who's my mentor and has been like a brother to me."
According to Stark, Dash, the former CEO of Roc-A-Fella records, has stood by him through thick and thin. Though he has no official contract with Dash, their friendship means more than any legal document. "Dame's been with me since before I turned pro. When I first turned pro, he gave me money to get the fights I needed, since I wasn't signed to anybody. My first eight fights, he got me my opponents every which way. He's supported me financially so I could just focus on boxing and he's always been there to back me up," says Stark. "All I can do I is ride or die for him, too."
But Dash isn't the only one in young Gary's corner. In fact, Stark sees it as if he has a whole army behind him. Individuals who are only looking out for his interests; individuals who only want to see him triumph. "With all these great people behind me, I must train hard. I can't let any of these guys down. They ride with me till the end. All I can do is give it my 100% and go for broke in the ring," says Stark pausing. "Boxing is funny, because you can have everything one day and everyone will be on you. But if you catch a bad one, people are suddenly against you. That's why I keep my friends close. I'm nice to everybody, but you can only have a certain amount of friends that'll stay with you to the end, and those are the people I have in my camp."
And one of these friends is none other than Gary Stark Sr., his father, a former boxer himself. According to the son, it was his father who first introduced him to the sweet science. His father is more than a great motivator—he's also his best friend. "My father always pushes me in the gym and he's always there for me physically, emotionally, giving me advice" says Stark with a deep sincerity. "Without him I am nothing."
It is this appreciative, positive attitude that makes Stark all the more remarkable. Not only does he posses a tireless work ethic to match his hand speed, his humble, loyal nature makes him one to root for. But just because he's full of a maturity beyond his years, does not mean Stark is still not a kid at heart. Stark, or "Kid," as he's known to those closest to him, is all about having a good time. "I just like to have fun. Even when I'm 40, I'll still be cracking jokes. That's just how I am," says Stark laughing. "The people that have known me for a long time, know "Kid" is not just a name. When everybody calls me "Kid," they look at me like the big kid who's always joking around. I was born and raised to be fun. If people ask me if I'd rather hang with grown people or the kids, I'd much rather be with the kids."
But inside the ring, there's no kidding around. When it comes to sparring and doing roadwork, Stark is one of the hardest workers around. According to him, it's the only way to ever be a champion. It's that simple.
"If you're not faithful to your boxing, it won't be faithful back to you," says Stark in a serious tone. "You can't blame anyone for anything. Boxing is an individual sport, that's why I keep practicing, going through things over and over again. If I put in great work, I don't think anyone can beat me."
And so far, no one has. Though it's often difficult to find willing opponents, Stark is not at all fazed. No matter the situation, he always keeps his calm disposition.
"I have to deal with what God gave me. I have what I have for a purpose. Even though there's not a lot of small people my weight in the East, I don't really get frustrated. One day I'll go to the West, where there's plenty of people my weight, but right now, I have to take over the East coast," says Stark. "I just want the boxing world to know I'm coming up. Every fight I'm getting better. I think I have what it takes to be a champion—I want it bad. I see guys with belts around their waists and I tell myself, 'I know I have what it takes to be in the mix.' I just need a little more experience right now, so hopefully one day people will say, 'Kid's not just a kid—he's doing man things.'"
Spoken like a true champion.