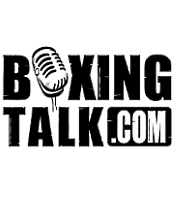 By Andy Rivera @ Ringside
Early Saturday morning in Juarez, Mexico, Kirino Garcia halted Arturo Rivera in the eighth round in a loser-to-retire bout. Garcia (Boxingtalk's #26 middleweight) and Rivera fought to a draw last year. In the co-main event at the Porliforo, Adrian Valdez knocked out former WBC featherweight champion Cesar Soto in the first round, putting Soto down twice and halting him at the two-minute mark. Rising Mexican star Miguel Roman halted a game-but-shot David Murillo in the ninth round and Ranchero Ramirez had an easy nights work stopping Juan Sarabia. Newcomer Jerry Carrillo looked impressive stopping Carlos Castillo in round one.  The card was promoted by Promocines Del Pueblo.
Kirino Garcia TKO 8 Arturo Rivera
This rematch had a totally different pace their first fight last year that ended in a draw, the usually slow starting Garcia who was coming into the fight with a two fight losing streak, but Garcia would come out fast and furious with a pace that Rivera didn't look prepared for. Garcia 36-25-2 came right at Rivera throwing uppercuts and right hands to body of Rivera. Garcia who jumped up two weight divisions to take on Rivera was the stronger of the two, which Rivera in most observers eyes would be the stronger with his muscular stocky build, but it was Garcia that gain respect early and often.
In rounds two thru five Garcia would chose the strategy of staying in Rivera's chest and let his hands fly, Garcia in previous fights would not let his hands go, but on this night it was the difference. Garcia would also employ at game plan of using his left shoulder to push Rivera off him, and then throw right hands to the head; it was a tactic that received several warnings but no point deducted. Hey, like the old saying goes if it isn't broke don't fix it.
Rivera's face started to show the effects of Garcia's attack, as a huge mouse under his right eye would start to balloon up, Garcia would keep up his attack sensing that he had Rivera ready to go soon.
In the seventh round Garcia would send Rivera reeling to the ropes and staggered several time bringing the crowd to its feet for Garcia. Garcia landed two big right hands followed by a left hook that had Rivera dazed as the bell ended the round.
As Rivera went to his stool in the corner before the start of the eight, he looked to be a beaten man, and he was calling it quits and signaling the end of Rivera's career, as the loser of the fight was to have retired, but as we all know this is boxing so look for Rivera to return at sometime, as for Garcia he stays in the running for some bigger fights.
Rivera's career record fell to 21-6.
Adrian Valdez KO1 Caesar Soto
Adrian Valdez looked impressive as he halted former WBC featherweight champion Caesar Soto, putting Soto down twice with wicked body shots then following up to the head. Valdez is coming off a close loss to prospect Bernard Dunne, losing a fight that many thought he won this past August in a televised fight on Showtime, losing a split decision to Dunne. This time Valdez would not leave it in hands of the judges.
Soto put a little drama on in the first round as it looked that he knocked Valdez down with a right hand, but it was ruled a slip, correctly so, as the two fighters feet got tangled, from there it was all Valdez, as he hurt Soto first with a hard right hand to the body then putting him down for the first time with a left hook. Soto was able to rise but was in serious trouble, Valdez went in for the kill landing a five-punch combination that put Soto down again, this time the referee didn't bother to count, as the fight was halted.
Valdez raises his record to 15-3-3, while Soto 54-14-3, falls for the fourth consecutive time.
Miguel Roman TKO David Murillo
In a cross roads bout rising prospect Miguel "Mickey Mouse" Roman halted David Murillo. Murillo who has been a fan favorite in Juarez the past four years, but has lost some luster having gone 2-3-1 in his last three bouts, Roman is starting to gain the same type of following, having his entrance song played over the loud speaker, the theme from the "Mickey Mouse Club" and his Mouse groupies up top chanting and jumping on the bleachers, it was like going to a soccer game in England or South America, it was a breath of fresh air.
Roman came out strong from the get go showing and taunting Murillo, letting Murillo hit him a several occasions in order to show Murillo that he couldn't hurt him. Roman used a strong game plan of taking the fight to Murillo and letting up. Murillo would have his moments but he didn't have the firepower to keep Roman off of him.
Murillo spit out his mouth piece several times in order to get a rest each time Roman had stunned him, but that would only cause Roman to attack more. Murillo with his head showing a cut  on the top, was wobbled several times in the eighth round and looked ready to go, but the bell saved him further punishment, but it would continue in the ninth, when Roman would trap him early in the round and land a four punch combo to the head that prompted the referee to halt the fight and give Roman his ninth win with no losses, while Murillo at the young age of 23, should now consider getting out of boxing or taking time of, having been in too many wars at this early in his career, he falls to 20-7-2.
Juan Carlos "Ranchero" Ramirez KO 6 Juan Sarabia
Former NABF featherweight champion Ranchero Ramirez stayed on track to possibly getting a shot a t world title with a sixth round stoppage of Juan Sarabia. After a slow paced first round, where neither fighter mounted much of an offense, Ramirez would control the fight from there.
Ramirez dissected Sarabia with precise body shots and right hands to the head of Sarabia. Sarabia would land an occasional left hook to Ramirez but that was about the extent of his attack. Ramirez hurt Sarabia in the sixth and in deep trouble causing the referee to put a stop to Ramirez's butchering of Sarabia. Ramirez is now 34-6 and ready to get another crack at a world title he did move up in weight in 2002 to battle Acelino Freitas, but he was too small for Freitas. Ramirez would give most jr. featherweights or featherweights a run for their money.
Jerry Castro KO1 Carlos Castillo
Promoter Oswaldo Kuchle has high hopes for Jerry Castro, who looked impressive in halting Carlos Castillo in the opening stanza. Castro dropped Castillo twice, the first compliments of a left uppercut, then finished the job with a powerful right hand. Keep an eye on Castro as he looks to have the goods, but only time will tell.
CLICK HERE FOR THE FULL REPORT
Send questions and comments to: broncosnm@comcast.net