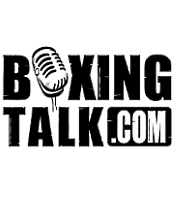 Whats really good Greg? I'm the guy that spoke to Evander Holyfield and I just wanted to say thank you. You guys really caught me off guard, I froze up like Williamson against Mesi. I even put my girls cell phone number in the chatroom without realizing it but she hasn't received any parnk calls yet. It was hard talking to Evander because I am of the opinion that he should retire but I have respect for him and do believe that a man should make his own decisions. Thanks again for bringing us fans closer to the sport we love. I watched the contender tonight and I like there set up. The ranking and challenge thing is real hot and having Lou Duva and Tommy Brooks training insures that there will be quality boxing and quality judgments. Personally, I thought the white guy that was on top concentrated too much on the race of the contestants and there reaction to him based on his race. I thought he was garbage and the first confident guy in there is gonna knock him off. Keep the hits coming, Boxingtalk is doing big things.
–TheChampIsHereLeon's Response: Glad you enjoyed the call from Evander. Keep yourself tuned in to those chats and it probably won't be the last time we get you on the horn with the best. The guys in the chat are cool, I don't think your girl is going to get any prank calls. One of our primary objectives is to bring the fans closer to the fighers than anyone else and based on the response we've been getting we appear to be succeeding. That wasn't the contender, I believe it was the next great champ and I thought it was a joke. Definitely the sort of thing I would want to promote on my site. Big things indeed.
Whats up G-Star? I have heard alot of hype about Trinidads punching power, but didn't the Hopkins camp expose the Trinidad camp for illegally wrapping Tito's hands in a way that gave him significantly greater punches? He did not hurt Hopkins in that fight with his hands wrapped in a "fair" manner, do  you think  that 100% of his punching power is still there when he does things the legal way? That Lamon Brewster is a joke, he was getting beat by Klitschko the whole fight until he landed a punch (in the 5th i think it was) that i think even shocked himself. Kali beat his ass fair and square, Lamon's reign as champion is over with his next fight. He does makes a good punching bag, as seen in his last 2 fights. Also, in the chat, Tarver mentioned he greases up to open the pores. What does opening the pores do? Every time i try to log on to the chat i get an error, am i just too slow to get in on time, or is it because i'm in Australia? 
Brad, AustraliaLeon's Response: Brad, the hand wraps thing is a joke. As much of a controversy as it became, Hopkins clearly respected Tito's power throughout the bout. He's fighting Mayorga at the same place he fought Bernard and I think he's going to show the world that he can hurt somebody regardless of how his hands are wrapped. Felix Trinidad was born a puncher and his left hook has always been dynamite. The Brewster fight was entertaining, but I think the judges got the decision wrong. If I recall correctly he hurt Klitschko in the second round also. Kali won the fight fair and square I wouldn't necessarily say he beat his ass though.  Contact Boxingtalk's webmaster Ben Thompson, he'll probably be able to help you get on.
Hi there,Your articles are awesome. I am boxing crazy and I am planning to start my own boxing site and/or work on a site that is already in the making. Yours is fantastic. Can I work for you in any way for free? I am based in London. Let's arrange to chat. Please get back to me with a yeah or ne! Thanks Kindest Regards,
Mark ManducaLeon's Response: Thanks for the props brother, and the best of luck with your site. Send me a sample of what you can do and we'll work it from there homey. Be good.
Whats up bro? I have to say that you guys have the best boxing site on the web HANDS DOWN... I love coming to your site and reading all your exclusive content!!!! Now my question to you is what do you see happening when Tito knocks out Mayorga? Do you see him fighting Hopkins again?, Vargas?, Mosely perhaps? And I also want you to tell me how you see Tito ending his career? Do you see him retiring as a champion who redeemed his loss against Hopkins, do you see him retiring after getting beat by someone, or do you have a different vision as to what Tito's future will bring?... thanks in advance!!!!
MQLeon's Reponse: Thanks for the props brother. We've been fortunate enough to have the hottest content on the net over the past couple of weeks, so it's been fun. Trinidad might fight Hopkins again, but that's a complex situation with money and Bernard's troubles with King in the middle of it all. Too much has to happen before the fight can actually become a discussion for me to believe it's going to happen anytime soon. The Vargas rematch makes sense. The money would be there. The Wright-Mosley winner is also a possibility, as is the De La Hoya rematch for the vacant WBO title after Nard executes him. Trinidad would have a lot of options after he beats Mayorga, we'll have to see what happens. 
Great job on the Tyson interview. I don't think anyone else has gotten a word from him.What do you think? He'll fight Williams again? They said 8 weeks of therapy. Think he'll fight by end of year? thanks again,
JHLeon's Response: Thanks for the props brother. You're right nobody has gotten a word from him and this is the first he's spoken to the press since before the Williams fight. I think he's going to have to fight Williams again. He made an average fighter a name at heavyweight, so the rematch is a must if Mike is to return to the $20M payday level. I don't think he'll fight by the end of the year, no.
Damm u guys fucking rule mate-Hopkins footage-tyson interview-and by the way all other websites without mentioning Boxingtalk are talkin about the drama with finkel and watley-damm u started a beast lol-they are saying a "american or internet website" instead giving u guys credit-by the way i think in last saturdays fight someone was wearing a boxingtalk.net shirt-can u hook a bro up with one? but for real your website does what no other website does with the footage and the interviews and it seems like boxers the people we see love your website cause its real-well mate one more think how about Amir Khan getting the silver is the kid the truth or what? Holyfield recommended he stay amatuer while Frank Warren said he would promote him and he should turn pro ASAP-what do u think?well keep the great work mate and look forward to your response-peace out!! Jawaid Khaliq is underrated!  peace out!
JOHNLeon's Response: Good looking out John. That was one hell of an update wasn't it. Those other websites you mention are jealous of Boxingtalk.com, but that's what happens when you're the best, people hate. Some of the others even ban boxingtalk articles on their message boards, I guess that's there way of not showing their viewership what they're missing out on by not being a Boxingtalk regular. I don't expect them to give me credit though and I don't expect them to mention it much either. Again, glad you guys have been enjoying what we're trying to do here. Amir Khan could be the truth, but until he takes a punch without a headgear on, we'll never know. I would turn him pro now, but that's why I'm a writer and not his manager.
Its Edwin " Panama" again. Hey listen man I was talking to my boss yesterday about the Hopkins and de la hoya fight and he came with the comparison of Sugar Ray and Hagler fight. He claims Oscar is going to do the same thingRay did to Hagler. My opinion is this and I would love to hear yours. I think Oscar can do the same thing Ray did to Hagler in the first 5 rounds but I seriously doubt he can do that with Hopkins. I think that Hagler was in the twilight of his career after Mugabi he was not the same Hagler.I really don't think Hopkins will let Oscar be in the ropes and not punish him unlike Marvin did vs. Ray. And last but not least do you think my boy from CUPEY ALTO P.R. (TITO) has a shot against Hopkins or you think they could fight 1000 times and Hopkins will always win. Bro keep up the good work man, your website rocks man.
Panama
.
Leon's Response: Was Hagler Vs. Leonard the last fight your bossed watched? Hopkins will not fight like Hagler did and De La Hoya doesn't have a hard TWELVE rounds in him. I think he can do it for the first half of the fight but I believe it will become a massacre down the stretch,  and it had better be if Hopkins wants to keep his titles. I think that all De La Hoya needs is four rounds to get seven on the judges cards. I like Hopkins by TKO. I wouldn't pick Tito over Hopkins unless I've seen some seriously signs of Hopkins being on the decline while Tito were at his very best, which we won't know until October 2.
Greg, this is one of the main reason's why I became a subscriber/member of BoxingTalk. Most of us are not privy to these types of discussions and/or interviews. Without your website I think that a lot of this stuff would go unreported. To be honest with you, I really feel bad for Mike. I think that deep down inside he is a pretty good guy, but unfortunately money has corrupted him (to a degree) and especially the people around him. Who could he really trust? Thanks again!!
Angel Guzman, Mortgage ConsultantLeon's Response: Thanks for the props Angel, I think you're right, it would go unreported. I too feel bad for Mike and listening to conversation you hear how he's just tired of the game in general. He doesn't want to fight anymore, but he has to if he wants to feed his kids. It's a rather sad listen if you ask me. Who can he really trust? Who can anyone really trust? The answer is, very few people if any.
Wut up G Man? This is Bryan and I would like to sincerely thank you and everyone at BT for making my phone conversation with Antonio Tarver possible. When I got chosen from thehype, I think I went into a state of total shock. That definitely made my day as well as my week. With school starting up again, that could be the highlight of my month! The opportunity to chat with the fighters in the chatroom is a priviledge in its own right, but winning the phone call is a definitely special bonus. I know how Kyle felt with Cory Spinks calling him because the fighter who called me is the one that I wanted and it was an amazing experience. Antonio is the man and I'm sure you knew in the weeks leading up to yesterday's chat session how much I wanted to get the phone call from him. I mentioned it practically in every chat session. He's a joy to talk to and that was one hell of a phone conversation last night. LOL! We really hit it off on the phone and he's an awesome person as well as a boxer. I hope to meet him in person once again in Atlantic City. Thank you very much Greg and sincere thanks to BT. Boxingtalk is the best boxing site in the world and you guys continue to prove that with all of your dynamic news, interviews and activities. Bryan, huge boxing fan from South Jersey and proud member of boxingtalk.com
Leon's Response: It ain't no thing Bryan, glad you enjoyed the call. You got a lot of Antonio's time and got a lot of information in. Glad we made your week, just keep tuning into the chats, because we're going to be keeping them up every week. Antonio is one of the most personable fighters in the game today, it's tough not to hit it off with him, but he definitely seemed to enjoy the conversation too.
Thanks For getting Tyson to tell the world what really happened at that fight.. I was getting so fucking sick and tired of reading this fucken garbage from stupid reporters about how great Williams is....
Leon's Response: Your welcome. Let's see how long it takes for someone else to get Tyson now! The beauty of it all is, I got his number and Mike and I clicked well on the phone. I'd say you're going to be seeing more of Tyson on Boxingtalk.com
Your Boy checking in..........Things on the site have been great and i am real hyped about the next week and more articles leading up to the DLH-Hopkins SuperFight..........John Bell's article today was real fuckin good.I was just curious as to wether or not you were able to score those Signed Gloves from Cory Spinks for me?.....(Tony Montana) from the Chat and message boards........If so thanks a million........Also if i could be extremely greedy Nard is my boy and there is nothing i would love more than a Hopkins Sig too.............if that could occur i'd be more than happy to pay you for them..Cheers
Bill GairnsLeon's Response: Next's week fight is the biggest, most anticipated fight of the year. I don't think it's going to be a GREAT fight though. I expect De La Hoya to run until he can't run anymore. I haven't gotten Cory to sign your gloves yet, but if you be patient with me, you're going to get them. John Bell's article was hot wasn't it. All of our content has been hotter than a firecracker lately. If Hopkins wears the Boxingtalk shirt as he told me he would, we're going to be holding a giveaway for that as well, so stay tuned.
Hello, BT! It seems as though a lot of people have a problem with Roy Jones taking the Johnson fight instead of a rematch with Tarver. I remember when Mosley lost to Forrest, everyone was saying that he should have taken a tune-up first to get his confidence up, etc. I also remember people saying that about Forrest with Mayorga. So why should Roy be any different. For years people have been saying he's unbeatable, untouchable, etc. Then he got KO'd by one punch. Why don't people think it's okay for Roy to take a warm up. I don't think he's trying to prove anything to anyone (like people are saying) EXCEPT himself. For some reason people have no patience with boxers. Boxers and their teams usually have a plan, people just need to chill a little and let them do their thing. There is obviously a lot of talent, young and old, in the jr. welter division. How long do you think it will be before most of these people migrate up to welter? I know Sharmba, Mayweather, and Kostya have been talking about it. I'm sure that Bojado and Cotto won't be able to make jr. for too much longer. Harris seems to be in great shape, but with his talent I think he would be just as good if not better at welter. I like Jirov. I would love to see him against any of the DK champs. I think him and Byrd would be great, especially if Byrd sticks to his newer, more aggressive style. It would be cool to see an all former-USSR fight with him and V. Klitschko, but I think VK's just too big for him.Finally, I love the talented underdog, whose premiere fighters seem to be Verno Phillips and Emmanuel Augustus. Any chance of them doing a mailbag or chat? Keep up the great work!!!
Joe (Decatur, Ga.)Leon's Response: That's just the way of the world, when you go left people ask, 'why didn't you make that right turn?' And vice versa. People are making an issue of it because Roy said he couldn't get up for Tarver and then he comes back with Johnson. If he couldn't get up for Tarver what's he doing to motivate himself for Johnson? Mosley took a beating from Forrest, Jones got knocked out. If Jones would have taken a twelve round beating people wouldn't even be interested in the third fight, but there's still enough people who feel Tarver got lucky that the third fight is a viable option. I think Roy should have come right back with the third fight and I definitely think Roy needs to make the third fight by any means necessary. Byrd wouldn't be able to mix it up with Klitschko like that. We could both of those guys on chat's, stay tuned and we'll make it happen.
Woah! I just want to say what another excellent video the latest Hopkins one is. It took some beating the last Allen fight training video but i'd say it's better. What is the track being played by the way? Also the Winky Wright and Corrales interviews are class. I hope Winky gets those fights he is talking about. They are both class acts IMO. The Mayorga video too...lol @ him smoking like a chimney. What is interviewing him like? He seems unpredictable to say the least. Thanks and respect for keeping on bringing it!
Leon's Response: That was a Matthew Goldstein original banger! His videos are the best on the net hands down, in fact it's not even close. Not sure about the name of the track, but that video looks like something you'd see on MTV. Glad you liked those interviews, my room at the Mandalay Bay became interview/fighter hangout central. Interviewing Mayorga is always a trip, he's really crazy, with him there's no front.
Greg I really can't say more than this is the most unbelievable thing I've ever read on the net in boxing news. This is movie quality stuff. Very Very Very Sad though. Tragic.
Leon's Response: As Shelly Finkel would say, "Agreed."
Wow I just finished reading the interview you conducted with Mike Tyson, Shelly Finkel and Ted; that was quite a powerful interview. The part that impacted me the most was the third and final chapter of the conference call interview you conducted, reading what Mike said in closing had an amazing impact on me. I have always been a huge Mike Tyson fan and before reading your article I knew that throughout his boxing career he has indeed gotten jerked around but in reading your article I didn't know that it was actually to the extent that it is. My heart goes out to him, If I were Shelly Finkel and truly had Mike's best interest at heart I would not in any way shape or form push him to fight anymore; I mean you heard it in Mike's own words "it's just not in him anymore". What Mike's people should be doing right now is coming up with a strategic marketing plan to both keep him out there in the publics eye and change the image that he has obtained through the years. Let's face it Mike Tyson commands attention from the media everywhere he goes and this is something that they should use to his advantage, if I were in there shoes this is what I would do:The 1st and most important thing is recreating his image 1. We all know that Mike loves children so why not get him to visit public schools, comunity centers etc. 2. Invite the media, let them see the true Mike Tyson "Have them experience the gentler side of Mike Tyson first hand  3. Have him attend various children related charitable events, I mean granted he doesn't have much money but his presence alone would be very beneficial to him recreating his image.4. Have him visit hospitals and hold charitable events for children himself, this will do wonders for his reputation. "invite as many athletic super stars as possible to these events, this will create some what of a media frinzy; all eyes would be on Mike"If he can do the following effectively for approximately a year or so you and I know that the job offers would be rolling in if not, at the very least he (Mike) would be heading in the right direction. I love this guy, I''ve been such a huge fan of this man all of my life and it really pains me to see him going through the crap that he's going through. I wish I knew the guy personally, I would have been trying my best to help him as best as I can in anyway I can FOR FREE. No man and or woman should ever have to go through what he has gone through and by that I mean, everything he's been through especially growing up. He never had a childhood he's been on his own doing his own thing for his entire life; all he's ever had were backstabbing low-lives around him. I know first hand how it feels growning up hard because I've been through that but I've been lucky, I've always had my aunt there for me so it never really mattered how hard things got and what I did she would always be there for me regardless of what. Mike needs a real person that will be there for him and not have to worry about that person jerking him or playing him like a sucker, I wish that man the best.
Jose De Jesus Leon's Response:  Many have told me they feel it's a poweful interview and the boxing story of the year hands down. The ending impacted me the most as well...it's a bit different when you're hearing him say it than reading his quotes. I think we may put the entire audio for the members of Boxingtalk.com to listen to. I want to ask Mike first though, I plan to speak with him shorlty about it. I don't expect him to have a problem with it though considering it was HIS idea to conference Finkel and Watley in. I agree with much of what you have said, the bottom line is this though, Mike needs the money so he's going to fight even though he shouldn't because he doesn't feel it in him anymore. I wish one of the major networks would step up to the plate with a commentating gig for him.
Dear Sir,  I have been a close friend to Mike Tyson for about 10 years I live in Phoenix not to far from were he stays and I see him everyday........For years I've been telling Mike that Shelly in a piece of shit and finally this BEAUTIFUL interview comes out.    God Bless you for bringing this out in the open it time for Mike to know all the facts about his "advisor".    Keep up the good work. 
Nick GaglianoLeon's Response:  What did Mike tell you about our conversation? I'd be interested to know any after thought's he's given you. Glad you enjoyed the read, Be Good Nick.
Greg, You are a fucking BEAST!!!! That was BY FAR the best series of interviews I have EVER read on a boxing website. I'll never look at Tyson the same after reading HIS OWN words, and I can't thank you enough for bringing it to us!!!!!!!!!!!! One Love,
MuataLeon's Response: Thanks for the props brother, I appreciate it!
Greg, You outdid yourself with this one buddy...This is some good stuff...The only interview that you did that was more amusing was a week or two ago when you were asking Arturo Gatti;s Manager all thoise questions and he asked how you knew all this stuff....Keep on trucking DUDE...And bring the Rigler back for a mailbag so i can mess with him again...He was a no-show in Gleason's after all the smack he talked....
CT
Leon's Response:  Thanks for the props brother, that seems to be the majority opinion. Maybe I should retire now. All I know how to do is keep it moving. Rigler has been Missing In Action lately, maybe he's sitting on a beach somewhere with the sand trickling betweem his toes.
Unbelievalble Greg!! I have been reading you since day one and this was by far the most eye opening interview I have ever read in regards to boxing!! If people already did not know...they do now...Boxingtalk is it!! I would love to see more of these types of interviews were the "business" part of the game is exposed. What do you think?
DonnyLeon's Response: Again, thanks for the props, you guys got me blushing over this, LOL. If they don't know now they're just in denial because everyone else does. I'll do my best to continue to bring our readers the hottest material on the market.
I've been reading your articles about Tyson, Finkel & Watley. In my opinion Shelley Finkel is full of shit...he's up to something. Reading that clause to you from the contract stating we are not partners...that clause is in 99.9% of contracts. But when he forwards the rest of the contract stating Watley receives 50% of Tyson then they are partners on Tyson!  Watley is not a partner in Finkel's company but when it comes to Tyson, Finkel and Watley are PARTNERS...50-50. That clause is a standard clause, I hope you push Finkel more on this issue because it is obvious when he read this clause, rather than saying Watley gets 50%, that he was just trying to make everyone question Watley's credibility. When Watley said he and Finkel are partners on Tyson, he may have used the wrong wording but he wasn't full of it...he does get 50%! I really hope you push Finkel on this because he's caught in something and is just trying to deflect it on Watley. Take care.
Leon's Response: It's a good thing you used those words in my opinion, because otherwise, someone might want to sue you. You're certainly not the only person of that opinion. They are financial partners, not legal partners. At this point all that matters is what can be proven in a court of law. It should be interesting to see how it plays out before a judge where everything will be revealed and looked over with a magnifying glass. I'm not going to say much yet, but I was shocked at how in the dark Mike had been kept regarding what's been going on.
CHECK OUT THIS SPECIAL FREE EDITION OF G. LEON'S MAILBAG
Send questions and comments to: gleon@boxingtalk.net