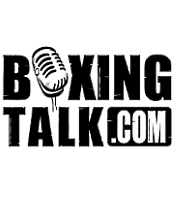 Wassup, I've been a member since the 1st week you guys began the membership, and normally I don't send in emails but I saw a comment in the last mailbag from someone discussing the Tito vs. Mayorga fight, and in response to another member he insulted Puerto Ricans. First things first, comming from a 3rd world country does not translate into producing hungry great fighters. If that was the case El salvador would have more than 1 world champion in their history, and Nicaragua would have produced more great fighters other than Alexis Arguello.(Also, don't get it twisted the hoods and poverty in Puerto Rico is no joke). Second, Puerto Rico produces more world champions on a yearly basis than Nicaragua has in their entire history. So, this fool can continue hating, but come October 2 in MSG in front of thousands of Puerto Ricans and maybe 7 Nicaraguans, Tito will take Mayorga out inside of 5 rounds. P.S. Love the site

OnFire's response: What's good? Glad you came along for the ride. Yea, sometimes the things that people write make you do things you don't normally do, like this here email. When my friends and I discuss boxing we tend to stick to the facts produced inside the ring from past fights. I can't say that I've chosen a fighter to win based on where he was from. Being Puertorican, I didn't feel offended because people have thier own opinion of things. Just a note, not every Fernando is puertorican. I know two who are not. The bottom line is Trinidad-Mayorga will make it happen on the first Saturday in Oct. Mayorga's first fight at Middle-weight. Tito's first fight after his longest inactivity period. Will there be another first? Maybe a first round KO? Let Mayorga stick his chin out for Trinidad.


Diego"Chico"Corrales is going to handle Freitas this saturday night. Who has Freitas been fighting lately to get him ready for a fighter like Corrales. Ranchero Ramirez, Attah, Barrios, and Grigorian are not world class opposition and it will show on Sat. People like to make a big deal about Corrales chin, listen he has a great chin and if you dont believe me look back at his fights with Roberto Garcia, Juuko, and Manfredy. He absorbed bombs from Garcia and he was not effected at all and while Juuko is not world class he still hit Chico with some huge shots. Chico's problem is not the force behind the punch but the speed of the punch, as evident in his loss' to Mayweather and Cassamoyer. The speed of those guys bewildered him at times but notice everytime he went down he got up quickly and usually had a smile of his face. Those guys can't punch harder than Freitas but they are twice as fast and that is what gives Corrales problems. I also believe that the extra 5 lbs. will help his ability to take better shots because there's no doubt PoPo can punch I just think these are two different class of fighters. Don't forget that Freitas has been down to nobodies and his chin is going to get checked early and often. If his chin fails early its over, if he holds on , he still will not make it past 8 rds. I have alot of respect for Freitas, he is 35-0 and he has the whole country of Brazil behind him so, reguardless of the outcome his people are proud. This is just my opinion so who ever does the mailbag these days does not have to criticize everything I wrote if they don't agree w/ it. I felt compelled to make a prediction since I missed writing in about my Danny Williams prediction but atleast I made a little bread on Williams and the under (just in case Tyson took him out early!) Boxing predictions should not be criticized but so much, keep in mind that boxing is the most unpredictable sport in the world. No champion or world class fighter can ever be written off completly because there are always going to be people that believe in them. I've seen alot of disrespect towards one fighter and if Sept.18 happens like I think it will, this mailbag will overflowing so I'll give you my "I told you so" now. Bo



OnFire's response: Regardless of who Freitas has fought, the truth of the matter is that he is fighting Corrales. Hopefully, all questions will be answer about both of these fighters come fight time. Though fights with Garcia, Juuko and Manfredy did not produce any knockdowns of Diego, there is no denying that Corrales has been down 8 times in his career. I must also note that I've never really seen Chico hurt, just a victim of flash knockdowns. Speed equals power (force), so the faster a punch the stronger the force. Does Freitas not have speed which can equal power(force) and give Corrales trouble as did Mayweather & Casamayor? I think so. In terms of the extra poundage, at times it can do as much damage as it can do good. Sometimes, as I believe is the case with Freitas, a fighter doesn't take his power or speed when he moves north. We all know that Freitas has been down and the type of opposition that has put him there, but the bottom line is that he has gotten up and went on to win. I believe this fight will produce more knockdowns to add to the already large number for both boxers combined. It will come down to who wants it most. IMO Freitas wants to keep that zero in his loss column. I guess you, like myself, were one of the few who went with Tyson. You hit the nail on the head when you said boxing is unpredictable and that's the reason I love the sport. Are you hinting that DLH is your choice to come out on top in the fight? You can say "I told you so" when the time comes but first you have to tell us how you think it will happen on the 18th.


Ok not much else really needs to be said about Tyson but I predict he goes to K-1, and trys to cover his debt with that. It makes sense too those fights are only 3 rounds, and its more of a WWE scene fitting Tyons perfectly. Anyway moving on to the DK Night of Average Heavy Weights, well its better than nothing but really. Ruiz vs Golota could make the RUiz vs Rock look like the fight of the year. Byrd vs McCline that could be decent but Come on Chris you can do better than that. Who really wants to see McCLine?? I do love the potential ROck vs Evander match-up because hopefully the looser will RETIRE! But I'm a sucker and will happily pay the $49 bones to see it. What are your thoughts on these match-ups? Matt- Lets Get It ON



OnFire's response: If Tyson decides to go into K-1 competition he will really get his feelings hurt. For one, won't they try to kick him in the knee? Or put it in some kind of leg lock? His chances will be better if he stuck around boxing instead. Golota could be the man many people are hoping comes along and finally ends Ruiz' championship party. Golota has good boxing skills as was shown in his past fights against Bowe and recently against Byrd, in a fight many thought he should have won. Can he keep his composure long enough to make it happen against Ruiz? He showed he could very well be on the way there after Byrd. Speaking of Byrd, IMO the best heavyweight champion right now, he will use his elusiveness and ring smarts to outclass a heartless McCline. Lately though Byrd has been standing in the pocket longer than usual and trading shots which in some ways hindered his game plan making his last two fights questionable decisions. Chris should stick to what he knows and that is dipping, bobbing and weaving. making you miss and making you pay. As I like to say "Pitty Patt you to Death". Rahman and Evander again? Where would another fight lead the winner? With King you can only imagine.


hey whats up ! i think mike tyson would have benefited having someone like the executioner involved in his life i think it could have help him mentally and even made him better focused on his training i agree that the people around mike has taken advantage of him and that they do nothing to motivate mike to keep him going.there only there for the rewards that comes when being around a high profile fighter like mike.maybe mike can learn a few things from hopkins perspectives of life. i hope mike can get his life back in order and i look forward to seeing him get another shot at williams he didnt look bad at all in the first three rounds of the fight mike has to pace himself and pick his shots when hes fighting a bigger guy at this stage in his career i think he might have got discouraged when williams was able to take his shots if mike can win a couple of rounds without slugging he'll have enough left in the tank to win the rematch i hope he gets that lucrutive contract with mr arum.$$$ he deserves it.



OnFire's response: Hopkins in Tyson's corner? Taking nothing away from Hopkins how do you think Tyson would have benefited from that? And by doing this how would have Hopkins better prepared himself for his own battle? Mike Tyson has not been focused on his own training for quite some time now and I don't think another fighter or a trainer for that matter could have changed that. Don't blame Mike though, he was literally beating many guys without having to train anyway but as time passed it only became harder both to train and beat guys this way. Hopkins' perspectives on life were those of his own life. Tyson has to find his own meaning in life and must do so without a Hopkins or a Freedie Roach in his corner. Life is just like boxing in that there are knockdowns, fights, and bad decisions. Tyson as well as your average person has to take what pertains to them and ride with it. Just got a funny thought, could you imagine Tyson and Hopkins together in thier earlier days? Wow, trouble. Ha. Mike may not have looked bad in the first three rounds but the end result was that he looked very bad while on the canvas waiting out the 10 count. IMO Tyson is done and nothing you say he should do at this point in his career will work. Nobody is scared of the Tyson myth anymore. That contract was ripped into pieces with every number the ref shouted.


What up? I see you doing your thing over there. I see your mailbag isgetting bigger and bigger and the more I read I realize that some of Boxingtalk.net members are living in LA-LA Land (including myself). First things first, Mike Tyson has been done for a long time, Mike keeps fighting cause he's broke, if he's not careful he's going to end up like Ali, or worse. Second thing, I havent seen too many people discussing the potential fight of the year between Frietas and Corrales. This Saturday is going to be amazing and I think Frietas is going to KO Corrales due to his very weak chin. Also I read where someone said "Gatti is underated" By who? If anything he's overated. Gatti has almost zero boxing ability and his camp avoids putting him in the ring with better skilled boxers cause they knowhe's going to get his brains beat in (Perfect case in point DLH beat his brains in and Gatti barely touched him). He fought Leonard Dorin who looks like he should be a horse jockey not a fighter. Everyone was amazed with the one punch body blow that put Dorin out of the fight, but come on people,Dorin was like two feet smaller than him and weighed like ten pounds less,he might as well have been boxing a small child. Dorin got all this credit cause he lasted 12 rounds with Paul Spadafora (which by the way isnt hardsince the Pittsburg Kid hits like a California Girl). Gatti gets in the ring with Mayweather, it's going to be a funeral, if he gets in the ring with Sharmba Mitchell, it's going to be a funeral, if he gets in the ring with Harris, Cotto, Pinto, it will be a FUNERAL. Speaking of the later two, I think Cotto is going to taste his first defeat against the hard-hitting Kelson Pinto. I've seen Kelson fight, and I've seen Cotto fight, both are great in the ring, but I don't think that Cotto has mentally shaken the two defeats in the amatuers. I cant wait till September DLH is going to get the victory over Hopkins (see even I am living in LA-LA Land.) Tee, Baltimore.



OnFire's response: What up in B-more? It's all good. Doing the damn thing as is expected of us. The mailbag gets bigger due to members like yourself who keep the emails coming. Maybe some are in la-la land due to the la-la-la. I agree that Mike has not been the same for quite some time now. As we all know, fighters who fight for monetary reasons more than anything end up being broke-en. I've noticed the lack of mention of a fight that should be one for the records and it bogles my mind. Corrales-Freitas has the potential to be fight of the year with other accolades added in (KO of the year, round of the year, etc). I'm with you on the end results of the fight due to Freitas athleticism and relentless pressure. The fact that Corrales has a suspect chin has an influence on me as well. Under-rated or over-rated, who decides? The debate could go on and on depending on who you ask. After seeing Gatti in many wars throughout his career you have to give him some credit for boxing in his last few fights. Though not in with the best of them, you have to admit it has been a change from the Gatti we are used to. Tee, remember, fighters come in all sizes, some even smaller than horse jockeys(remember Ricardo "Finito" Lopez). Where you not amazed? It was a perfectly placed body shot and IMO had it not been Dorin, it would have been whoever was standing in front of Arturo. The punch was that perfect. In fact the last time I seen such a devastating body shot was when Jones KO'd Hill with one body blow. Though two feet shorter and ten pounds less we must all tip our hat to Dorin. Why you ask? HE DIDN'T MAKE ANY EXCUSES. He went out like the real man you don't think he is. I agree if Gatti fights Mayweather or in my opinion the best 140 pounder without a title, Sharmba Mitchell, he will be in unchartered territory. Cotto and Pinto have similiar records with Kelson bringing two more KO's to the table. Will the two loses to Pinto in the amatuers have a mental effect on Cotto? It's possible, but this is where he shows he can overcome adversity. I can't call you crazy for choosing DLH over Hopkins. People were calling me crazy to have chosen Williams over Tyson but it happened and as boxing proves time & time again, anything is possiple within the squared circle.


Man, it's funny to see how Mexicans hate on us Puerto Ricans. At least Ihave the BALLS to back up what I say in your mailbag with my name and punks who take stabs at my opinion of a fighter won't sign theirs. I still contend that "El Mamador" won't stand a chance against Tito. That ignoramus wants to talk about good Latino fighters? Why doesn't he mention that some of the best all time come from Puerto Rico? No other country, outside of the U.S. has given the sport of Boxing so many truly GREAT fighters. People
like Wilfred Benitez, Angel "Cholo" Espada, John-John Molina, Sixto Escobar,and Wilfredo "Bazooka" Gomez to name a few? Also, PR has very humble people (in case this mexicali hasn't been there) like Tito and Roberto Clemente(baseball). I'm not saying nobody else has had great boxers, but PR is a very good producer of them. I'm not sure this guy has ever boxed but, from someone who has, it seems to me like he doesn't know what's up. In the Forrest - Mayorga fight, when Mayorga put his chin out, all Vernon could do was slap him because he was too scared to really crack at him. I'm sure
Tito won't do the same assuming Mayorga puts his chin out there. That might be the last thing Ricardo ever remembers, lol. Fernando



OnFire's response: Is it really funny? HATE is such an ugly word. I never understood how a person could hate another for no clear apparent reason. When I watch boxing I don't go for a guy because of his heritage. While in the ring I see two men, equal, until one takes the upper hand in things. Ok , so you contend that Tito will demolish Mayorga, if I may use that word. I respect that and so should others. I've never heard a fighter being mentioned as great because he was PR, Mexican or any other ethnicity. They were mentioned as great due to thier work in the ring. I have to disagree with you in the sense that I felt Forrest did wack him with some good, hard shots. Mayorga just took them and returned with his own. Some called it heart, I said it was foolish. Mayorga may stick his chin out but if you ask me with Trinidad he won't even have to.


Man you got some real "mo-mo's" writing in to "DA BAG". Some of these emailers have good boxing insight but most others are speaking out of their asses. To say Mayorga will KO "Pito" because of "ring rust" is retarded. If Mayorga KO's "Pito" it will be because one of what will be many wild bombs thrown actually landed. I for one think "Pito" has too much skill and talent (rusty or not) to let one land flush. But lets not forget Tarver/Jones II. True, Mayorga is no Tarver but then again "Pito" is no Jones. Jones had never even been down much less rocked by a punch. And "Pito" has been floored a number of times so is not automatic that he wont get hit. However, he as never really been rocked except by "Re-tard" and that was due to the accumulation of punches and not just on wild hay maker. As far as "Golden Gay" vs."Re-tard" goes, I see it as a Mosley vs. Winky type fight. Winky and "Re-tard" are just too good at their natural weight for smaller guys with great skills. I think both fights will end in decisions for the naturally bigger man. Hey, since some of these "mo-mo's don't know how to use spellchecker, can you edit their mail before you post it? Later, Moreno M from PHX by way of South Central L.A.



OnFire's response: The only things I know about mo-mo's is that my car had those rims back in the days. If Mayorga KO's Felix it will be because he is the better man that night. The way things are going, if and when that happens, nobody will need to make any excuses for Trinidad. Boxers are preparing excuses like Oscar award winners are preparing speeches. Trinidad is coming out to make a statement. Can the opposition he's chosen come back to bit him in the ass? With Mayorga you never know. He's relentless and at times careless but we all must agree that he throws nothing but haymakers. One thing for sure, these two have confidence in themselves and have proven it by putting thier money where their mouthpieces should be. By the way, I did you the favor and edited your email, adding periods, commas and question marks where they belong. Just kidding.


Please post this!!
Why do people keep making excuses for Trinidad loosing to Hopkins. It's been two years, and the excuses just don't stop (I just saw some guy named Fernando on the previous mailbag come with the excuse again). For the record, I've always loved to watch Trinidad fight, he is a GREAT fighter. He has that search and destroy boxing style that I love. But his fans need to stop making exscuses, and I don't want to make this a puerto rican thing but their is no way you can't. Memo to all Trinidad fans (mostly puerto ricans, not all puerto ricans, just the ones that always use the same tired as excuse, you know who you are)- Felix Trinidad got KNOCKED THE FUCK OUT!!! no no no thats wrong - Felix Trinidad got DOMINATED FOR 11 ½ ROUNDS - THEN HE GOT KNOCKED THE FUCK OUT!!!!! . Has the Trinidad camp ever giving Bernard his props, I never heard it. I have family that are puerto rican and a lot of puerto rican friends. Everytime you mention Bernard they never give him credit. It's always, Trinidad was having family problems or the fight didn't happen when it was suppose to blah blah blah - sour grapes sour grapes - then some more blah blah blah etc. Like I said before I love watching Trinidad fight but because of his fans making so many mothafucking excuses I wanna see Trinidad KO'd by Mayorga. I know it's a long shot but I would love to see what the hell the next excuse is gonna be. So to all Trinidad fans please, Stop making excuses and give bernard his respect, Felix is an all time great but Bernard is greater. Cesar, Ft. Lauderdale


OnFire's response: I was at that fight when it took place and I must admit that I was going for Trinidad. But when someone boxes as good as Hopkins did that night, we must applaud that. Some boxer fans, notice I didn't say boxing fans, left the Garden upset because they were going for Trinidad for whatever sentimental reasons they had and he lost. I have to disagree with you about Hopkins dominating the fight. Yea, Hopkins controlled the tempo but Trinidad was no slouch. He gave as good as he was getting except that Hopkins did alot of things better that night. In terms of getting KTFO, Tito did not and I'm not making an excuse. I believe Papa Trinidad stole the spectacular KO that Hopkins could have gotten by jumping in the ring to stop the fight. For an example of getting KTFO watch Tarver-Roy.




MEMBERS CLICK HERE TO READ THE FULL MAILBAG
Send questions and comments to: onfireboxing@verizon.net