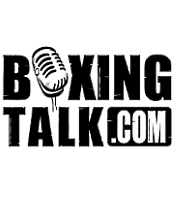 Press Release:
On the eve of his US debut against WBC #11 Henry Porras at the Avalon venue in Hollywood, British and Commonwealth super middleweight champion Carl Froch has once again undermined Joe Calzaghe's attempts to avoid fighting him. "I am starting to feel sorry for the Calzaghes," began Froch.
"Every time they attempt to fend off one of my challenges to them, they leave themselves wide open. It is becoming a bit like shooting fish in a barrel. Firstly Joe's dad attempted to price his boy out of the market by asking for £1 million to fight me. Now that hasn't washed, Joe has come out saying that I am miles away from being good enough to fight him.
"Sorry to do this to you Joe; but let's take a look at your last two opponents.We have the all conquering Mger Mkrtchian, ranked at a lofty 34 by the WBC. Then lets not forget the outstanding Kabary Salem, who isn't even ranked by the organisation, yet stretched you 12 rounds.
"Whereas I am ranked 22nd and my next opponent Henry Porras is ranked 11th. Its more like I'm too good. I think it is you Joe who have been fighting nobodies. In my opinion its fighters like you, sitting in the comfort zone and only taking soft touches, that have led to Sky scaling down their boxing coverage. I don't think much of your next opponent Mario Veit either; he was bad enough the first time round. Where are you going to go after that? It seems you have already lost out on the Lacy fight.
"Like I said last time, all your team do is reel off a series of names: Roy Jones, Bernard Hopkins and Glencoffe Johnson have all been mentioned. Nothing ever happens. So come on and give the fans what they want to see, a good old world class domestic dust up. Me versus you would be an even better fight than Benn vs Eubank I.
"If you're scared of losing your title, keep it. Lets just have a 12 round International contest. In this day and age its not always about the belts, it is more important to make the big fights. Nothing is standing in the way of this fight happening, so long as your promoter is reasonable and doesn't look for options. You have an easy fight to get through.
"I have a much tougher proposition in Porras, but I am going to do a number on him. Lets do it: winner meets winner. This isn't about the publicity, why would I want to get that off the back of you Joe – in my opinion all you get is bad publicity or a mention in the South Wales Argus. I genuinely want this fight."
The Cobra added: "Joe, you say you would smash me. So why then don't you stop talking rubbish and walk the walk?
"You say my hands are down, you're right they are - that's the way I fight. But you are wrong about my chin being in the air. Why don't you come try and catch it?
"And at least I don't slap and tickle.
"Once my combinations start landing on your kisser, you are getting KO'd